Lakers' Josh Hart is quietly becoming a big name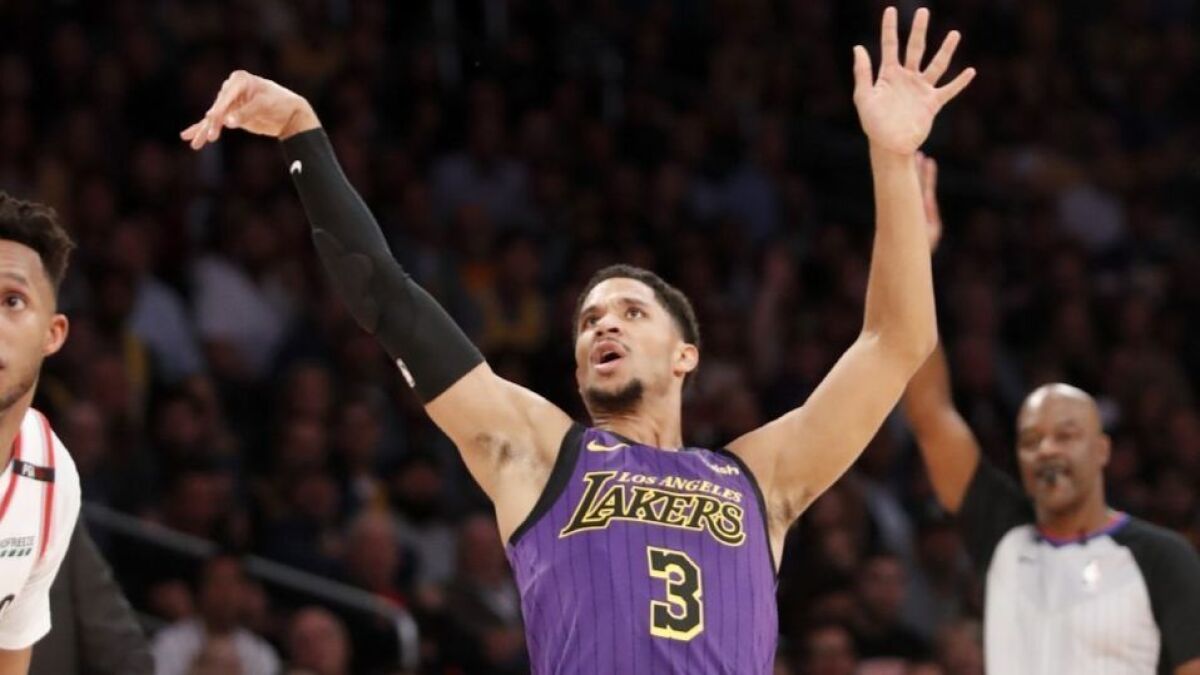 Josh Hart sat by a pool outside his apartment complex on a sunny fall day in Marina del Rey with a view of the harbor. He looked out over the glistening, still water and over the sails of assembled boats and thought about how much things had changed. It was September of 2017, two weeks before his first NBA training camp would begin.
"There were certain points where I hated being in places like this," Hart said. "I guess when I was younger just because I knew I couldn't afford certain things."
It's not that Hart grew up poor. He didn't. His parents worked hard as a chef and a server, staggering their shifts so someone would always be home with the kids. But Hart began interacting with money and prestige early.
He went to Sidwell Friends School, a Washington, D.C., private PK-12 school that's educated the children of presidents Theodore Roosevelt, Richard Nixon, Bill Clinton and Barack Obama. He once bolted out of a building and knocked over Obama's older daughter Malia. When he looked around, worried secret service would whisk him away, they were instead amused.
High school was early practice for Hart. He was never the most-talked-about person in the room.
During the past year and a half, Hart has forced himself into the conversation as part of the Lakers' young core. The Lakers might be flashy, but Hart isn't. He only recently allowed himself to start celebrating three-pointers. His grittiness has been a boon for the Lakers.
"I dive on the floor for a loose ball, I take charges, I play great defense, or at least I try to play great defense, rebound, hustle plays, things that aren't flashy and don't show up on stat sheets," Hart said. "I don't go out there and think 'Oh, I'm gonna go out there and just play ugly,' I go with the mind-set I'm going to do whatever I can to help this team win."
Trying to keep up
One notable aspect of Lakers games now is that this 6-foot-5 guard spends so much time battling seven-footers all by himself. The Lakers don't double big men when Hart is involved and that's because Hart won't let them.
He spent his life with people bigger than him, all the way back to when his stubby legs were too short to keep up with his older brother and sister.
"The older two had long legs," said Pat Hart, Josh's mother. "Josh was kind of barrel-chested and at the time had short legs. We would go out walking some place and say 'let's race' and they would take 10 steps and he'd say 'Forget it, I'm not doing that.'"
At seven he started playing in organized sports and there he found himself facing bigger players too. When the center on his AAU team wasn't available, Josh would fill in for him, foreshadowing the future.
"Even when his other brother was playing on basketball teams in the local rec leagues, he practiced with the older kids," said Moses Hart, Josh's father. "He got in the habit of playing against kids who were bigger than him, stronger than him, at an early age."
Just as he learned how to keep up on the basketball court, he later learned how to keep up in the classroom.
His struggles at Sidwell Friends were well documented. The school tried to kick him out when he struggled with its stringent rules and rigorous curriculum, but his fellow students and their parents argued on his behalf. Hart moved in with a classmate's family – the Hillman family – who helped him catch up academically and became another part of his support system.
Despite the school's embrace, there were times when certain disparities became clear. Hart often talks about the time his friends were going to Chipotle for an off-campus lunch, and he stayed behind because he knew he didn't have the money to pay for it.
Hart went on to become the first NBA draft pick to graduate from Sidwell Friends.
"I'm able to hold my own and network because I went to Sidwell, because I was exposed to politicians, people in tech," Hart said. "… I was exposed to so many different things in high school and it just kind of helped pave my way in terms of making sure I know who I am."
Finding a role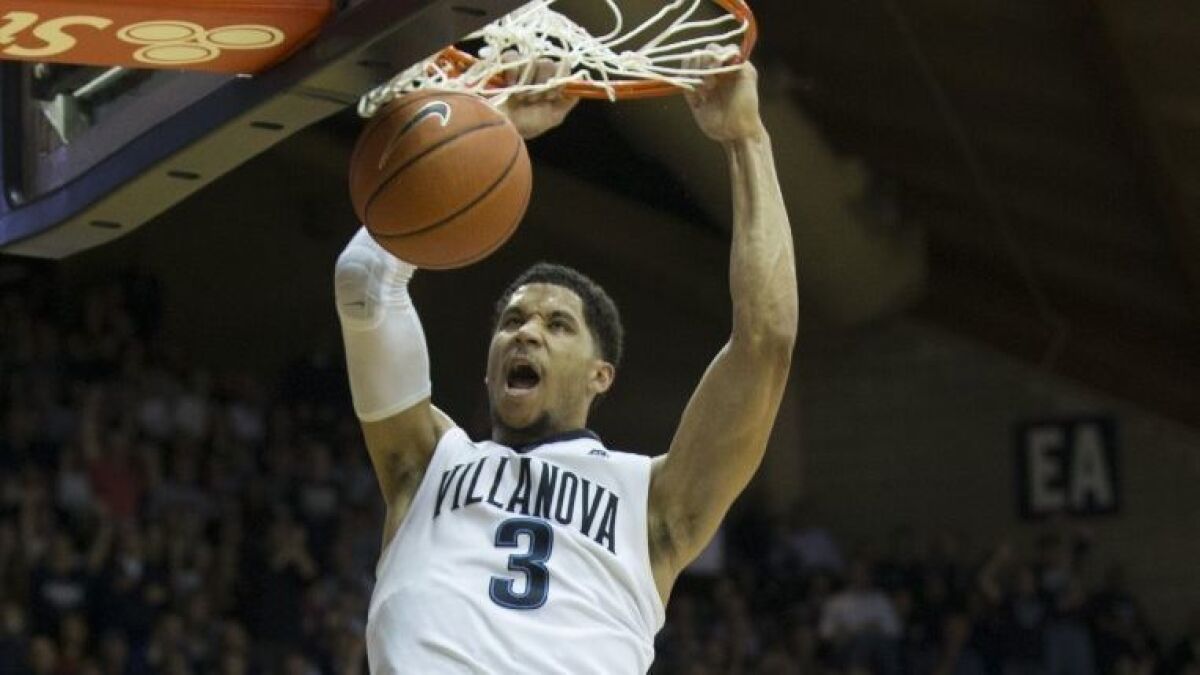 Philadelphia was a perfect fit for Hart – a city that prides itself on being gritty.
When he went to Villanova, he played for a coach in Jay Wright who didn't want anyone to stand out. All the players were part of a greater goal. But, there were standouts.
"We had Ryan Arcidiacono, who was the golden child, he got a lot of attention," Hart said. "Kris Jenkins got a lot of the attention coming in because he was the higher-ranked recruit."
Jenkins hit a memorable game-winning shot, with an assist from Arcidiacono, to win Villanova the national championship in 2016. Being part of that championship team was one of Hart's crowning accomplishments.
None of his teammates has had the kind of professional career he has.
Hart was a first-round pick in 2017, but he was the Lakers' third first-round pick. Lonzo Ball entered the league with much more fanfare. Kyle Kuzma ignited Kuzmania beginning with Summer League. Hart got hurt early in the 2017 Summer League, to the chagrin of NBA personnel people who were excited to see how his understated skill-set translated to professional basketball.
The NBA was a challenge. Even when he became healthy, he wasn't playing. The Lakers sent him down to their developmental team, the South Bay Lakers.
Hart was down. The Hillmans, still close with Hart's parents, suggested they call him to offer support. The South Bay Lakers were playing in Iowa that day and his parents called to check in on him. They asked Hart if he wanted them to come see him. Hart remembers mumbling a response. Moses remembers his son asking him to come see him.
They drove four hours to be with him.
"We kind of reminded him that being in the NBA is a blessing and don't take it lightly," Moses said. "You got an opportunity here. Doesn't really matter what's happening around you. The distractions. Teammates. You're playing the very best that you can play, you give it your all. I think he needed to hear that."
Grime around shine
By March, Hart was starting for the Lakers and beginning to introduce his gritty persona to Los Angeles.
"I think I'm still overshadowed," Hart said this October. "Just because last year we had Zo, BI [Brandon Ingram], Kuz and like the young core … now you …so much, big personalities with the team. So I'm not, I like to have fun on social media and stuff like that but I'm not the crazy big personality that draws a whole bunch of attention."
But Hart's efforts aren't going unnoticed.
For one thing, he's become one of the Lakers' best three-point shooters. Hart is shooting 42% while attempting more than five three-pointers per game. He's even learning how to be more comfortable with celebrating those shots.
For another, the Lakers appreciate Hart's unnoticed contributions.
"What makes him so special as a player is all the little things, the winning plays that he makes," Lakers coach Luke Walton said. "And I know that everyone in this league wants to score the ball but if he continues to play [with tenacity], he'll have random games where he scores 20 to 30 points, he'll make a lot of money in this league."
A simple life
Josh called a few weeks ago and asked the family to come spend Thanksgiving with him in Los Angeles.. It had been so long since they were all together – ever since Josh went to Villanova, holidays had changed for them. He missed it, and offered to fly out his siblings too.
"I'm not going to tell you I'm thrilled with the whole turkey thing," Moses said." … It's kind of what we do on Tthanksgiving and it makes my wife happy."
Josh doesn't like turkey much either, so there will be a ham too.
What's most important, though, is who's there.
Follow Tania Ganguli on Twitter @taniaganguli
---
All things Lakers, all the time.
Get all the Lakers news you need in Dan Woike's weekly newsletter.
You may occasionally receive promotional content from the Los Angeles Times.