Kobe chronicles: Kyrie Irving challenged Bryant to a one-on-one matchup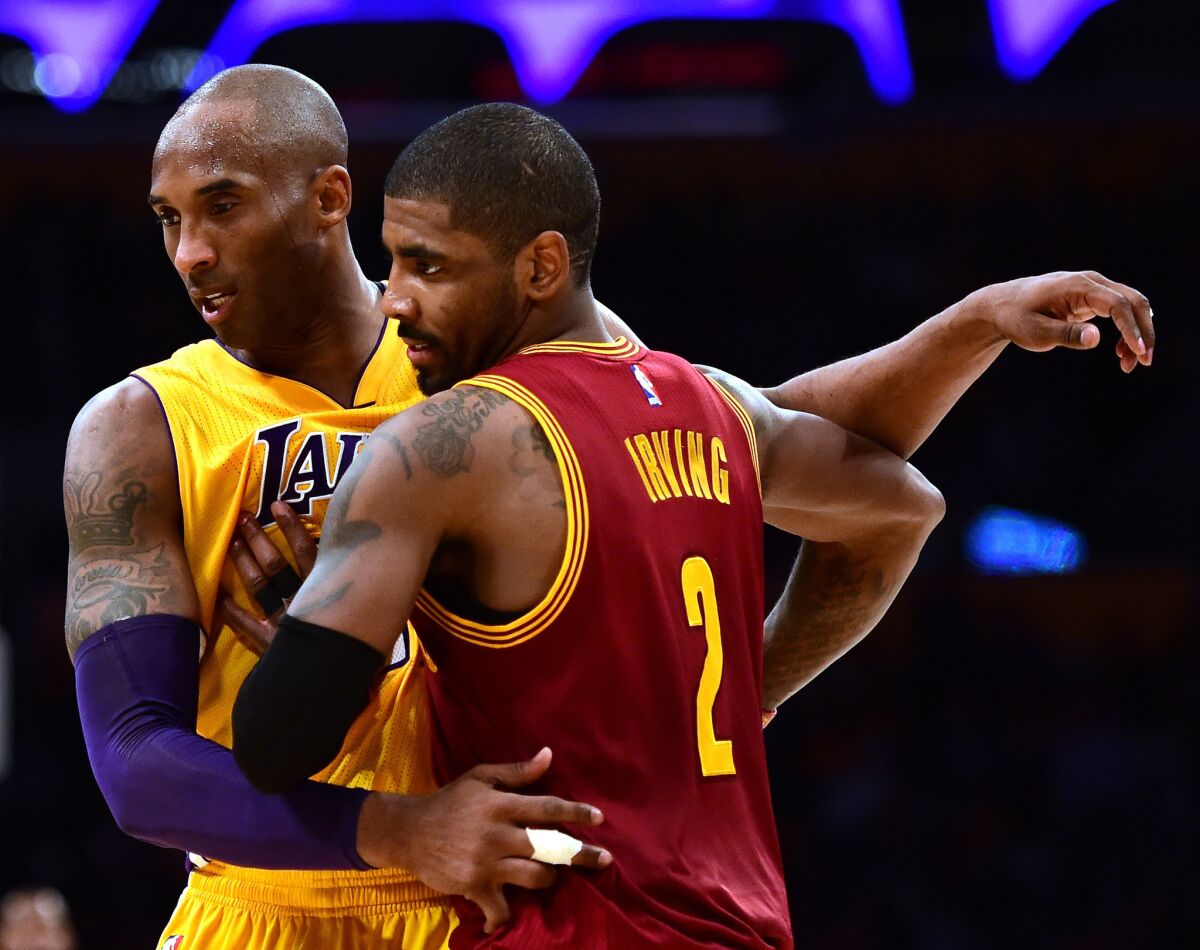 As Kobe Bryant plays out his 20th and final season with the Lakers, The Times has reached out to players, coaches and broadcasters for recollections about his career.
Kyrie Irving was a young man whose confidence knew no bounds.
After winning the 2012 NBA rookie of the year award, the 20-year-old Irving challenged Bryant, already a five-time NBA champion, to a game of one-on-one at Team USA camp.
"[It] is historic for me, but I probably didn't realize what I was getting myself into at the time," said Irving, a three-time All-Star guard for the Cleveland Cavaliers. "But that attitude, I know he respected it and what I did at that USA camp, playing against the best guys in the league, Kobe happened to be one of them, and they go on to win a gold medal.
"It was a great experience and that is one of those moments that I will remember for a lifetime."
Irving's tone indicated he wasn't on the winning end of the one-on-one matchup, but he and Bryant became good friends.
The two faced each other for a final time Thursday. Jabs were traded on the floor, Irving playfully poking Bryant about the nagging shoulder that has sidelined him for several games this season.
Irving and Bryant each finished with 26 points in the Cavaliers' 120-108 victory.
Irving praised the aging Bryant for his contributions to the sport.
"Just how fundamentally sound he is as a basketball player," Irving said. "That appreciation of the game I think goes unnoticed sometimes, but the finite details of the game such as footwork or anything like that, the midrange game that I've been watching, that I've tried to implement in my game, that's something that I love.
"A lot of people like to see highlight dunks, a lot of crossovers and stuff like that. But when I'm watching Kobe, I just watch how detailed he is and just watching how he reads the game… I have a true appreciation of that and I ask him all the time about it."
MORE ON KOBE BRYANT
Kobe chronicles: Matt Barnes remembers Bryant diagramming defenses
Kobe chronicles: Tim Duncan says there was 'no emotion' when facing Bryant a final time
Kobe Bryant's enemies list dwindles as he becomes much more friendly in his final NBA season
---
All things Lakers, all the time.
Get all the Lakers news you need in Dan Woike's weekly newsletter.
You may occasionally receive promotional content from the Los Angeles Times.