LeBron James shrinks generation gap as he yearns to become patient leader for his younger Lakers teammates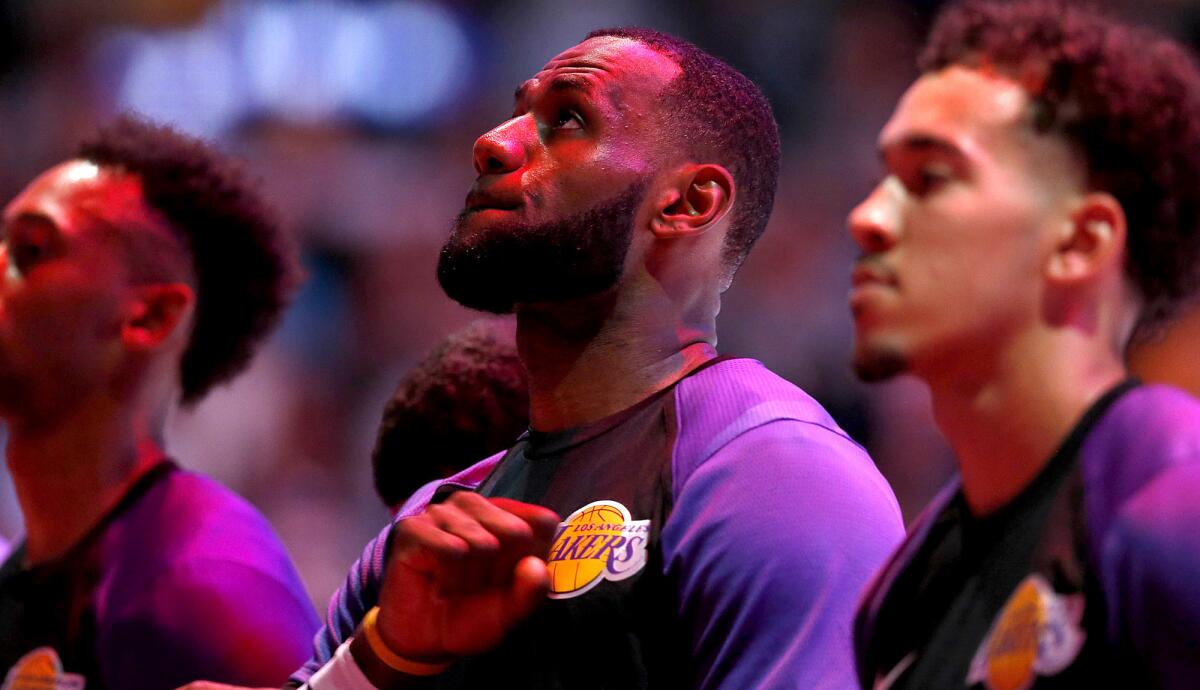 It takes LeBron James only 20 minutes to get from his home in Brentwood to the Lakers' practice facility in El Segundo each morning, a feat that might be more impressive than his eight consecutive NBA Finals appearances given Los Angeles traffic patterns.
He doesn't actually drive, which might be responsible for keeping him sane.
From the backseat, as he leaves the home he shares with his wife and three children, he finds ways to pass the time. Sometimes he watches television shows. Often he listens to music, and shows up at training facility knowing the words of a new rap song better than some of his young teammates.
"He loves Young Dolph," said Brandon Ingram, who was born two years before James started high school. "Oh my God. Can't get him to stop listening to Young Dolph."
Sometimes James reads a book during his commute. He likes reading about history, especially critical time periods for civil rights.
"But I also love the mob," James said one morning this month, about an hour before practice. "I'm a huge mob fan, so going all the way back to those days of some of the greatest mob bosses."
Right now, James is reading "Havana Nocturne: How the Mob Owned Cuba and Then Lost It to the Revolution." He smiles and his voice quickens as he talks about this subject he loves so much, like a student discussing his favorite subject in school.
During these 20 minutes he transitions from dad to teammate, though he's always both. Each role, he's found, complements the other.
::
This Lakers team is unlike any James has joined in free agency before.
The Miami Heat he signed with in 2010 were a veteran-laden group, with three ready-made stars and immediate championship expectations.
In 2014, the Cleveland Cavaliers were younger, but still not as young as these Lakers. Kyrie Irving, who was entering his fourth season, was the team's most prominent star. They had a high-profile rookie, but traded Andrew Wiggins for Kevin Love a month after signing James.
In the letter he wrote announcing his return to Cleveland, James said he thought he could help elevate Irving to one of the league's best point guards. During the Finals this year, James said he saw in Irving the potential for a cerebral player who thinks about the game at a high level.
But the point guard, now 26, sometimes chafed in James' shadow. Last summer, he asked for a trade.
In James' final year in Cleveland he was mostly surrounded by veterans. J.R. Smith, 33, and Kyle Korver, 37, played significant roles for the Cavaliers, as did Love, who turned 30 this September.
Their most-used rookie was Cedi Osman, who played in 61 games. When James left Cleveland, Osman penned a letter on Instagram to James, thanking him for highlighting parts of him he didn't know he had.
"I can't give you like a definite point in time, but in my 16-year career I've learned every year how to be more and more and more of a leader," James said. "And more of a communicator and how I can communicate to certain guys and get the best out of certain guys. One thing that you learn when you become a parent is that if you have multiple kids, to get the most out of your kids, you can't teach them all the same way."
Here the Lakers have Ingram (21), Lonzo Ball (20), Kuzma (23) and Josh Hart (23), all closer in age to James' eldest son than they are to James.
"Guys that have been in the league for 8, 9, 10 years, you don't have to kind of tell them or teach them," Hart said. "… I think it's a little new for him but he's a natural, vocal leader. He makes it work."
That the young players he's now working with have room to grow excites James.
"They have that young men energy," James said. "Which is always great."
::
James became a parent young, and has said he always wanted that.
His role with his children is a contrast to his own upbringing, without his father's presence in his life. His mother, Gloria, was 16 when she had him. James was 19 years old when he became a father.
James and his wife Savannah have three children — 14-year-old Bronny, 11-year-old Bryce and a 3-year-old daughter, Zhuri. Each has a presence on social media, though only their youngest was born during the Instagram age.
"It took almost a year for me to actually put a picture of my daughter on social media," James said.
The spotlight in which he grew up is one he doesn't want for his children. When he went on a two-week cleanse, cutting out alcohol, added sugars, dairy and gluten, James insisted that his kids needed to be kids when it came to their diet. Bronny is a standout in basketball. While some prospects garner media attention well before college, James' son isn't allowed to do interviews until he's 18.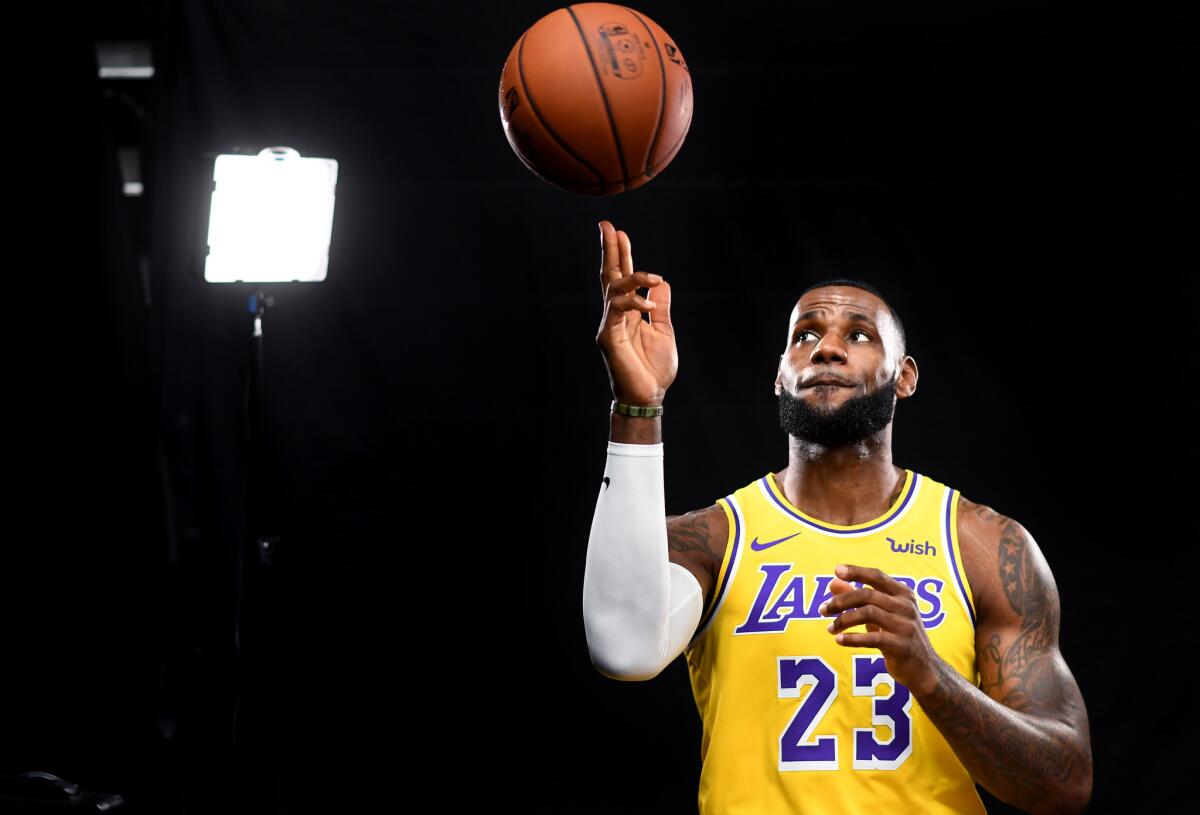 Those choices are influenced by what James experienced as one of the most famous teenagers in the world. He was 17 when he was on the cover of Sports Illustrated for the first time.
"They have seen their dad go through it for so long as a professional that nothing is really gonna surprise them," James said. "Both of my boys are on social media right now. Some for the greater good but also I wish it wasn't, but it is what it is."
There is the obvious reason why his function is different with his children than his teammates — his teammates are co-workers and technically peers. Another difference is more subtle. James will be like a coach on the floor for some of his new teammates. He's never coached his children.
"Their coaches are made to coach their youth and have way more patience than I have," James said. "Because I know myself."
Still, raising them has taught him the importance of knowing that people's needs are different. Raising them has taught him the value of patience. Raising them makes James, who turns 34 in two months, aware of what people a decade or two younger than him like.
::
The rapper J. Cole spends a few bars in a recent song criticizing a new wave of rappers that mostly appeal to a younger fan base. Hart hearkened to the song in explaining James' musical tastes.
"I mean he's with a lot of the little — as J. Cole said — the 'little short bus rappers,'" Hart said, grinning. "He knows a lot of Dolph. The Lil Durks and Babies of the world and all the other 25 little rappers that they call each other."
At first, Hart playfully objected to the idea that the young Lakers have tastes similar to James' eldest son. Then it occurred to him: his favorite activities fit right in with what a teenager might like. Hart loves video games.
"Bronny just turned 14?" Hart said. "I mean, he's like four years younger than [Isaac] Bonga. It's kind of crazy hearing it. I mean it's crazy. But I guess that's how he keeps up with the trends."
By the time the Lakers started training camp, James and several teammates had been in the facility for weeks, getting to know each other.
"I mean, he acts like a kid. He acts like one of us," Ingram said. "Of course he keeps it professional all the time. [But he also] acts like one of us on a daily basis."
Ingram laughed in acknowledging that James' sons help their dad stay abreast of things his young teammates might like — "Me and his son listen to the same music," Ingram said, referring to Bronny — but he also said James doesn't treat his teammates like his children.
Rather, James presents himself as an equal.
"He's one of us," Hart said. "But he's the best player to put on an NBA jersey. When you have someone like that he's obviously the vocal leader and talks to you. But it's not like he's spazzing on us. He can relate on a different level but he can joke around so it makes it just regular."
If his young teammates were in awe of his presence, they got over that pretty quickly — or at least pretended to.
"He not God," Ball said one day.
Kuzma dismissed the idea of being starstruck.
"I'm kind of past that point," Kuzma said. "It's going into my second year playing. I've been through playing a lot of games so you know it's kind of another game."
That's what James wants.
"If we're serious about what we're here for and we're putting in the time, we should all have awe moments," James said. "For me, I'm just one of the guys. … I come in, I punch my clock in, I put my hard hat on and I go to work every single day like the rest of them. I just want to lead those guys as much as they would like me to lead."
Part of this new challenge is finding out what that means. How much do his teammates want him to lead?
Every day he learns more about them.
"You get more and more comfortable with how to approach them, how to get the best out of them, how to lead them, how to respect them as well because we are all professionals," James said. "Even though they are younger than me, we are all professionals so you have to keep that in mind."
::
A day after James enthusiastically discussed his reading habits, he strolled into a hallway at an arena in Las Vegas holding "Havana Nocturne."
He was mostly stoic, clipped and businesslike during the ensuing news conference, with sarcasm drizzled into his words. When someone asked about the book, he nonchalantly explained his love of mob stories. "The Godfather" is one of his favorite movies.
This is often the persona James has shown publicly — that of a very serious man — since he became a Laker.
Sometimes work requires seriousness.
In waiting for his young teammates to embrace that, too, James is asking for patience from himself.
"I think it will be a learning experience for them," James said. "Some of them, they don't know. You can't expect them to know. So you have to understand, you have to guide them and teach them and allow them to make mistakes because I believe the best teacher in life is experience, so you have to allow them to make mistakes and fall on their face and get back up and see how they react to that."
That's another lesson fatherhood taught him, and one that stays with him as he enters a new phase of his career.
Follow Tania Ganguli on Twitter @taniaganguli
All things Lakers, all the time.
Get all the Lakers news you need in Dan Woike's weekly newsletter.
You may occasionally receive promotional content from the Los Angeles Times.