LeBron James had his doubts during injury break, but he's back in a familiar place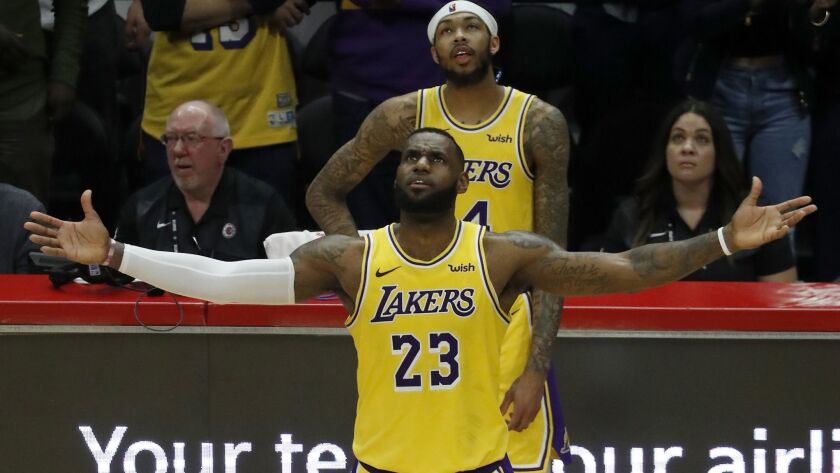 LeBron James stood in a familiar place wearing a wholly unfamiliar expression.
After five weeks of grappling with his career's mortality, James felt the kind of pain that enlivened him. He was physically spent after playing 40 minutes of NBA basketball in his first game back since recovering from a strained groin. He had emerged on the other side of a five-week ordeal during which he doubted himself more often than he didn't.
"I wasn't positive every day throughout this whole process," James said, standing at the center of a throng of reporters, giving his first news conference at Staples Center since mid-December. "I probably had more negative moments personally than positive, but when you've got a great support staff, it helps out a lot.
"There was times when I felt great and then a day or two later I didn't feel so good. There were times when I thought I could come back faster and be back quicker than I came back now, but it just wasn't reacting the right way. So I just had to be patient."
James returned Thursday night in the Lakers' win over the Clippers. He had a game that in some ways wasn't unlike many of the games he played before his injury. After a warmup period, James got rolling and nearly notched a triple double with 24 points, 14 rebounds and nine assists.
"A special human being," Tyson Chandler said. "He's the greatest player on the planet, so he brings his super powers."
What James has done for the last 16 years tests the bounds of human capability. The other members of his draft class can barely believe it, Lakers coach Luke Walton, whose back problems hastened his retirement, among them.
At most, James can play in 65 regular-season games this season. That will be the fewest games in which he's played in any season except the lockout-shortened 2011-12 season, when he played in 62 of 66 games.
Sign up for our Lakers newsletter »
A lingering back injury caused him to miss multiple games in 2015, but nowhere near the five-week hiatus forced upon him since Dec. 25, when he strained his groin during a game against Golden State.
Day after day, James went through his rehab. Some days he felt like his return would come soon. Other days it seemed a distant hope. His emotions seesawed with the good news and the bad.
"You gotta understand, I've never been injured before like that," James said. "The most I've ever sat out was two weeks. I broke my wrist when I was in high school as a junior."
He watched from a distance as his team struggled without him — James' teams historically have had trouble when he doesn't play. He played in every game last season, but in the previous season the Cavaliers lost every game they played without James.
The Lakers didn't find themselves in quite as dire a situation. The began 1-5 without him, then improved to 3-5. Out of the 17 games they played without James, they won six. It hurt more that other players sustained injuries too. Rajon Rondo missed 14 games, starting the same day James' injury began. Just as Rondo's hand injury healed, Lonzo Ball severely sprained an ankle that meant for one game the Lakers had neither of their true point guards.
"We would've liked to win some more of those games, but I thought our guys really competed and different guys did step up for us," Walton said. "If we can get through this stretch and slowly start to get healthy again and start to put some stuff together, I think this adversity will make us stronger by the end of the season."
Their best win was an overtime thriller against the Oklahoma City Thunder.
Their worst defeat was either a home loss to the Cleveland Cavaliers, who had the worst record in the Eastern Conference at the time, or a home loss to the New York Knicks, who now have the worst record in the league.
All James could do was watch from his raised seat on the end of the bench.
"I love clothes. I love suits. But I didn't come here to put on a suit every day," James said. "I come here to put on a jersey and some shorts. That's what I came here to do — and lead a team the best way I know how."
James felt good about his chances to return after Thursday's shootaround, and even told his coaches he planned to play. But not until just before the game did he truly make his decision. He'd been through several practices in succession, first non-contact, then contact in the half court, then contact in the full court. His scrimmage time increased slowly, until finally he felt ready.
Tentative at first, James got more comfortable with each quarter. His teammates could see that he wasn't 100%, but they still felt his impact.
"He's just so smart," Josh Hart said. "He's able to get guys in their spots, get easy buckets. That's what he does. His basketball IQ, him and [Rondo], is just through the roof. When you got guys like that out there, it's amazing."
James knew he'd be sore the next day — he wasn't feeling great when talking to reporters. Back doing what he loved, James didn't seem to mind at all.
"It felt good to be 80 [percent] and just to be back on the floor and put on a Lakers uniform again," James said. "That's what it's all about."
Follow Tania Ganguli on Twitter @taniaganguli
---
All things Lakers, all the time.
Get all the Lakers news you need in Tania Ganguli's weekly newsletter.
You may occasionally receive promotional content from the Los Angeles Times.