Lakers hire Luke Walton as coach, hoping he can be their Golden ticket back to respectability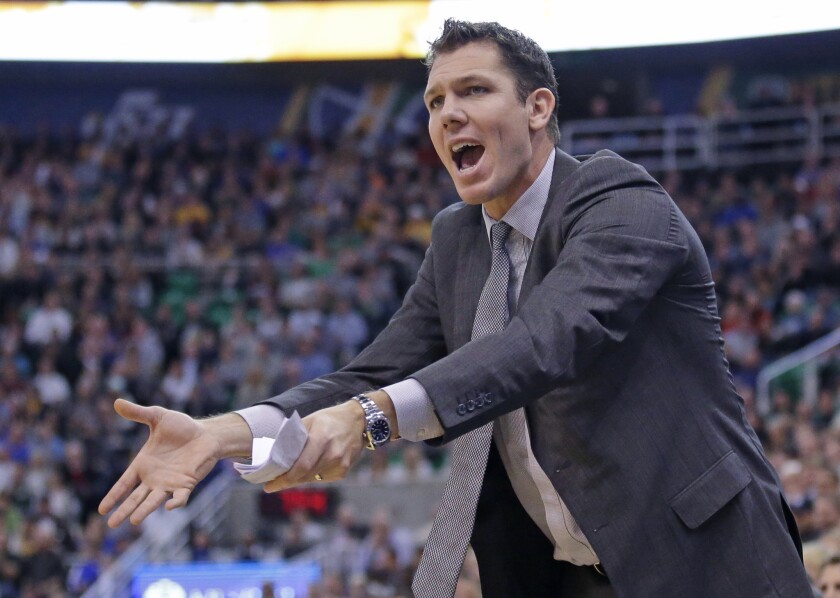 The coaching search didn't last long, the Lakers hiring one of their own — Luke Walton.
A pass-first role player who won championships as a forward with the Lakers in 2009 and 2010, Walton will try to turn around the fortunes of a franchise that missed the playoffs the last three seasons.
He became a fan favorite after being drafted in 2003, a second-round pick whose hustle and team-oriented mind-set led to mellifluous "Luuuuke" cheers at Staples Center when the Lakers were championship contenders.
Terms of his contract were not immediately known. The Lakers called it a multiyear deal.
See the most-read stories in Sports this hour>>
Walton was an assistant coach for two seasons with the Golden State Warriors and guided them to a 39-4 record earlier this season while Coach Steve Kerr recovered from two back surgeries. The Warriors finished 73-9, setting the mark for best regular-season record in NBA history.
Walton, 36, will stay with the Warriors through the playoffs before joining the Lakers. Golden State advanced to the Western Conference semifinals after eliminating Houston on Wednesday.
Walton was not available for comment Friday but a person familiar with his thinking said it best: "Once you grab that clipboard, it's hard to give it up," a reference to Walton's half-season of success as interim coach.
Even though he was not credited with any of the victories — they belong to Kerr, per NBA rules — Walton tied for eighth in voting for NBA coach of the year. Kerr finished first.
The Warriors made a point of honoring Walton as well, posting photos to their website of Walton and Kerr jointly holding up the Red Auerbach trophy after a news conference earlier this week.
"Some of the good advice Steve gave me when I took over was to just continue to be myself — be honest with the guys," Walton told The Times last November. "I told them early on that, look, it's my responsibility to get on you guys if we're not playing to a certain level, to get upset if it needs to come to that. Obviously, that's not the role I've had before but this is the situation our team is in so that's kind of the direction this has to go. They were receptive to it."
Walton replaces Byron Scott, who was not retained by the Lakers after winning only 38 games over the last two seasons, the two worst in franchise history.
Lakers executives Mitch Kupchak and Jim Buss interviewed Walton in the Bay Area on Thursday. He was believed to be the only person they met with in person. The coaching search lasted five days, the team plucking Walton from among a crowded field that included San Antonio Spurs assistant Ettore Messina and University of Connecticut Coach Kevin Ollie.
Walton is already known as a players' coach, one who can relate to the modern-day NBA athlete. This would be different from Scott, who employed a "tough love" approach, publicly criticizing the Lakers' young players.
"We're excited to bring Luke back to Los Angeles, where we feel he's going to start an outstanding coaching career," Kupchak said in a statement Friday. "He's one of the brightest young coaching minds in the game and we feel fortunate that he'll be leading the on-court future of our team."
Kupchak wasn't the only one praising Walton, who averaged 4.9 points and 2.3 assists in nine seasons with the Lakers.
"He has all of the intangibles necessary to be an outstanding head coach in this league, including a terrific understanding of the game [and] the ability to communicate with a wide range of people," Kerr said in a statement. "He's certainly ready for this opportunity and I'm confident he'll do a great job with the Lakers once our season is complete."
Walton is a triangle disciple, familiar with the offense in which he spent seven years when Phil Jackson coached the Lakers. It wasn't immediately clear if Walton would run the triangle as a head coach.
Jackson told The Times on Friday he was "happy for Luke."
"He's a natural — was a coach on the floor as a player," Jackson said.
Walton does not have an easy task ahead. The Lakers just finished a 17-65 campaign, the worst season of their 68-year history.
Then again, they have about $60 million to spend in free agency this summer. They also have a 55.8% chance at retaining their top-three-protected draft pick at the May 17 lottery.
MORE SPORTS
Letters: Everyone has a cure for the curse of the Clippers
Ducks will go forward without Bruce Boudreau after coach is fired
Spurs vs. Thunder: How they match up in NBA playoffs second round
Follow Mike Bresnahan on Facebook and Twitter @Mike_Bresnahan
---
All things Lakers, all the time.
Get all the Lakers news you need in Dan Woike's weekly newsletter.
You may occasionally receive promotional content from the Los Angeles Times.