Lakers part ways with Luol Deng, clearing salary cap space for next summer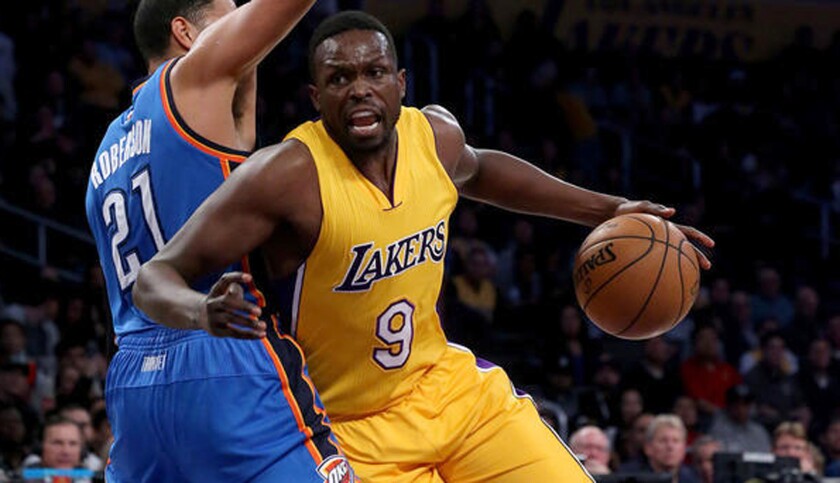 The Lakers and Luol Deng are finally free from each other.
Deng's agent and the team reached an agreement for a buyout under the waive and stretch provision, according to a person familiar with the discussions who wasn't authorized to speak publicly. That allows a team to renegotiate the structure of a player's salary, waive the player, and then spread his salary over several years to create more cap space.
Deng agreed to sacrifice $7.5 million of the remaining $36.8 million on his contract. According to a person familiar with the negotiations who wasn't authorized to speak publicly, Deng will count for $14.3 million against the Lakers' salary cap this season, then $5 million for the next three seasons. That deal will be completed once Deng clears waivers and the 33-year-old two-time All Star will become a free agent.
"We want to thank Luol for his time with the Lakers," general manager Rob Pelinka said in a statement. "We made this move to further our future salary cap and roster flexibility, as we continue to build this Lakers team according to our current overall vision."
The Lakers are now scheduled to have about $38 million in salary cap space next summer, enough room to sign a player to a maximum contract.
Deng, who only played in one game last season, had two years left on a four-year, $72-million contract he signed in 2016. That summer, then-general manager Mitch Kupchak also signed Timofey Mozgov to a four-year deal worth $64 million early in free agency. The team traded Mozgov in June 2017.
For the last two seasons, Deng was the Lakers' highest-paid player.
From the start of his tenure, he and the Lakers staff quietly clashed. Deng's role as the Lakers' starting small forward wasn't what he expected. Lakers coach Luke Walton's system didn't fit Deng's playing style, one that flourished under more structured game plans. He averaged 26.5 minutes, 7.6 points and 5.3 rebounds per game during his first season with the Lakers, when he only played in 56 games.
On Feb. 6, 2017, Walton benched Deng to start then-rookie Brandon Ingram. Deng played in seven more games. By the end of the month the Lakers shut him down for the rest of the season.
The Lakers offered Deng minutes available due to Kentavious Caldwell-Pope's two-game suspension at the start of the season. But rather than play Deng a small number of minutes per game, Walton reached an agreement with him that he wouldn't play at all. Deng eventually asked for the Lakers to trade him or waive him, though he was not interested in a buyout that would have cost him part of his salary.
While no trade materialized, Deng felt confident the Lakers would not bring him back for a third season, saying it didn't "make sense" for the two sides to go on as they had been doing. At the end of last season, Pelinka and Walton insisted they would accept having Deng on the roster for another season and that it wouldn't create an awkward situation.
The team's plan was only to use the stretch provision if it needed the salary cap space or if the deal was favorable to them. This move allowed the Lakers to save money and clear salary cap space without forfeiting the assets it might have taken to trade Deng.
Follow Tania Ganguli on Twitter @taniaganguli
---
UPDATES:
12:50 p.m.: This article was updated with a statement from Lakers General Manager Rob Pelinka and more details on the transaction.
This article was originally published at 10:05 a.m.
---
All things Lakers, all the time.
Get all the Lakers news you need in Dan Woike's weekly newsletter.
You may occasionally receive promotional content from the Los Angeles Times.