Column: Lakers' story just gets crazier with new details, and harder to sell to free agents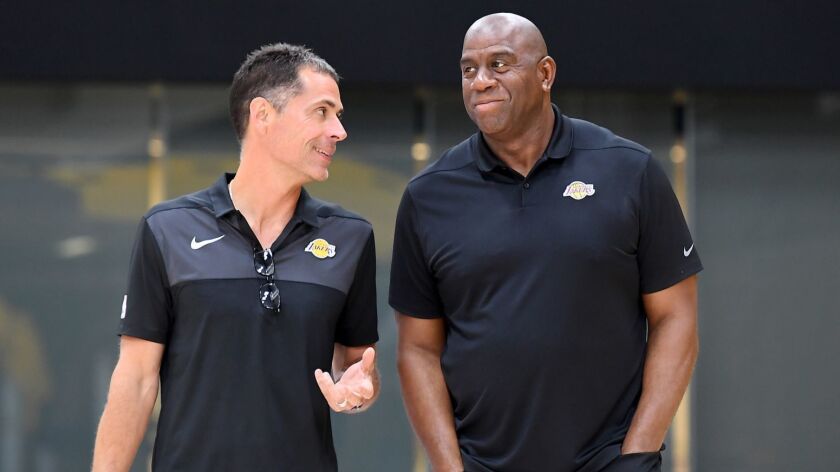 For most of the last two years, the question facing the NBA's most glamorous franchise for the summer of 2019 was clear.
Which superstar is going to sign with the Lakers?
Yet, in recent months, as gaping cracks have appeared in the organization's credibility, the question has dramatically changed.
Why would any superstar want to sign with the Lakers?
Why, indeed, would anyone want to forge a lengthy business partnership in the prime of their career with a franchise owned by a confused Jeanie Buss, abandoned by a frustrated Magic Johnson, run by a domineering LeBron James, and operated under the heavy hand of a distrusted Rob Pelinka?
Superstars want a championship culture. Not happening here.
Superstars want a stable front office. Not even close.
Superstars want distraction-free basketball. Not a chance.
The Lakers' internal problems have been exacerbated by the public nature of their various fusses and feuds. In an odd Hollywood twist, reality has become perception, and the idea that Lakerland has become a wasteland surely will haunt the team during the upcoming free-agent season.
Just when you thought it couldn't get any worse, well, it got worse, their problems accentuated with Tuesday's publishing of an ESPN story by Baxter Holmes that represents another deep dive into their franchise dysfunction.
Nothing in the story was surprising. The Lakers mess has been well documented both on these pages and throughout the national media landscape.
But the piece does contain several new anecdotes in which their chaos is startlingly reinforced. It is these sorts of nuggets that will be used against them by opponents during the recruiting of superstars. These little stories will be tossed on a big pile that eventually could smother the Lakers' future hopes.
If you're cringing while reading this stuff, how do you think the likes of Kevin Durant, Kawhi Leonard and Kyrie Irving are reacting?
For example, we all knew Pelinka engendered trust issues, but the ESPN story cites a supposedly inspirational story he told the team that could not possibly be true.
During a team meeting featuring Dwayne "The Rock" Johnson in March 2018 — an event captured on a video uploaded to YouTube — Pelinka regaled his players with the story of a meeting between his former client Kobe Bryant and actor Heath Ledger.
"There was one time when Kobe, who I worked with for 18 years, was going back to play in Madison Square Garden, and he had just seen, 'The Dark Knight,''' Pelinka said. "Obviously, you guys saw that movie, and he's like, 'Hey, hook me up with dinner with Heath Ledger, because he got so locked into that role. I want to know how he mentally went there.' So he had dinner with Heath and he talked about how he locks in for a role. And Kobe used some of that in his game against the Knicks.''
There was one problem with the anecdote — "The Dark Knight'' wasn't released until six months after Ledger died.
The ESPN story also details how, in the 2018 draft, Lakers staffers thought they were going to take Villanova forward Omari Spellman until Pelinka surprised everyone by taking Michigan's Mo Wagner. Pelinka reportedly justified his decision by telling staffers that the Lakers' Josh Hart, also a former Villanova star, had expressed concerns about Spellman.
On Tuesday after the ESPN story was published, Spellman tweeted his disappointment in Hart, to which Hart denied any involvement by tweeting back, "There's a lot of snakes in the industry but I ain't one of them.''
The ESPN story clarified more madness elsewhere.
We all knew Rich Paul, LeBron James' agent, was plotting get Luke Walton fired. But the story cites an anecdote about Paul actually taking his concerns to NBA Commissioner Adam Silver in November during a restaurant meeting, complaining about Walton and endorsing Tyronn Lue as if he spoke for the organization.
The story also cites how Paul rode the Lakers' team charter plane "on multiple occasions" this season, a move which is rare even in the agent-friendly NBA. The Lakers confirmed to ESPN that Paul had ridden the plane once with Walton's permission. And you still wonder if James runs this team?
We all knew that Earvin Johnson has a different, tougher personality than Magic Johnson. But the story alleges his overbearing management style led to two office employees suffering panic attacks, with one longtime staffer quitting because of the distress he allegedly caused her.
"Every day you go in there and get this horrible feeling of anxiety,'' ESPN quoted one executive saying. "In the last year, I can't tell you how many panic attacks I've had from the [bleep] that has happened there.''
ESPN wrote that another person described as a "former athletic training official'' said of Johnson, "He's a fear monger.''
Responding to the ESPN.com story in an appearance on ESPN television Tuesday afternoon, Johnson denied workplace bullying, saying, "Do you think Jeanie Buss would allow me to abuse the employees? If that was the case, she would have called me in. … It never happened. I'm a person who brings everybody together, uplift the employees. I've never abused an employee and I never will, that's not what I'm all about.''
Sign up for our daily sports newsletter »
He added, "It's OK if you want to try and lie on Magic, go ahead. But I know the truth. Jeanie knows the truth. Because if I had disrespected somebody, she would have called me in her office and that never happened. HR [human resources] would have called me. It never happened. Two years. Never."
Finally, it has been consistently written in this space that Linda Rambis, for reasons that don't seem to go beyond friendship with Buss, is the Lakers' shadow owner. The ESPN story quotes an unnamed person saying that Rambis "controls and manipulates Jeanie.''
In all, the ESPN story reiterates and strengthens the narrative that the Lakers, as currently constituted, would be a problematic place for a superstar free agent to play.
Buss has about a month to change this perception, and the stakes are huge. The Lakers' legacy, and possibly her future, depend on whether she can.
Get more of Bill Plaschke's work and follow him on Twitter @BillPlaschke
---
All things Lakers, all the time.
Get all the Lakers news you need in Dan Woike's weekly newsletter.
You may occasionally receive promotional content from the Los Angeles Times.