Lakers' season takes another turn in Dallas, this time for worst loss in franchise history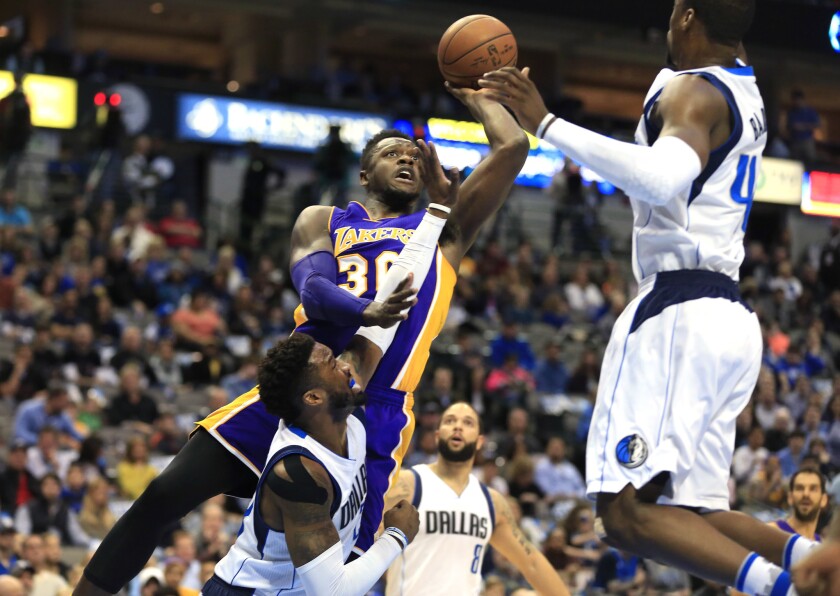 Reporting from Dallas —
Nobody would have blamed the Lakers on Sunday if they had walked off the American Airlines Center court at halftime, made a beeline for the team bus and bolted to the airport for a flight home.
They were well on their way to the most lopsided loss in franchise history, a 122-73 pasting at the hands of the lowly Dallas Mavericks in which they trailed by 34 points at the break and were playing some of their ugliest basketball of an often unsightly season.
Most of their shots clanged loudly off the rim. Several missed the rim entirely. Others were swatted out of bounds by the Mavericks.
Was there really any need to subject themselves and a crowd of 19,484 to another 24 minutes of this?
But NBA rules stipulate that four quarters be played, so the Lakers (16-32) trudged through another half. Seven Dallas players scored in double figures, led by Justin Anderson's 19 points, and the Mavericks (15-29) extended their regular-season win streak over the Lakers to 13 games dating to Nov. 5, 2013.
Dallas pushed its lead to 53 points late in the fourth quarter, and the Lakers were unable to avoid the indignity of their worst loss ever, the 49-point drubbing surpassing a pair of 48-point losses, 123-75 to the Utah Jazz last season and 142-94 to the Clippers in 2013-14.
"We didn't show up to play, honestly," Coach Luke Walton said. "It's embarrassing for us as a team, for us as an organization and for our Lakers fans, who are so good to us."
The young, inexperienced and unpredictable Lakers have shown they are capable of great heights, such as the 117-97 win over Golden State on Nov. 4, and great depths — they lost the Warriors, 149-106, on Nov. 23 — but rarely has this roller-coaster ride of a season ascended and descended so quickly.
The Lakers played one of their best games of the season Friday night, beating the playoff-caliber Indiana Pacers, 108-96, with rookie forward Brandon Ingram playing what Walton called his "best overall game of the season," with 15 points, seven rebounds, three steals and three three-pointers.
Sunday, Ingram, starting at point guard in place of the injured D'Angelo Russell, played one of his worst games of the season, making two of 12 shots, committing five fouls and three turnovers. And his teammates weren't much better.
The Lakers shot 38.4% from the field (28 for 73), 14.3% from beyond the three-point arc (three for 21), turned the ball over 17 times and had only 11 assists.
The Lakers' 73-point output came on the 11-year anniversary of Kobe Bryant's 81-point game in a 122-104 win over the Toronto Raptors.
"The effort wasn't there tonight," Walton said. "I love our group of guys, I know we're gonna bring it the next game, but this is not who we are. … We've been playing some good basketball, but this one caught us by surprise."
The Lakers trailed only 23-22 when Jordan Clarkson hit a running shot in the lane with 2 minutes 29 seconds left in the first quarter. Almost seven minutes went by before the Lakers scored another field goal, Luol Deng's cutting layup with 7:32 left in the second.
The Mavericks pushed their lead to 40-23 during the drought, in which the Lakers missed eight straight shots and turned the ball over five times. The Lakers scored 11 points in the second, their lowest-scoring period of the season, making four of 17 shots and missing all six of their three-point attempts.
They trailed, 67-33, at halftime. The Lakers played a decent third quarter, getting outscored, 23-22, but they faded badly in the fourth, Dallas extending its lead to 122-69 with 2:49 to play. The Mavericks made 17 of 39 three-point shots. No Lakers starter scored in double figures.
"I don't know what it was, but it's almost like we got complacent with one win," said forward Larry Nance Jr., who returned after missing a month because of a bone bruise in his left knee. "It seems silly to say that, but the way we came out tonight, we just weren't ready and focused. We have to address that this week."
Twitter: @MikeDiGiovanna
---
All things Lakers, all the time.
Get all the Lakers news you need in Dan Woike's weekly newsletter.
You may occasionally receive promotional content from the Los Angeles Times.