Shaquille O'Neal on Kobe Bryant: 'Hopefully he's happy'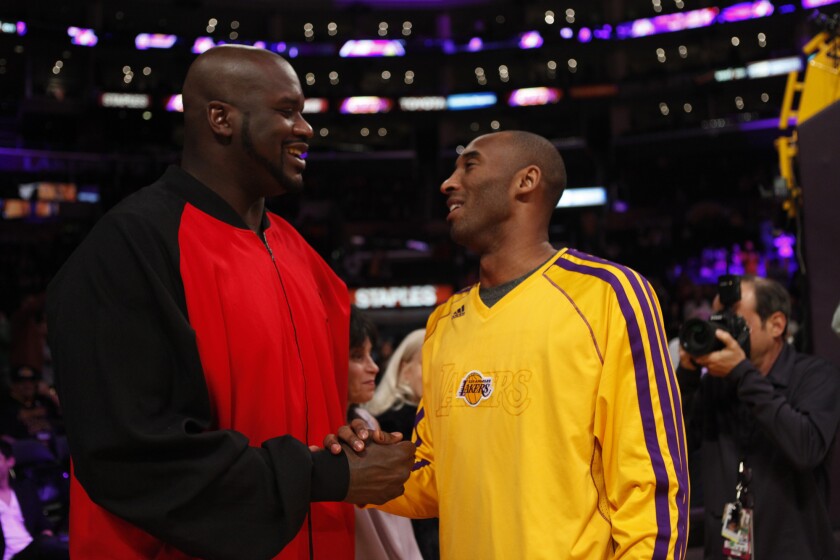 Reporting from AUBURN HILLS, Mich. —
More than anyone else, one player defined the first part of Kobe Bryant's career: Shaquille O'Neal.
They were brilliant together, winning three championships, but hated each other by the end of an eight-year run with the Lakers.
O'Neal was too goofy for Bryant's taste. He didn't take things seriously, didn't have the work ethic to match his natural basketball gifts, Bryant thought.
Bryant was too serious and needed to lighten up, O'Neal thought. And defer to his elders, of course, which often meant passing the basketball more often.
They made up publicly over the years, though they'll never be good friends.
In the wake of Bryant's retirement announcement, O'Neal expressed optimism for him but also said he hoped his former teammate would not feel lost without basketball.
"Hopefully he's happy. He's a very intelligent guy. I'm sure he has a lot of things to fall back on," O'Neal said on "The BIG Podcast with Shaq," available Monday on iTunes.com/Shaq and PodcastOne.com. "And, you know, some people really miss it, some people can't live without it, and some people are prepared to move on. I can't really tell which guy he is because I know he was basketball, basketball, basketball, basketball. So now imagine not having to get up and work out without basketball. I don't know where that's going to take him."
O'Neal ended up giving Michael Jordan the edge over Bryant after saying they were similar in many ways, including wanting the ball all the time, sharing the same work ethic and even walking the same way.
"The only thing different is Mike had six [championships], Kobe has five," O'Neal said. "But I would probably have to give Mike the edge because, for me, I have this thing inside of me that the elders always get the edge."
O'Neal added that neither player cared "what anybody says about it, they're going to do it their way no matter what."
O'Neal, though, was impressed that Bryant, who joined the Lakers as a 17-year-old, was able to pass Jordan for No. 3 on the NBA all-time scoring list.
"You know, for him, I'm sure it's going to be a great time when he can look at the scoreboard and see, 'Myself, blah blah blah, Michael Jordan under me,' " O'Neal said. "You know, he told me as a youngster, 'I'm going to pass Michael Jordan up.' I used to be like, 'Shut . . . up. Sit down,' because, you know, he came in dribbling through his legs, and I'm like, 'Shut up.' And he did it."
Bryant (32,753 career points) passed Jordan (32,292) last December. Kareem Abdul-Jabbar is the NBA's career points leader (38,387), followed by Karl Malone (36,928).
Twitter: @Mike_Bresnahan
MORE ON KOBE BRYANT
Kobe Bryant says post-playing career will be different from Magic Johnson's
Letters: Even as he retires, Kobe Bryant remains a polarizing figure
---
All things Lakers, all the time.
Get all the Lakers news you need in Dan Woike's weekly newsletter.
You may occasionally receive promotional content from the Los Angeles Times.