Has Kobe Bryant gone soft in his last season?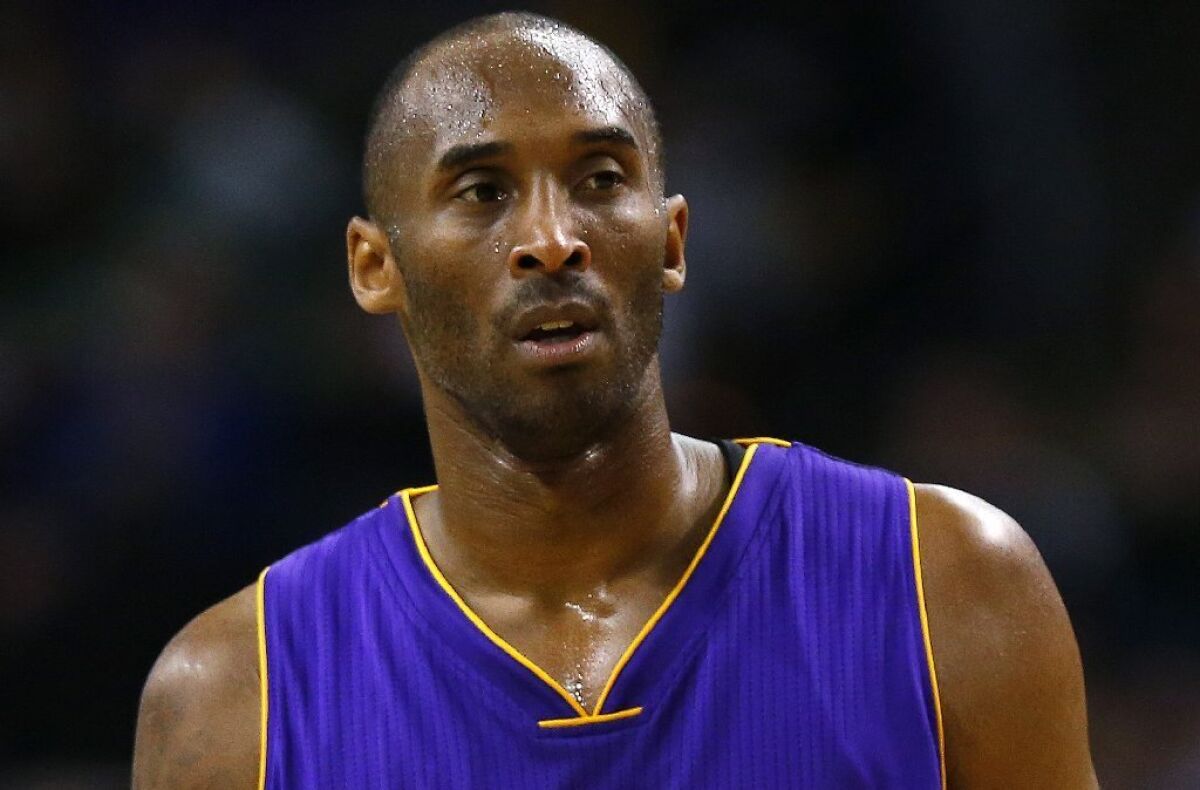 It was bad to be a trash can if Kobe Bryant was mad.
This was years ago, back when there were championship expectations, but Bryant booted one clear across the Lakers' locker room at Madison Square Garden after a rough loss.
It was also sometimes bad to be toilet paper, apparently. Bryant angrily called his teammates "soft like Charmin" during a rant at practice in which he didn't feel challenged. This was a little over a year ago.
The smoldering Bryant is now replaced by a smiling one, even as the Lakers (8-30) pinwheel toward the worst season in their 68-year history.
They played well Friday but lost a tight one to Oklahoma City. The new, lighthearted Bryant showed up again in the interview room, just like the previous night after a close loss in Sacramento.
The losses don't seem as devastating to him.
"I just hide it a lot better," he said Friday.
Come on. There are other reasons.
"When you're playing for a championship or you have championship talent, it [ticks] you off a lot more when you're not playing up to that level of potential," he said. "The team that we have now, we're playing hard. The first two games against Oklahoma [City], you see a big, big difference from then until now. Those things make me happy."
StubHub snub
One thing didn't make Bryant too pleased — the story of the fan who bought tickets to Bryant's last game, only to have them revoked by StubHub, a popular ticket resell website.
Eighteen days before Bryant announced his retirement, Jesse Sandler purchased four tickets to the Lakers' regular-season finale — April 13 versus Utah at Staples Center. The lifelong Lakers fan paid $925 on StubHub and planned to go with a group of friends. They would be behind the basket by Utah's bench.
Two weeks after Bryant's announcement, StubHub sent Sandler an email saying the original ticket-seller had "incorrectly" listed them for sale. They were not available, StubHub added, acknowledging that tickets in a similar location would now cost almost $6,000. Sandler was given a refund and $100 credit toward future purchases.
He talked to StubHub a couple of times, trying to understand how this could happen, and received another $150 in credit but no tickets.
Bryant called it a "horrible business decision" by StubHub.
"I don't know how else to put it," Bryant said Friday. "That's just 'Branding 101.' What the hell are you doing?"
The story was initially written by The Lead sports website. Sandler, a 32-year-old clinical social worker from Santa Monica, then made radio appearances on 710 ESPN and KROQ.
As the story gained traction, StubHub tweeted an apology — "We shot an airball" — and gave Sandler an additional $1,000 credit.
The company then offered him use of a suite for friends and family at any Lakers game besides Bryant's finale, Sandler said. He declined.
The owner of Tickets for Less, a Kansas City-based company, was flying out to Los Angeles to hand-deliver Sandler four tickets to the game. They are in the same section and four rows closer than the ones he originally purchased.
Sandler has received multiple ticket offers and plans to give some to After-School All-Stars, a youth charity.
"It's so exciting," Sandler told The Times on Saturday. "It's beyond what I thought would come of this."
Bryant noticing his plight was memorable too.
"Just the fact that Kobe would mention the story in a postgame press conference, that's pretty cool," Sandler said.
Up Next
LAKERS VS. UTAH
When: 6:30.
Where: Staples Center.
On the air: TV: TWC SportsNet, TWC Deportes; Radio: 710, 1330.
Records: Lakers 8-30; Jazz 15-20 through Friday.
Record vs. Jazz (2015-16): 1-2.
Update: Despite being below .500, Utah is in the hunt for the Western Conference's eighth and final playoff spot. Jazz Coach Quin Snyder was an assistant on the Lakers for the 2011-12 season. Forward Gordon Hayward is the leading scorer.
Follow Mike Bresnahan on Facebook and Twitter @Mike_Bresnahan
All things Lakers, all the time.
Get all the Lakers news you need in Dan Woike's weekly newsletter.
You may occasionally receive promotional content from the Los Angeles Times.