Lakers' Byron Scott wants to see same effort team had in win over Warriors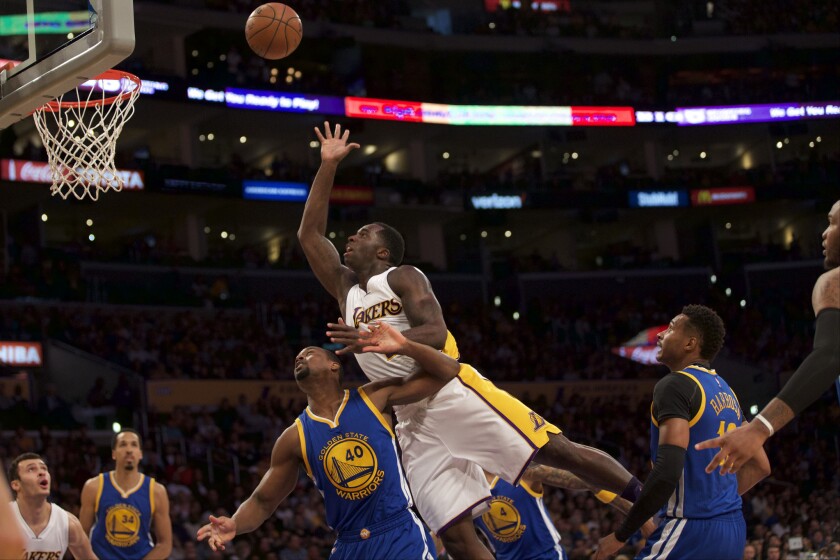 It's funny. The Lakers' victory over Golden State was more than a week old and still being discussed in hushed tones.
Or not-so-hushed tones by Coach Byron Scott.
He's using it as a rallying cry to end the Lakers' two-game losing streak, including a rough last-second loss Sunday to New York.
"That's the one thing I told them today is the fact that for 48 minutes against Golden State we were really in tune to what we wanted to do, the effort was unbelievable," Scott said Monday. "It's [ticking] me off. It just irks me when you see that type of effort against a great team and you then see the lackadaisical effort against some of the teams that we've played lately."
The Lakers' upset of the Warriors was historic, with no team that bad ever beating a team that good so late in the season. The Lakers (14-53) beat Orlando two days later but got drilled by Cleveland and stumbled painfully in the first half of a 90-87 loss to New York.
They play Tuesday against Sacramento (25-40), which lost five consecutive games and suspended All-Star center DeMarcus Cousins last week for a game because of a verbal spat with embattled Coach George Karl.
And you thought the Lakers had problems.
Sunday marked a step back not only for the Lakers, who scored a sad 35 points before halftime, but rookie D'Angelo Russell, who followed up a nice 10-game run with four points against the Knicks.
Scott hates the phrase "tough love," but it's what he uses with the younger Lakers, be it demoting Russell and Julius Randle 20 games into the season (they've since returned to the starting lineup) or publicly criticizing parts of their game.
Does it work? Scott thinks so, at least temporarily.
"They come back out the next game and they play pretty hard," he said. "And then it seems like about a week later, after about three or four games, they kind of get back into this little lull. If you expect to be a good team or a great player in this league, you've got to figure it out every single night. It can't be every once in a while."
It was unclear whether Kobe Bryant would play Tuesday but it wouldn't be surprising if he sat for a bit after appearing in high-profile games against Cleveland and New York, employers of LeBron James and Carmelo Anthony.
The next few games are a lot less juicy for a player trying to keep himself together until April 13.
After Sacramento, the Lakers play Phoenix on Friday and a threadbare Memphis team after that. All three games are at Staples Center, where Bryant has sat out about one-third of the games since declaring his intent to retire, typically citing shoulder pain.
"I just go by what he tells me as far as how he feels and then we go from there," Scott said.
NEXT UP
LAKERS VS. SACRAMENTO KINGS
When: Tuesday, 7:30 p.m. PST.
Where: Staples Center.
On the air: TV: TWC SportsNet, TWC Deportes; Radio: 710, 1330.
Records: Lakers 14-53, Kings 25-40.
Record vs. Kings: 0-3.
Update: The Lakers' defense has played poorly most of the season and especially against Sacramento, allowing an average of 120.7 points in three games. The Kings have lost nine of 10 and were booed in the second half of a 108-99 home loss Sunday against Utah. DeMarcus Cousins scored 31 points in his return from a one-game suspension for "conduct detrimental to the team."
Twitter: @Mike_Bresnahan
---
All things Lakers, all the time.
Get all the Lakers news you need in Dan Woike's weekly newsletter.
You may occasionally receive promotional content from the Los Angeles Times.