Lakers won't say how many minutes Kobe Bryant will play in finale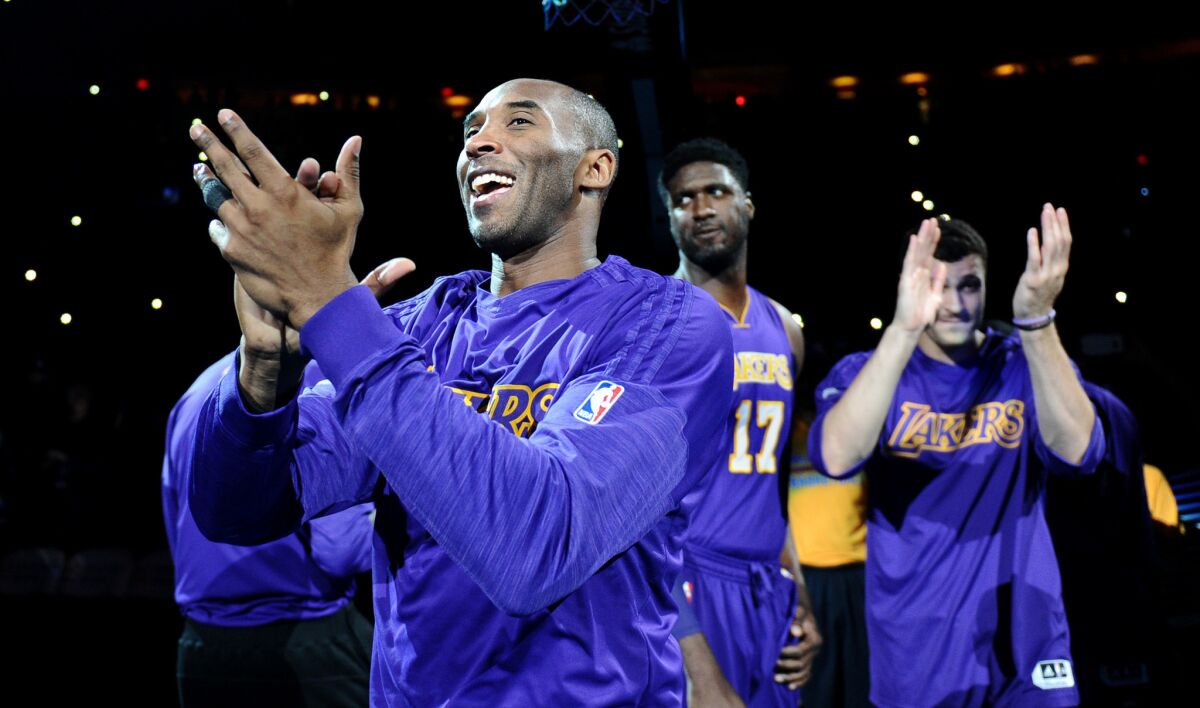 Reporting from OKLAHOMA CITY —
Kobe Bryant's career has almost ended. There are few details left to ponder about Wednesday's finale.
His playing time against the Utah Jazz is still a mystery.
"I know the fans, they would love to see [him] out there for 48 minutes," Lakers Coach Byron Scott said Monday. "That's not going to happen, I can tell you that."
Scott was reluctant to reveal how many minutes he and Bryant agreed upon for Bryant's career-capper, but indicated it would be more than any other game this season.
The 37 minutes Bryant played in November against Toronto didn't translate to a lot of activity — he had 10 points on five-for-13 shooting.
He scoffed at playing the entire game Wednesday when asked about it a couple of days ago. That only happens in video games these days, he added.
Bryant is averaging about 28 minutes a game in his 20th NBA season. He will play in 66 of the Lakers' 82 games, a surprise after his previous three seasons ended earlier than expected because of injuries.
Bryant, 37, rarely took part in practice this season and almost never attended morning shootaround on game days.
"If he could have practiced every day, he would have, but that would have been a detriment to him and us," Scott said. "We just felt it was best a long time ago to just say, 'Hey, let's shut down practice and try to save your legs as much as possible so you can play these games.'
"He's seen everything on both ends of the floor that you can possibly do. There wasn't nothing that we were going to do defensively with adjustments that he hadn't seen. So it was real simple when he came in for the game… to say, 'This is what we're doing defensively. This is how we're guarding these plays.' He's got it."
Who's paying?
Scott kept trying to get dinner with Bryant the last few weeks but it didn't happen.
It's been "chaotic" lately, Scott said accurately, referring to the final lap of Bryant's goodbye tour, but the Lakers coach wouldn't be denied.
"Once the season's over … I'll give him a text and go down to Orange County and play some golf and then meet him for dinner," he said. "Just kind of reminisce over the 20 years that we've known each other and reminisce a little bit over the last two years. I know we'll stay in contact. He already told me he's going to talk me off the ledge if he has to next year."
One of Scott's favorite analogies is needing to be talked off the ledge when times are tough, when the losses stack up. It happened quite a few times as the Lakers headed toward their worst season ever.
There was no question who would buy dinner when they finally got together.
"He makes $25 million. I think he buys," Scott said. "I don't make that much so I'm going to put it on his tab."
Twitter: @Mike_Bresnahan
ALSO
Kobe Bryant isn't the only NBA icon to limp into retirement
10 memorable moments from Kobe Bryant's 20-year NBA career
A hero, a villain or a legend? What Kobe Bryant meant to readers
---
All things Lakers, all the time.
Get all the Lakers news you need in Dan Woike's weekly newsletter.
You may occasionally receive promotional content from the Los Angeles Times.