Lakers remain cautious with Lonzo Ball's injury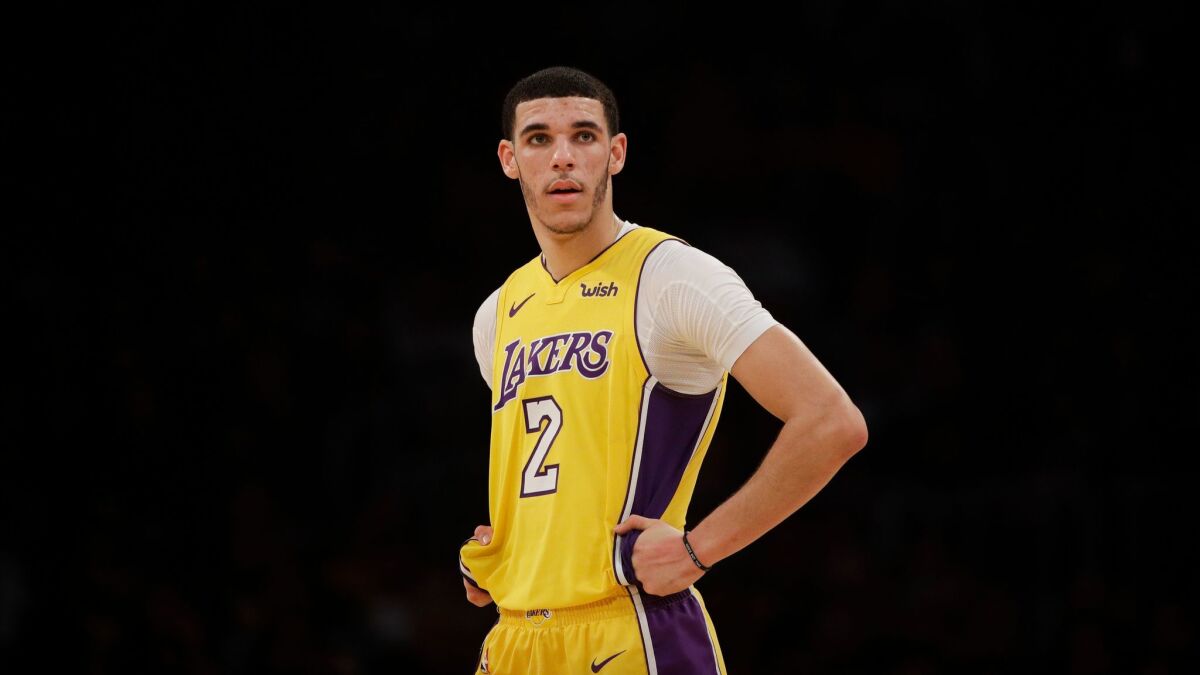 Reporting from OKLAHOMA CITY —
There was no indication when Lonzo Ball would be able to practice again on Sunday afternoon, when coach Luke Walton addressed reporters before the Lakers played the Oklahoma City Thunder.
Ball is recovering from a sprained left medial collateral ligament in his left knee that has caused him to miss 10 games, on the heels of a shoulder injury that sidelined him for six.
Before the rookie point guard plays in a game, he will have to complete a full practice and feel good after it. Before he practices, he will have to go through full-speed, non-contact drills.
The Lakers canceled Monday's practice, but Ball will be at the team's facility in El Segundo getting treatment and rehabbing his knee.
The Lakers had Ball put his knee through some more rigorous work while they were in Toronto. Ball felt some soreness, so the team erred on the side of caution.
"There was some times where we had him push it a little bit and he felt something," Walton said. "Whether or not he could have pushed through it, we decided just as soon as he felt something to cut it back right then and just stick to the things he didn't feel anything doing."
Ball traveled with the Lakers for their five-game, 11-day road trip to Chicago, Toronto, Orlando, Brooklyn and Oklahoma City. On Saturday night he went to a dinner with the other rookies and assistant coaches Miles Simon and Brian Shaw.
"There's always activities we have on these road trips planned for the young players," Walton said. "He's done a really nice job talking with the guys and staying engaged and asking questions."
The Lakers have not allowed Ball to speak to reporters since they announced they were treating the injury like a long-term one. Ball initially was referred to as day to day after he suffered the injury, and even listed as questionable for the following game at Memphis.
A sprained MCL typically takes one to three weeks to heal. Saturday marked exactly three weeks since Ball suffered the injury.
Super Bowl bummer
Much to the chagrin of rookie Josh Hart, the team was on its flight back to Los Angeles on Sunday when the Super Bowl kicked off.
"I'm bummed," Hart said before the flight. "I wanted to stay here. Stay here and watch the game."
Hart said he'd try to rush home to his apartment, about five minutes from the airport, hoping to catch the second half.
"They had their hearts set" on going home, Hart said. "It's been a long road trip. I'll let this one go. I'll pick and choose my battles."
Hart, who went to college in Philadelphia, actually wanted the Patriots to win out of respect for quarterback Tom Brady. Plus, Hart's a fan of the Washington Redskins, and the Eagles are a hated rival.
His coach had a pregame prediction Hart wouldn't have liked.
"The Eagles are going to win," Walton said. "Call your bookie."
Etc.
The Lakers have one more game before the trade deadline, Tuesday against the Phoenix Suns. Then they play the Thunder again Thursday, the day of the deadline. … Brandon Ingram started at point guard again Sunday despite some groin tightness after Friday's game, and had 16 points, five rebounds and five assists.
Follow Tania Ganguli on Twitter @taniaganguli
---
All things Lakers, all the time.
Get all the Lakers news you need in Dan Woike's weekly newsletter.
You may occasionally receive promotional content from the Los Angeles Times.