Lakers' Lonzo Ball sprained his left ankle and is questionable for Saturday's game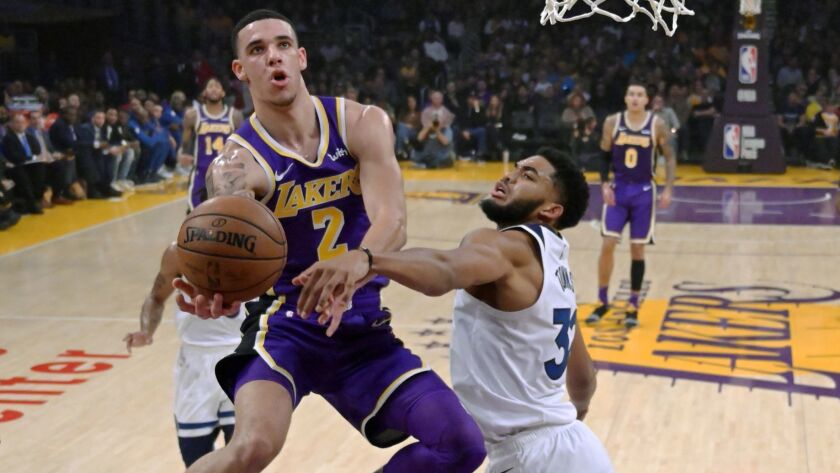 The Lakers announced that starting point guard Lonzo Ball has a "mild" left ankle sprain and is questionable for Saturday night's game at Sacramento.
Lakers coach Luke Walton said Ball was shut down after the injury occurred near the end of Friday's practice and that "hopefully it's nothing serious."
The Lakers have a multitude of ballhandlers in case Ball can't play or if he's limited.
Rajon Rondo could be inserted into the starting lineup at point guard. LeBron James, Brandon Ingram and Lance Stephenson also could serve as the backup point guards.
"This year we have options to go to if he [Ball] is out or later in the season if other people get hurt, we have guys we feel very confidently can play that point guard position for us," Walton said. "From Brandon to LeBron to Lance, even [rookie] Svi [Mykhaliliuk]. Svi played point guard for his national team. So we have a lot of guys we feel confident with."
Walton said Tyson Chandler took an elbow to the chest during practice, but he didn't think his backup center would sit out against the Kings.
Chandler's impact
Chandler's willingness to communicate and his screens to free his new teammates for open space were noticeable in his first game with the Lakers on Wednesday night during a game against Minnesota.
It was exactly what the Lakers expected when they signed Chandler on Tuesday after he received a buyout and was waived by Phoenix.
"And the first meeting, I told him, I said, 'From what I've heard about you, I just want you to be yourself and be it from Day 1, the moment you get in here," Walton said. "We need the talking, we need everything. Don't feel like you need to get comfortable first. We have a great group of guys here and just go out there and be yourself. And watching him be himself is very impressive."
Said Rondo about Chandler: "At halftime, he had a lot of things to say and I was able to kind of take a deep breath, kind of relax and focus on other things, I'm sure LeBron as well. I actually told him this morning, 'I really appreciate you being here.'"
Walton said they put together a film session of Chandler setting screens and called it "The Screening Assist."
"And a majority of those assists that we got because of the screens were from him," Walton said.
A somber Walton
Walton opened his post-practice comments Friday on a somber note, saying how sad it was to hear about 12 people being killed Wednesday night at the Borderline Bar & Grill in Thousand Oaks and to hear about the ravaging fires that have forced evacuations in Southern and Northern California.
"I hate to have to do this again in one of these sessions, but our thoughts and our prayers, our love is with those people suffering from that senseless shooting a couple days ago," he said. "It's got to stop, but it's important that we always talk about it instead of just pushing it to the side. We love basketball. We're all here to play basketball, but there's bigger things going on and obviously with the wildfire too, I hope that people's homes are OK and that they're going to be safe with all the evacuations happening."
UP NEXT
AT SACRAMENTO
When: 7 p.m., Saturday.
On the air. TV: Spectrum SportsNet; Radio: 710, 1330.
Update: The surprising Kings have five players averaging double figures, led by their backcourt of shooting guard Buddy Hield (20.1 points) and point guard De'Aaron Fox (17.3 points, 7.3 assists). The Kings are tied for fourth in the NBA in scoring at 117.5 points a game.
Twitter: @BA_Turner
---
UPDATES:
5:30 p.m.: This article has been updated with news that Lonzo Ball has a sprained left ankle.
This article was originally published at 2:10 p.m.
---
All things Lakers, all the time.
Get all the Lakers news you need in Tania Ganguli's weekly newsletter.
You may occasionally receive promotional content from the Los Angeles Times.