Julius Randle learned important lessons through his departure from the Lakers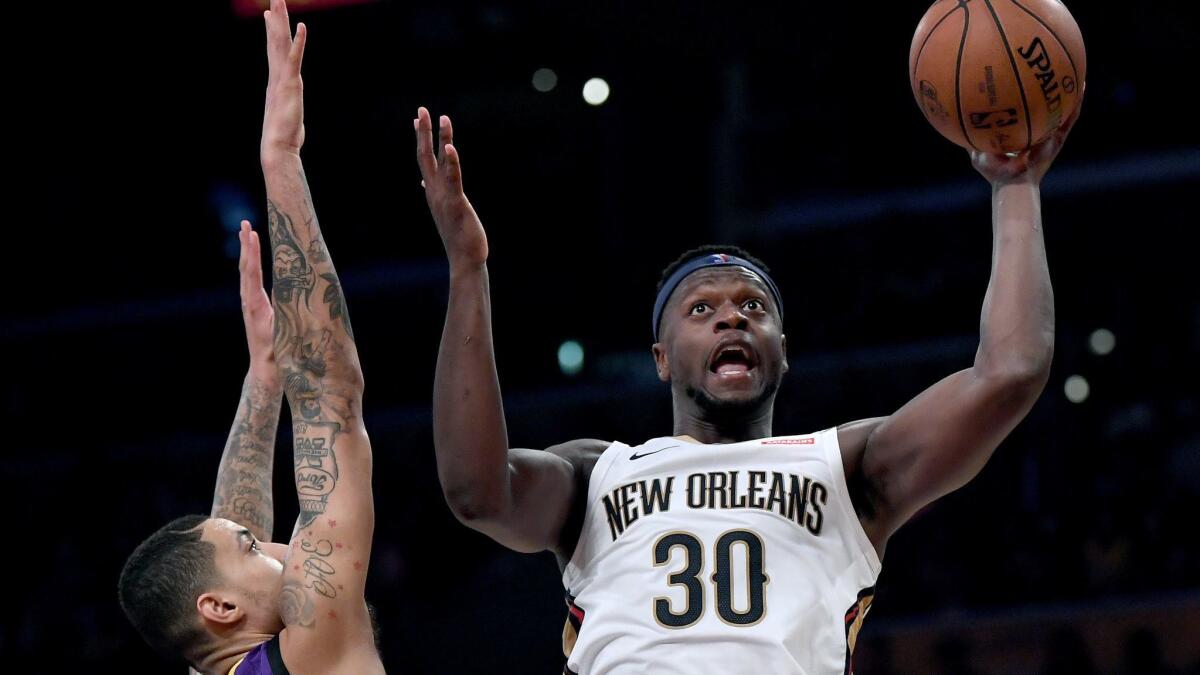 The feelings of nostalgia didn't hit Julius Randle until he stepped onto the Staples Center floor for a shootaround Friday morning.
"You just feel that energy and that juice just being here," Randle said.
His time playing for the Lakers wasn't always seamless, but by the end of his Lakers tenure Randle had ingratiated himself with both the Lakers' coaching staff and fans. The Lakers drafted Randle in 2014, and after four seasons with the organization they tendered him as a restricted free agent.
Not long after receiving a commitment from LeBron James, the Lakers renounced Randle and allowed him to become an unrestricted free agent. He signed a two-year deal worth $18 million with the New Orleans Pelicans.
"Those guys came in, they had a plan of how they want to do things," Randle said of the Lakers' front office of Magic Johnson and Rob Pelinka, who did not draft him. "They just wanted to put their imprint on things. For me when I was renounced, I always knew New Orleans was a possible fit. I didn't know how things were going to play out during free agency but they did the way they did. I'm extremely happy I'm in New Orleans now."
Randle started last season visibly disconnected from the team. He'd been the subject of trade rumors and hadn't been offered an extension before the season started. Then, Lakers coach Luke Walton relegated Randle to the bench, opting to start Larry Nance Jr. instead.
Admittedly, all the noise briefly got to Randle. But once he taught himself how to ignore it, his play improved.
Walton's relationship with Randle was rocky at times, but they still keep in touch. By the end of their time together, the pair had developed a strong relationship — one Randle felt was built on honesty and trust.
"There's not a lot of people that can be honest with you to do what's best for you," Randle said. "It's rare."
Walton frequently reaches out to Randle.
When Randle thinks back to last season, he recalls the lessons he learned. It was an experience that taught him what was most important in his career.
"Obviously … you go out there and play to win," Randle said. "You're not playing for anybody else other than your teammates, you're playing for yourself, you're playing for your family. Anything outside of that, you're not playing for you guys, you're not playing for the front office or whatever. For me as a young player in this league, I play for my teammates, my family and myself."
McGee's illness
Several Lakers needed attention for potential illness on Thursday with James skipping a shootaround because he wasn't feeling well, center Tyson Chandler receiving what the Lakers called a precautionary IV treatment, and Ivica Zubac also being treated.
Perhaps the most concerning was that of JaVale McGee, who has an upper respiratory infection in addition to flu-like symptoms. He is being treated with antibiotics.
McGee missed the final two games of the Lakers' road trip and was not with them Friday as they played the Pelicans.
Another long-timer gone
The Lakers head equipment manager, Carlos Maples, resigned Thursday, ending a 32-year tenure with the Lakers, which he began as a ball boy for the Showtime-era Lakers as a teenager.
Maples ascended to the team's head equipment manager five years ago.
All things Lakers, all the time.
Get all the Lakers news you need in Dan Woike's weekly newsletter.
You may occasionally receive promotional content from the Los Angeles Times.