Warriors didn't put a ring on JaVale McGee, but they will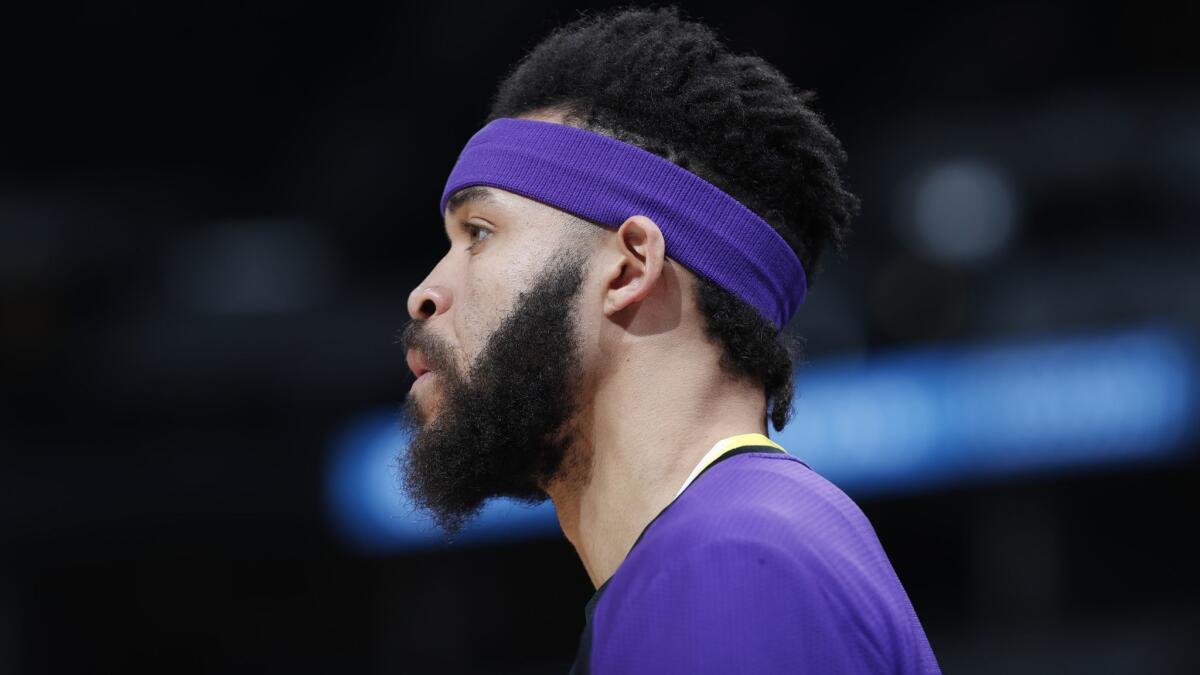 Reporting from Oakland —
JaVale McGee missed Tuesday's game against his old team, the Golden State Warriors.
The Warriors had planned to give McGee his championship ring but McGee needed rest, having just recovered from pneumonia.
Warriors coach Steve Kerr said the team plans to give McGee his ring when the Lakers return to Oakland on Feb. 2.
"I'm happy for JaVale," Kerr said. "He's getting more of a chance to play with the Lakers than he did with us. We had a lot of centers play a really important role for us the last couple of years.
"He was fantastic and we loved having him here. Wish he was here and that we could give him his ring today, but we'll do it next time."
The Lakers did not rule out McGee playing Thursday in Sacramento, but it's unlikely he will. The team, which returned to Los Angeles on Tuesday night, isn't planning to practice Wednesday.
McGee spent three days in the hospital last week while recovering from the illness. He was cleared to play Sunday, but the Lakers opted to hold him out because he hadn't played in a week.
Stephenson big off bench
Lance Stephenson had played only one minute and 15 seconds against the Memphis Grizzlies on Sunday and no time at all in the Lakers' previous game against the New Orleans Pelicans.
But after LeBron James went down with a groin strain, the Lakers needed Stephenson and he made the most of his minutes. Stephenson, who played 11 minutes and 29 seconds, scored 11 points. He made four of six shots, including three of four three-pointers.
"Lance stepped up," center Ivica Zubac said. "They were going on a run, the crowd was going crazy and he hit some big shots to separate us a little bit. That was big time. That helped us a lot.
"After he hit those shots, we started playing better defense and we were able to go on our run."
Warriors' defensive lapses
Kerr maintained his sense of humor when asked about the Warriors' defense.
"I'm trying to think of something really sarcastic and witty to say, but nothing comes to mind right now," Kerr said. "They shot 55% and scored 127 points on our home floor, so it speaks for itself."
On the other end, the Lakers' defense kept the Warriors' shooting in unfamiliar territory.
The Warriors made nine of 36 three-pointers and struggled to score all night. Draymond Green attempted three three-pointers and missed them all.
Klay Thompson was two for seven from the field while Stephen Curry was five for 17.
As a team, the Warriors like to reach 30 assists per game and had only 28.
"We have the ability to play great defense when we tune into our game plan," James said. "And we did that for 48 minutes. We were locked in to what we needed to do and even against a great team like this, we know they're going to make great shots, they're going to challenge us all night. But we were in tune with the game plan and we just tried to execute that."
Follow Tania Ganguli on Twitter @taniaganguli
All things Lakers, all the time.
Get all the Lakers news you need in Dan Woike's weekly newsletter.
You may occasionally receive promotional content from the Los Angeles Times.