Kobe Bryant looks great in tribute video but not on court as Lakers lose his final game at San Antonio
Kobe Bryant hugs San Antonio Coach Gregg Popovich before the Lakers played the Spurs on Feb. 6.
(Darren Abate / Associated Press)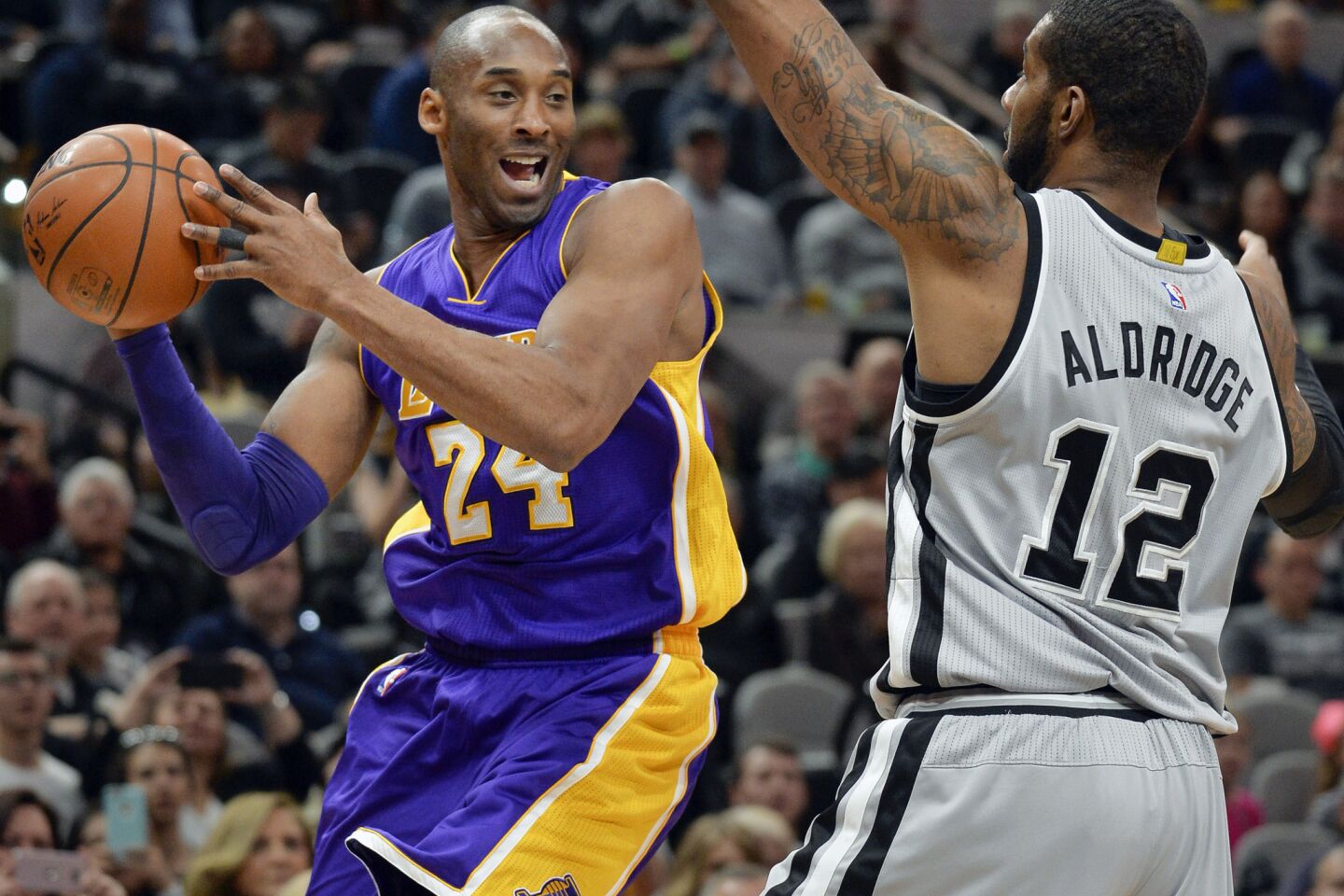 Lakers guard Kobe Bryant attempts to pass around Spurs forward LaMarcus Aldridge during the first half of a gameon Feb. 6.
(Darren Abate / Associated Press)
Spurs forward Kawhi Leonard is fouled by Kobe Bryant while driving to the basket during a game on Feb. 6.
(Ronald Cortes / Getty Images)
Lakers guard Lou Williams plays against the San Antonio Spurs on Feb. 6.
(Darren Abate / Associated Press)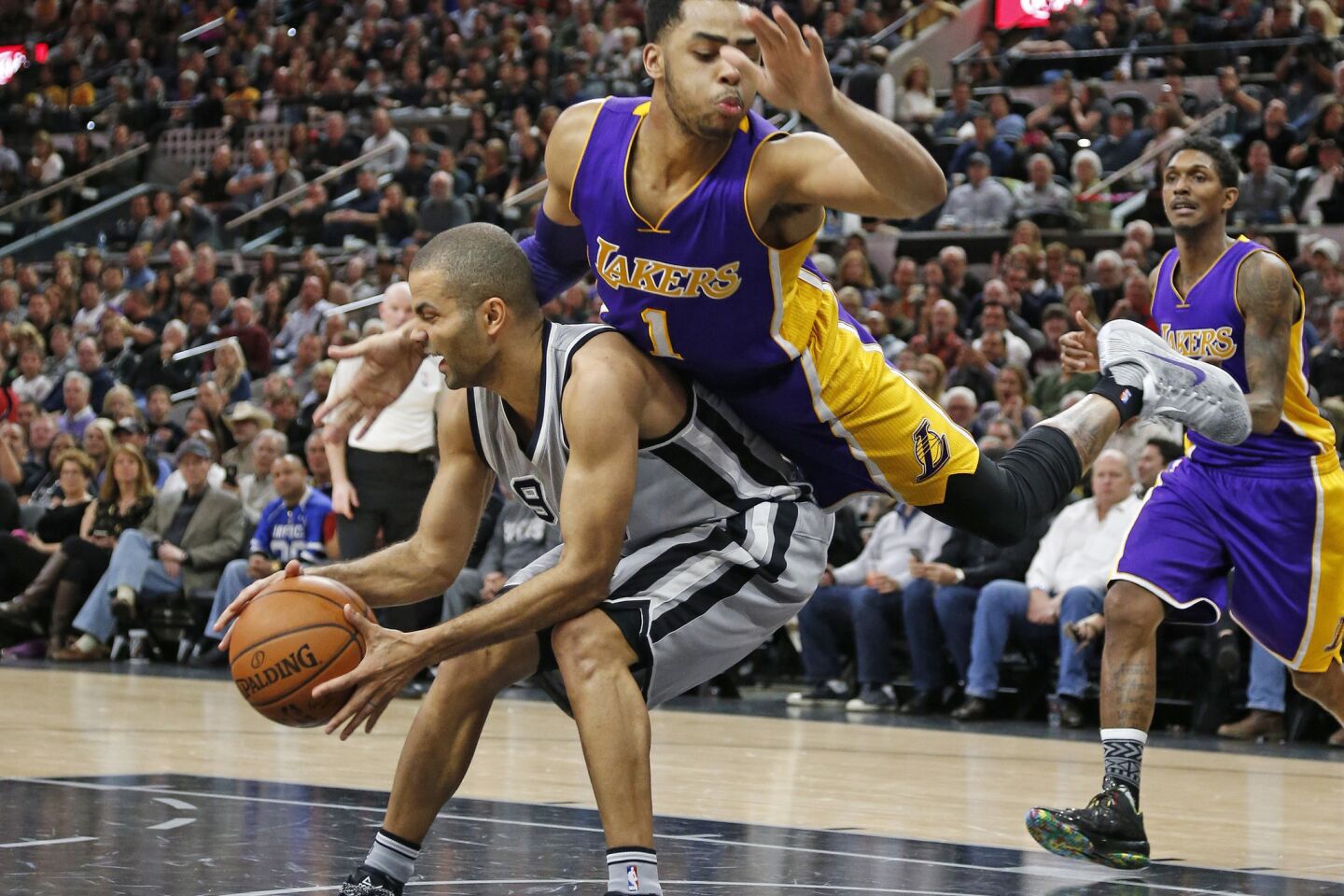 Spurs guard Tony Parker is fouled by Lakers guard D'Angelo Russell during a game on Feb. 6.
(Ronald Cortes / Getty Images)
Kobe Bryant drives around San Antonio forward Kawhi Leonard during the first half of a game on Feb. 6.
(Darren Abate / Associated Press)
Kobe Bryant reacts to a call during the first half of a game against the Spurs on Feb. 6 in San Antonio.
(Darren Abate / AP)
REPORTING FROM SAN ANTONIO —
The Kobe Bryant tribute video lasted 2 minutes 29 seconds, a sharply produced compilation with kind words from San Antonio players and Spurs Coach Gregg Popovich.
Unfortunately for the Lakers, Bryant's shot was neither sharp nor kind and they lost a relatively entertaining game to the Spurs on Saturday night, 106-102.
It was a flashback to some of Bryant's earlier games this season — a lot of three-point attempts and a lot of misses — and it terminated a modest two-game Lakers winning streak.
See the most-read stories in Sports this hour>>
Bryant had 25 points on nine-for-28 shooting, four for 14 behind the arc at AT&T Center, where the Spurs improved to 28-0 at home this season and 37-0 in regular-season games dating to last season.
"I felt like the Tin Man for a while. I couldn't find any oil anywhere to loosen up these joints," Bryant said.
On an off night for the old guard, there was progress from the young ones.
Jordan Clarkson scored 21 points and Julius Randle totaled 15 points and 17 rebounds to keep the Lakers (11-42) in the game. They even took an 81-79 edge into the fourth quarter after D'Angelo Russell's three-pointer.
With the Lakers down three, Bryant air-balled a three-point shot with 48.9 seconds left. Then he didn't box out Kawhi Leonard after Danny Green missed a three-point attempt with eight seconds left. Game over.
Tony Parker, Tim Duncan, Manu Ginobili and Popovich all spoke glowingly about Bryant's career and there was plenty of footage of him scoring against the Spurs, which hadn't often been the case from home teams in these tributes.
When you've won five championships since 1999, you tend to gain plenty of self-confidence.
After the video, Spurs fans gave Kobe a standing ovation. It was classy.
"It was very nostalgic, brought back a lot of memories," Bryant said. "It's hard to get into a competitive mind-set after that."
In equal parts, Popovich rolled out jokes and awe before the tribute video.
First, the fun he had while coaching Bryant in the All-Star game: "I didn't do a whole lot of coaching. I think he more or less told me what he was going to do, especially toward the end of those games. He told everybody where to go and he actually told me where to sit."
And on whether Bryant could have excelled in the Spurs' highly disciplined share-the-wealth system: "He's L.A. We don't have a lot of L.A. around here. . . . We've always been boring from day one. I'm still looking for someone to get in trouble so we can get some street cred."
Then came the admiration.
"I just see him turning and fading on the baseline on both sides over and over and over again, people playing great 'D' on him and he rises up over them with that beautiful touch and just knocks it down," Popovich said. "I see him doing it all the time in my dreams."
Bryant returned the favor by saying, "It's mutual because I used to stay up all night thinking of how to pick apart their defense. I'd stay up, doodling on note pads — where there defense is coming from, where do I move Pau [Gasol], where do I move Lamar [Odom]?"
Bryant's shot wasn't very artistic Saturday. He started out five for 16 before heating up briefly in the third quarter, including a four-point play. Then he left the game and continued missing upon returning.
"You sit down for one minute, you lock back up," he said.
Even without injured veterans Duncan and Ginobili, the Spurs (43-8) squeaked it out. LaMarcus Aldridge had 26 points; Leonard added 20.
Randle and Roy Hibbert sustained sprained left ankles, though Randle said he was fine and would play Monday against Indiana.
Follow Mike Bresnahan on Facebook and Twitter @Mike_Bresnahan
All things Lakers, all the time.
Get all the Lakers news you need in Dan Woike's weekly newsletter.
You may occasionally receive promotional content from the Los Angeles Times.