LeBron James scores 42 points, 20 in fourth quarter, to rally Lakers past Spurs
What can one player do?
When he's LeBron James, he can decide to not let a game get away.
That's what he did Wednesday night in the Lakers' 121-113 victory over the San Antonio Spurs at Staples Center as the Lakers were without one starter and one key reserve for most of the game because of injuries, and another key reserve was hampered by foul trouble.
He can answer, without words and with simply another remarkable fourth quarter, just what he means for the Lakers future, on a day dominated by questions about whether superstars would be willing to play with him.
He can barrel into a crowd of defenders and release a layup, as he is fouled, that teeters on the rim for a moment before falling through.
He can launch a seemingly hopeless three-point shot from 35 feet that rattles into the net.
He can give his shorthanded teammates the push they need to get past a team that had confounded them this season.
"It's the fourth quarter and my teammates look at me to make plays. … I put that type of pressure on my back," James said. "I love my teammates giving me that responsibility. That was the result of it tonight."
In an extraordinary fourth quarter, James put together his own 12-2 run that brought the Lakers back from being down eight points.
""When it's happening sometimes it's amazing," Josh Hart said. "And people should really stop criticizing, shut up and witness greatness when it's happening."
He finished with 42 points, 20 of them in the fourth quarter, and had six assists and five rebounds. In the final period, he made all three of the three-point shots he took, after making none of the four he tried in the first three quarters.
"I just trust it," James said. "I missed them in the first half, in the first three quarters, it wasn't going to stop me from being confident if I got the availability to shoot them again."
Fans showered MVP chants on James every time he shot free throws in the fourth quarter, the first time fans at Staples Center have had the confidence to truly commit to the chant.
"He's absolutely having that kind of season," Lakers coach Luke Walton said.
The victory was the Lakers' first against the Spurs in three meetings this season. With it, the Lakers improved to 15-9 and are on a four-game winning streak. They have the fifth-best record in the Western Conference and have the same number of losses as the Golden State Warriors.
Kyle Kuzma had 22 points, nine rebounds and five assists for the Lakers, and Lonzo Ball had 14 points, nine assists and four rebounds.
DeMar DeRozan had 32 points for the Spurs and Rudy Gay had 31 before fouling out in the final 30 seconds.
The first quarter created a difficult situation for the Lakers.
Josh Hart was called for three quick fouls shortly after entering the game, one of them an offensive foul called as he scored in transition after a steal by Ball.
The Lakers also lost Brandon Ingram during the first quarter to an ankle sprain. Ingram had X-rays that were negative, but he did not return to the game. Center LaMarcus Aldridge was called for a Flagrant 1 foul on the play in which Ingram was injured.
While the Lakers had an eight-point lead after one quarter, their thinning roster began to catch up with them after that.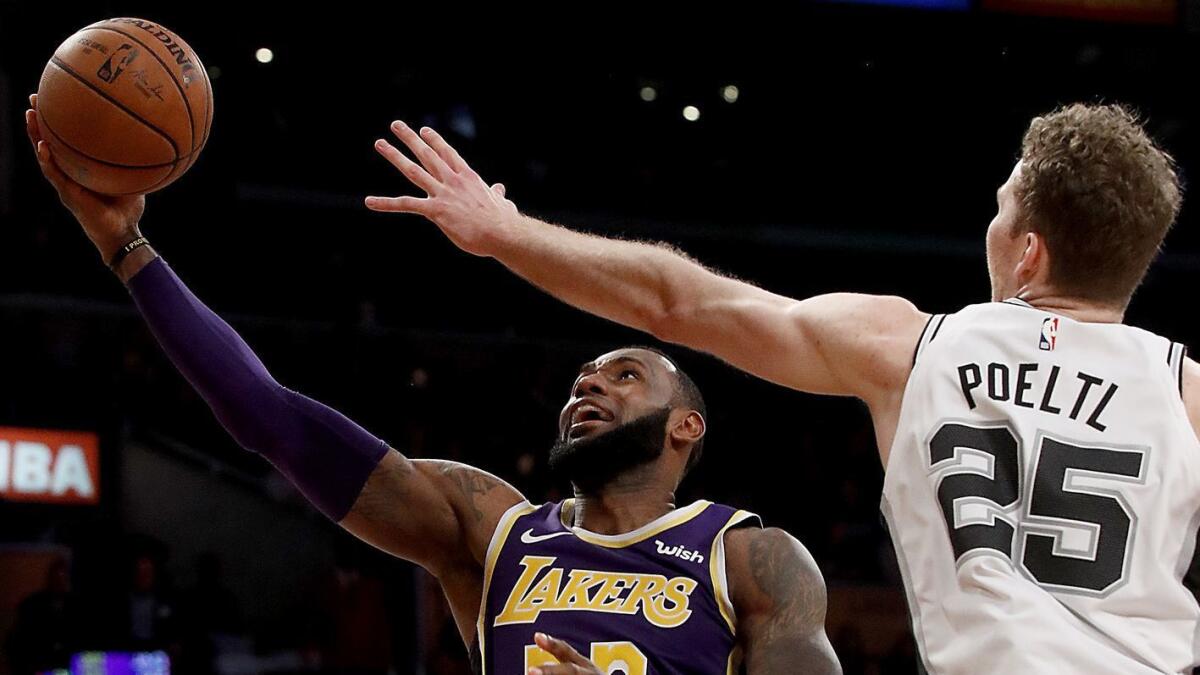 Hart started for Ingram in the second half, but two minutes into the third quarter, he picked up his fourth foul and had to sit again.
The Spurs had a four-point lead heading into the fourth quarter.
But with the game on the line, Hart mirrored James' turnaround. He made a three-pointer to tie the score 104-104 with 3 minutes 3 seconds left, his first three-pointer of the game in four tries.
Ball then made a three-pointer, his third of the game, off an assist from Kuzma.
Moments later, James stole the ball from guard Patty Mills and sent it ahead to Kuzma for a dunk, giving the Lakers a five-point cushion.
The Spurs came as close as two points, but they never truly had a chance again.
Follow Tania Ganguli on Twitter @taniaganguli
All things Lakers, all the time.
Get all the Lakers news you need in Dan Woike's weekly newsletter.
You may occasionally receive promotional content from the Los Angeles Times.