Column: Tim Duncan calls it quits after 19 seasons with the San Antonio Spurs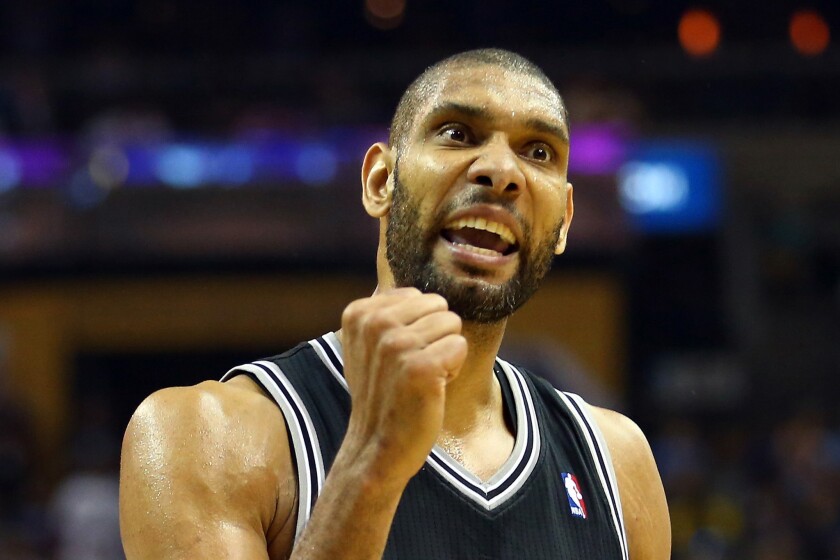 Tim Duncan didn't always get his way.
It sure looked like he would in 2004, making a wild double-clutch bank shot that gave the San Antonio Spurs a one-point lead over the Lakers in the Western Conference semifinals.
But Derek Fisher hit his famous "0.4" fadeaway, prompting Shaquille O'Neal to say, "One lucky shot deserves another," and the Lakers eliminated the Spurs the next game.
This was not the norm for Duncan, who announced his retirement Monday. There were many more moments to savor than forget in a career defined by his trademark mid-range bank shot from the side, a humble personality and too many double-doubles to count.
Duncan, 40, made the playoffs in every one of his 19 seasons with the Spurs. For comparison's sake, Kobe Bryant did it in 16 of his 20 seasons. (It would have been more if not for the Lakers' last three seasons, but that's a different story.)
The Spurs with Duncan went 5-1 in the NBA Finals, most recently taking the 2014 championship, and he was called the "greatest power forward in our generation" by O'Neal in an interview with The Times.
"Playing against him was like playing against Hakeem Olajuwon," O'Neal said Monday. "These two were what I call 'unfadeable' big men."
Duncan was never bothered by anything opponents did. Not trash talk. Not errant elbows. Not double teams, or even triple teams.
"He never talked," O'Neal said. "He just played."
At the very least, Duncan took the big-man baton from David Robinson and kept the Spurs in the championship hunt for almost two decades.
Some even argued that Duncan prompted LeBron James to take his talents out of South Beach. Duncan averaged 15.4 points and 10 rebounds in the NBA Finals two years ago as the Spurs dominated the Miami Heat, winning the last three games by an average of 19 points.
Breaking up Miami's mini-dynasty? Twice eliminating the Shaq-Kobe Lakers in the playoffs? Duncan would merely shrug if you brought these things up.
"I always think of him as that one guy who just wanted to do the job and go home at the end of the day," said former teammate Robert Horry, who won NBA titles with Duncan in 2005 and 2007. "He's probably the only dude who's won the MVP trophy who didn't even wear a suit."
He didn't ever wear a suit?
"That was the only rule he ever hated, was when they put in the rule you had to wear a suit on the bench" when not playing, Horry said. "He had one jacket and he had the equipment manager carry it with him everywhere he went. If Tim wanted to sit out, then he had to wear that coat. You'd look at the coat and say, 'Man, that's the same coat he wore seven games in a row.' That's just Tim. That's just how he was."
Count me among the many who caught the wrong gaze from Spurs Coach Gregg Popovich during my years writing about the Lakers.
It was that 2004 playoff series, the one with the Fisher Fling, when I made the mistake of following up a reporter's question about whether Duncan would play despite his "injury."
Thinking I was a good journalist who never missed anything, I asked Popovich specifically what was bothering Duncan.
Popovich didn't answer. He just stared for several excruciating seconds at this young, unfamiliar person who obviously hadn't done his homework. It was a sore knee that had bothered Duncan for several weeks that season, if not longer.
I learned two lessons. Know your subjects. And don't ask Popovich stupid questions about his star player.
Nobody in NBA history logged more playoff minutes than Duncan (9,370). He was fifth in NBA history in blocked shots (3,020) and sixth in rebounds (15,091).
But O'Neal couldn't let Duncan leave without getting in one last barb, one last salvo from an admiring former foe.
"Tim, I have your AARP application," said O'Neal, who retired in 2011. "Welcome to the old folks home of life."
Times staff writer Broderick Turner contributed to this report.
mike.bresnahan@latimes.com
Twitter: @Mike_Bresnahan
---
Get our high school sports newsletter
Prep Rally is devoted to the SoCal high school sports experience, bringing you scores, stories and a behind-the-scenes look at what makes prep sports so popular.
You may occasionally receive promotional content from the Los Angeles Times.