Lakers on short end in season opener after blowing big lead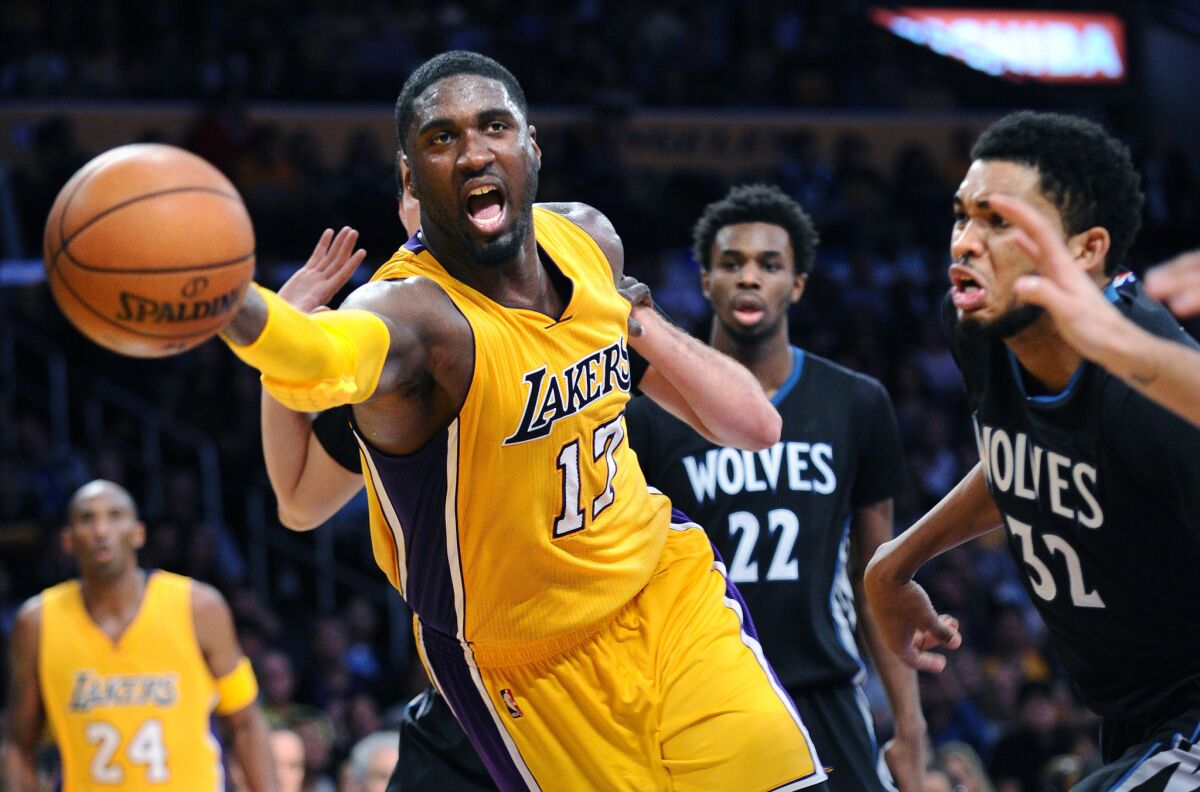 Staples Center was such a happy place, an unusual concept for Lakers fans who watched two years of sadness, season-ending injuries and overall hopelessness.
Then the Lakers' lead slowly disappeared Wednesday and the season began with another loss, as if there hadn't been enough around here.
Lou Williams missed a driving layup as time expired and Kobe Bryant bit his lower lip as he walked slowly off the court. The Lakers fell to the Minnesota Timberwolves, 112-111.
It was an odd game, ballooning with promise as the Lakers' young players and Bryant meshed well enough for a 16-point lead.
Almost everything after halftime felt like a slow struggle up a craggy hill for the Lakers.
Bryant started quietly, picked it up nicely and then faded badly in the end, finishing with 24 points on eight-for-24 shooting. He was particularly poor from the three-point stripe, making only three of a whopping 13 attempts that were "probably a bit too many," Lakers Coach Byron Scott said.
Julius Randle had his moments, totaling 15 points and 11 rebounds while clearly overshadowing rookie D'Angelo Russell (four points, two assists).
Not everything was a minus for the Lakers. Their followers found someone new to cheer, and Nick Young was back in the good graces of his adoring fans, buoyed by a 41-foot heave that was good as the first quarter expired.
Lakers fans serenaded Williams with a steady stream of "Louuuu" after he scored his ninth point in six minutes. He finished with 21 points and three assists.
Williams couldn't win the game, though. He had an open lane down the right side after Bryant inbounded the ball from the left, but his shot wouldn't drop.
"He got a great look. That's a shot that Lou knocks down pretty regularly, especially practice," Scott said.
In a possible sign of the times, the play was designed for Williams, not Bryant. Williams had just drilled a three-pointer on the Lakers' last possession.
"I had it in my mind the whole time," Scott said.
Said Williams: "I was three feet from the rim. I would feel differently about it if I chucked up a 30-footer, but I felt like I got past the defense, got a very routine shot that I would normally make."
Russell didn't do much in his NBA debut. This could take some time.
One of his passes, for example, was spot on, but an unaware Roy Hibbert couldn't handle it down low as it sped out of bounds. Another time, Brandon Bass couldn't handle a pass under the basket from Russell.
Scott wouldn't fret Russell's off night. He promised as much ahead of time.
"I know he's going to make mistakes and I'm going to have to live with that. And I know I'm going to have to be patient with him as well, and I know that," Scott said.
Scott, however, was not happy with Russell's defense, saying his night was only "OK" based on that.
The Lakers wanted to keep Bryant between 28 and 32 minutes, and they did. He played almost 29.
He showed plenty of emotion after making a three-pointer late in the second quarter, keeping one hand in the air and pounding his chest with the other.
Young and Jordan Clarkson each had 14 points, and Hibbert had 12 with 10 rebounds, but the Lakers couldn't make a victory happen.
"I don't know if we thought the game was over or not. I thought we just stopped [playing]," Scott said.
Ricky Rubio had 28 points and 14 assists for Minnesota. Karl-Anthony Towns, the top pick in the draft, had 14 points and 12 rebounds.
Twitter: Mike_Bresnahan
---
All things Lakers, all the time.
Get all the Lakers news you need in Dan Woike's weekly newsletter.
You may occasionally receive promotional content from the Los Angeles Times.