As Lakers miss out on Anthony Davis, LeBron James doesn't feel like he's chasing anything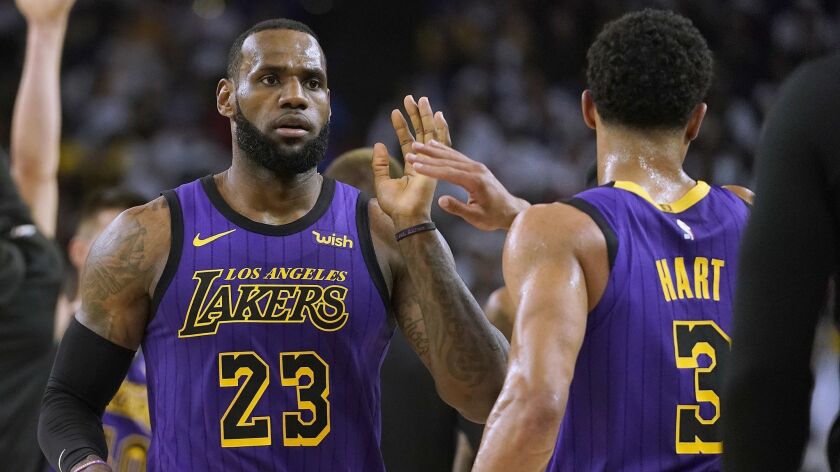 Reporting from Boston —
As the hours passed, the day's inevitable conclusion neared.
Magic Johnson, the Lakers' president of basketball operations, hadn't spoken to New Orleans Pelicans general manager Dell Demps in two days — not since Johnson told Demps he was finished negotiating in a phone call Tuesday morning, not since he told Demps he planned to move on.
Against that backdrop, LeBron James stood in the corner of the court at the TD Garden and was asked if he felt urgency in his time with the Lakers, given his age.
"[There's] nothing I need to get in this league that I don't already have," said James, a 15-time All-Star, three-time NBA champion, three-time Finals MVP and four-time league MVP .
"So, everything else for me is just like icing on the cake. Even though I love the process of everything that I go through to be able to compete every single night and put teams in position to compete for championships, there's nothing that I'm chasing or that I feel I need to end my career on."
The Lakers did not get six-time All-Star forward Anthony Davis by Thursday's noon PST trade deadline, though they tried with the urgency of a front office tasked with giving their 34-year-old superstar what he needs to contend for a championship while he is still one of the league's most dominant players. If they must wait until free agency to acquire Davis, who becomes a free agent in 2020, James will be 36.
So the Lakers took a big swing. They offered just about everything they could.
Having changed their offer to the Pelicans multiple times, ultimately Johnson settled on a package of Lonzo Ball, Brandon Ingram, Kyle Kuzma, Josh Hart, Ivica Zubac, Kentavious Caldwell-Pope and two first-round draft picks to New Orleans, according to two people with knowledge of the situation not authorized to speak publicly on the matter.
The Lakers were also willing to acquire Solomon Hill and his contract to give the Pelicans salary-cap relief, one person said. Hill makes $12.3 million this season and $12.7 million next season. The Lakers would have used the "stretch provision" on Hills' contract over the summer.
One person said that throughout the conversations, the Lakers would "present something" to the Pelicans and they would respond with "we'll take a look at it."
"They never said exactly what they wanted," the person said. "It was always they were going to take a look at it."
Once the Pelicans requested four first-round draft picks and at least two second-round picks, the Lakers pulled out of the deal for the 6-foot-10 Davis. One person with knowledge of the talks called the Pelicans' demand "outrageous." Johnson told Demps he was finished and the pair never spoke again.
Johnson and Demps both stood their ground and refused to continue negotiations, according to two people with knowledge of the situation. Both teams then focused on other moves.
The Lakers traded Svi Mykailiuk and a second-round pick for Detroit forward Reggie Bullock on Wednesday. On Thursday, they acquired 6-11 forward Mike Muscala from the Clippers for forward Michael Beasley and center Ivica Zubac, according to two people with knowledge of the trade who were not authorized to speak publicly about it.
The latter trade opened a roster spot the Lakers could use on James' close friend and free agent Carmelo Anthony.
Sign up for our Lakers newsletter »
Anthony hasn't played since Nov. 8. The Houston Rockets, who signed him to a one-year deal this season, finally traded him to the Chicago Bulls two weeks ago. Last week, the Bulls waived Anthony. Though the Lakers weren't initially interested in bringing Anthony on board, people familiar with their thinking say they warmed to the possibility in recent weeks.
Muscala gives the Lakers some much-needed perimeter shooting, as does Bullock. Muscala averaged 7.4 points and 4.3 rebounds in 22.1 minutes a game this season for the 76ers. He was one of the players Philadelphia sent to the Clippers in the Tobias Harris trade this week. Muscala has made 47% of his shots from the field, including 36.5% from three-point range, in five-plus seasons in the NBA.
Both Muscala and Bullock have expiring contracts, allowing the Lakers to preserve their salary cap space for next summer.
When the Lakers signed James in July, he and the team spoke often about patience. The Lakers said they had a two-year plan and that by the end of next summer they would have the multiple superstars it takes to win a championship.
Having missed out on Davis this season, the Lakers could try to add him once the new league year begins at 9 p.m. PST on June 30.
According to two people familiar with the situation, the Lakers are not willing to get into a bidding war for Davis during the summer and most likely would decrease their offer to the Pelicans.
That's when the Boston Celtics are expected to make a strong push for Davis. They were unable to trade for him before the deadline because of a league rule involving Kyrie Irving's contract that prevented them from acquiring both players during the season. According to a report by Sports Illustrated, the Celtics assured the Pelicans that their offer would be worth the wait, but declined to promise they'd include young star Jayson Tatum, whom the Pelicans covet.
In Boston, Davis remaining on the Pelicans roster was considered a deadline victory.
Others were happy too.
Lonzo Ball, who did not want to be traded to New Orleans, posted a video to his Instagram account two minutes after the deadline passed. A speaker next to a laptop sat in front of a wall painted Lakers gold.
A portion of the song "Bad Boy for Life" played through the speaker.
"We aint. Goin nowhere. We ain't goin' nowhere. We can't be stopped now. 'Cause it's bad boy for life."
Twitter: @taniaganguli
---
All things Lakers, all the time.
Get all the Lakers news you need in Dan Woike's weekly newsletter.
You may occasionally receive promotional content from the Los Angeles Times.