Column: LeBron James and Magic Johnson deserve more time to turn Lakers around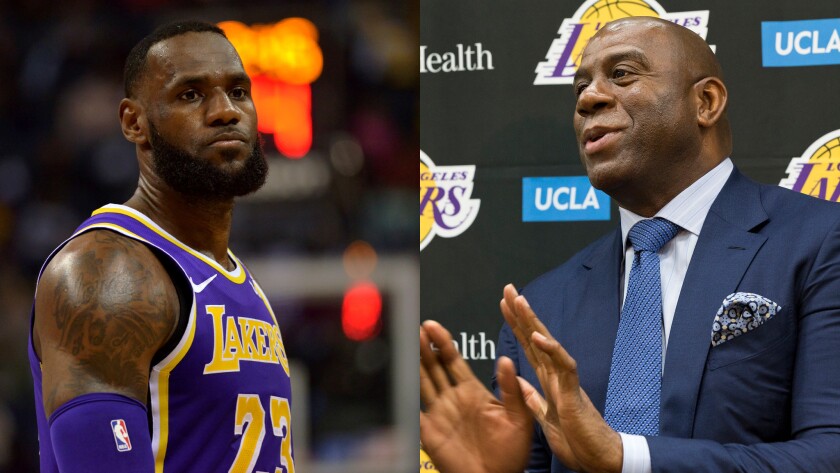 When a team fails as spectacularly as the Lakers have this season, is almost assuredly missing the playoffs despite signing LeBron James last summer, there's plenty of blame to go around.
Everyone from the players to the coaches to the front office is accountable for what is arguably the most disappointing season in Lakers history.
But everyone can't be fired or traded the moment the season inevitably ends April 9, and it's ridiculous for anyone to think Magic Johnson deserves the same fate that no doubt will befall Luke Walton.
Walton's time as the Lakers coach likely will end following the team's sixth consecutive season with no playoff berth. Walton has been the coach for the second half of the worst period in franchise history. Before this run, the Lakers had missed the playoffs a total of five times from 1948 to 2013.
Everyone knows this Lakers roster is flawed. The team followed the signing of James by giving one-year deals to Rajon Rondo, Lance Stephenson, Michael Beasley, JaVale McGee and Kentavious Caldwell-Pope. These were the moves of a team that wanted cap flexibility in July over a playoff run into May or June.
Nobody thought these Lakers were a championship team. Most people didn't even think they'd be one of the top four teams in the West, technically making them underdogs to get out of the first round. However, this team should be above .500 and bound for the playoffs. It shouldn't be losing to the Phoenix Suns, New York Knicks, Cleveland Cavaliers, Atlanta Hawks, Memphis Grizzlies and Washington Wizards, who have six of the seven worst records in the NBA. The Lakers are 17-16 against teams with losing records and have dropped seven games after holding double-digit leads in the second half. That's the second most in the NBA behind the 30-35 Orlando Magic, who have defeated the Lakers twice.
It wouldn't be fair to expect Walton to lead this roster to the conference finals, but it's unacceptable for this team to be as bad as it is and losing to the teams it has lost to. This team isn't great, but it's good enough to make the playoffs, and most coaches don't get to see a fourth season after leading a team to three straight losing records.
But what about Magic and LeBron?
No one is saying they're not to blame, but this is Johnson's second full season in charge of the Lakers. His goal was to sign James last summer (mission accomplished) and surround him with two more stars by the end of this summer (to be determined). He tried to expedite that timeline, but Paul George re-signed with the Oklahoma City Thunder on the first day of free agency last year and the San Antonio Spurs and New Orleans Pelicans had no interest in trading Kawhi Leonard or Anthony Davis to the Lakers. So Johnson is left to wait, and we alongside him, as he tries to put together a championship team.
Johnson was tasked with turning one of the worst teams into one of the best within three years. I'm willing to give a man who, in various capacities, has helped bring the Lakers 10 championships.
Sign up for our daily sports newsletter »
As for James, excuse me if I'm not ready to call signing the greatest player on the planet a bust after one injury-filled season. He led his team to the NBA Finals the previous eight seasons and won three championships. I'll take my chances rolling with him and the superstars I expect Johnson to surround him with over continuing to wait for the Lakers' young core to mature into a group tough enough to withstand trade talk and good enough to finish with a winning record.
If Johnson and James can't turn the Lakers around after three seasons, they'll be destined for the same fate that likely will greet Walton. That's the cruel reality of professional sports. Everyone, no matter their resume, eventually pays the price for falling short of expectations.
::
It was a remarkable week for women with local ties across three different sports.
First, Hailie Deegan, the 17-year-old daughter of Brian Deegan, the most decorated freestyle motocross rider in X Games history, on Thursday won her second K&N Pro Series West race at the Las Vegas Motor Speedway. Deegan, who is from Temecula, is the first woman to win an event in the series.
On Saturday, 19-year-old snowboarder Maddie Mastro from Loma Linda landed the first double crippler 900 in competition in defeating Chloe Kim to win the Burton U.S. Open Snowboarding Championships in Vail, Colo.
On Sunday, 21-year-old UCLA gymnast Katelyn Ohashi went viral again, recording her fourth perfect 10 of the season on the floor exercise against No. 1 Oklahoma. And while Ohashi has become a social media sensation, don't forget that teammate Kyla Ross had two more 10s at Oklahoma, giving her a national-best seven for the season.
If you don't know their names by now, you will in the very near future.
::
Los Angeles once again showed why it's the soccer capital of the country with thrilling, season-opening 2-1 wins by the Galaxy and LAFC in front of raucous crowds that stayed to cheer their team long after the game was over. The only downer of the weekend was LAFC coach Bob Bradley trying to change the name of the rivalry between the clubs from "El Trafico" to "LA Clasico."
"I'm ending 'El Trafico,'" Bradley said Sunday. "It's La Clasico, OK? L.A. LA Clasico. Throw that 'El Trafico' thing out the … window, OK?"
Sorry, Bob. It's not up to you. "El Trafico" is a fun name and I'm not calling the rivalry anything different.
::
Am I the only one who doesn't have a problem with the White House feeding college athletes fast food? Sure, they could have done better for Clemson's national championship football team last month or North Dakota State's football team, which visited the White House on Monday after winning its seventh Football Championship Subdivision title in eight years. But the images of McDonald's and Chick-fil-A food piled high on tables inside the State Dining Room are pretty great, and most kids in college only care about getting a good photo for Instagram or SnapChat anyway.
::
The USC football team opens spring practice Tuesday and it can't come soon enough for a program that has seen 11 players, including five wide receivers, enter the NCAA transfer portal. The portal should be named after USC coach Clay Helton at the rate players are leaving his program.
---
All things Lakers, all the time.
Get all the Lakers news you need in Dan Woike's weekly newsletter.
You may occasionally receive promotional content from the Los Angeles Times.