Spring practice gives USC a chance to move past forgettable 2018 season
L.A. Times Today airs Monday through Friday on Spectrum News 1 at 7 p.m. and 10 p.m.
It has already been a long offseason for USC — long enough to hire two offensive coordinators, watch several notable players choose to transfer and trudge through all of the self-evaluation that comes with a 5-7 season for one of college football's heavyweights.
But Tuesday, and throughout the next six weeks, the Trojans will be given the gift of 15 practices, and nobody will be more relieved to enjoy that beautiful distraction than head coach Clay Helton.
"I still have a very bad taste in my mouth and a bad pit in my stomach that has to last me several more months before we get back to the season," Helton said in February on national signing day.
Six months stand between the first spring practice Tuesday and USC's 2019 season opener against Fresno State in the renovated Coliseum. The expectation will be that Helton's Trojans will be sporting a new look, too, and that will start with addressing the issues that USC athletic director Lynn Swann tucked into his explanation for why he decided to keep Helton for a fourth season.
"We acknowledge and understand our deficiencies in areas that include culture, discipline, schemes, personnel and staff," Swann wrote.
In the three-plus months since USC lost to Notre Dame to conclude its first losing season since 2000, Helton has moved to address those deficiencies, which started with permanently relieving Tee Martin of his duties as offensive coordinator.
Helton made a statement that reverberated nationally when he hired Kliff Kingsbury to replace Martin. And, by replacing Kingsbury with fellow Texas Tech "Air Raid" disciple Graham Harrell once Kingsbury left USC to be head coach of the Arizona Cardinals, Helton showed he was more intrigued with the scheme as the right fix for his struggling offense than he was about making positive headlines with Kingsbury.
The USC offense under Harrell will be simple and should help the Trojans develop a clear identity. Another major difference? Helton, a former USC offensive coordinator who took over play-calling duties from Martin to end last season, says he will not be calling plays or dabbling much in game planning in 2019.
"Really allowing the offensive coordinator, defensive coordinator and special teams coordinator to do their jobs," Helton said. "I'm going to focus on what I felt really cost us late in the season from going to Santa Clara [to the Pac-12 championship game]. Losing four ballgames by seven points or less was directly attributed to penalties and turnovers. That's just the fact of the matter. That's going to be my emphasis going into spring is being able to teach situational mastery."
Helton said that ideally he will have referees at more USC practices conducted in full pads so that players get instruction immediately if they've committed a penalty. He will also spend more time evaluating players in their individual position groups.
Sign up for our daily sports newsletter »
"The thing I took away from last season," Helton said, "when we got into penalties, it was due to the lack of technique."
As for culture, Helton stressed Monday in USC's spring prospectus that practice will be where playing time is earned, that no player will "own" a job based on past performance and that in the fall, Helton won't release his weekly depth chart until the day before a game.
The competition starts now. Here are the biggest questions USC faces entering spring practice:
How real is the quarterback competition?
JT Daniels started 11 games as a freshman, taking his lumps with the assumption that the experiences — however humbling they may have been — would pay off in 2019 with a talented returning starter at quarterback.
Would Helton really throw all of those reps for Daniels into the scrap heap after Daniels had beaten out Matt Fink and Jack Sears in the 2018 fall camp only to start over in 2019? With Harrell implementing a new offense and bringing a fresh outlook to the quarterback meeting room, now is certainly the time for Fink, Sears and incoming freshman Kedon Slovis to prove they belong in a prolonged competition with Daniels.
Daniels' skills as a precision passer and dissector of defenses should thrive in Harrell's scheme, but Daniels still has to earn Harrell's trust.
Will USC have enough receivers and cornerbacks?
The news last week that wide receiver Velus Jones Jr. and cornerback Greg Johnson have entered the NCAA transfer portal, signaling their intention to leave USC, could not have come at a worse time.
After the transfers of Bru McCoy and Trevon Sidney and the likely transfer of Jones, the Trojans have just four receivers with experience — Michael Pittman Jr., Tyler Vaughns, Amon-ra St. Brown and Devon Williams. They will add freshman wide receiver John Jackson III to the mix. Luckily for USC, Pittman, Vaughns and St. Brown comprise one of the best starting units in the nation. But how will Harrell implement his offense if the Trojans can't risk any receivers going down with injury?
There is even less experienced depth at defensive back. At cornerback, sophomore Olaijah Griffin will be counted on to lead a group comprised of redshirt freshmen Isaac Taylor-Stuart and Chase Williams, and fifth-year senior Dominic Davis. At safety, likely starters Talanoa Hufanga and Isaiah Pola-Mao are recovering from surgeries, leaving C.J. Pollard and incoming freshman Briton Allen, who is enrolled for spring practice. Williams could also work at safety.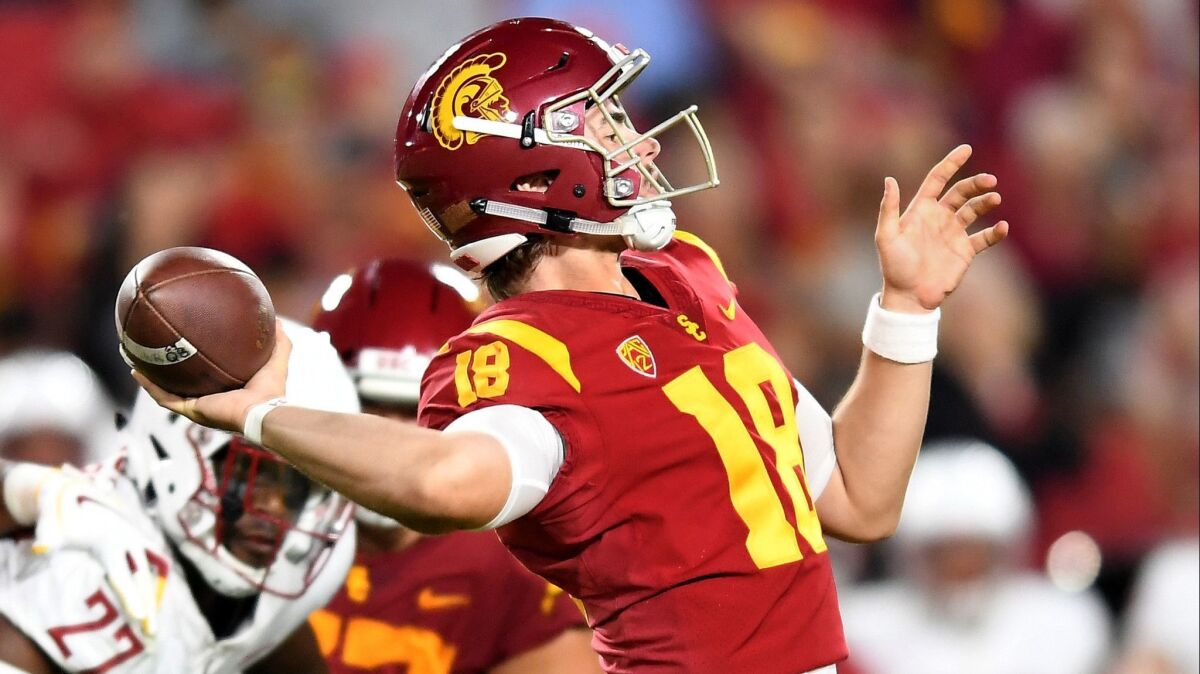 Will the offensive line improve?
The Trojans lose three starters on the offensive line — tackle Chuma Edoga, guard Chris Brown and center Toa Lobendahn — from a group that struggled last season. The hope will be that the new blood competing for those spots will create a scenario of addition by subtraction.
Lobendahn had a frustrating senior season, never mastering the snapping issues that began to surface as early as fall camp. He will likely be replaced by redshirt sophomore Brett Neilon, and the whole offense would benefit from consistency in snapping.
USC can also hope that the new offensive scheme, predicated more on short passes and a quicker tempo, will take some pressure off the line as it develops.
A healthy Stephen Carr?
The running back enters his junior season as the most tantalizing Trojan. Because of injuries his first two seasons, the five-star talent has yet to consistently impact the offense.
Helton said in February that Carr is healthy and ready to go in spring ball. USC has just two other scholarship backs in spring practice — Vavae Malepeai and Markese Stepp — so the Trojans will have to protect all three from injury.
Will Palaie Gaoteote take over for Cameron Smith?
For four years, USC did not have to worry about the middle of its defense thanks to Smith. When Smith missed a few games because of injury in 2018, the freshman Gaoteote showed flashes of being a dominant player.
It's one thing to excel in a brief cameo and another to star in a leading role. Now is the time for Gaoteote to take the next step and infuse youthful energy into a unit that desperately needs to rediscover its edge.
Twitter: @BradyMcCollough
---
Get the latest on L.A.'s teams in the daily Sports Report newsletter.
You may occasionally receive promotional content from the Los Angeles Times.