Kyle Kuzma's goals include becoming an All-Star and getting the Lakers back on track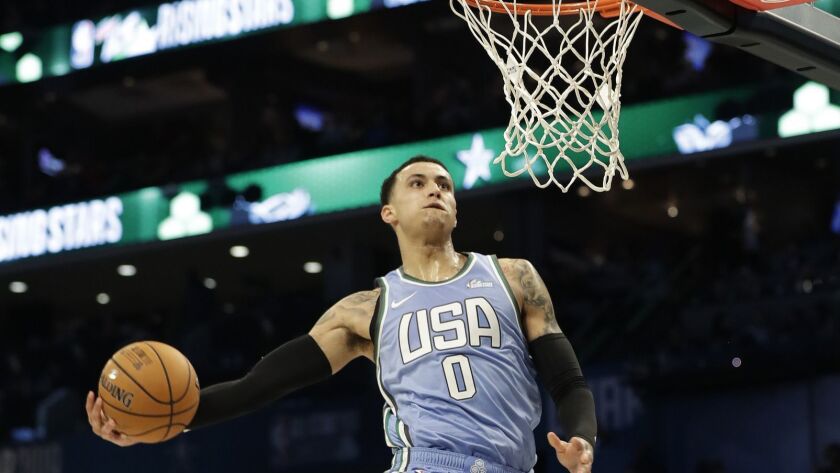 Reporting from Charlotte, N.C. —
Each year, Kyle Kuzma writes down his goals for the season.
He knows one thing that will definitely be on that list this fall.
"Trying to be an All-Star," Kuzma said.
On Friday night, Kuzma participated in the Rising Stars game for the second straight year. It's a game that features first- and second-year players, many future All-Stars and some who will play in Sunday's All-Star game.
He scored a game-high 35 points on 15-of-27 shooting and was named most valuable player to help Team USA claim a 161-144 victory over Team World. He will participate in the skills competition on Saturday.
For Kuzma, the weekend provided a much-needed chance to get away from his daily routine. After he's done, he plans to disconnect even more.
"Just being away from everything, as you guys know being in L.A. is kind of a nonstop thing with media attention, seems like something different every day," Kuzma said. "I think being out here is a fun thing. This is a dream come true for a lot of people, especially for me. Having an opportunity to be here back-to-back years. After this I'm going to be somewhere on a beach for a day and a half to recharge and get back to trying to make a playoff push."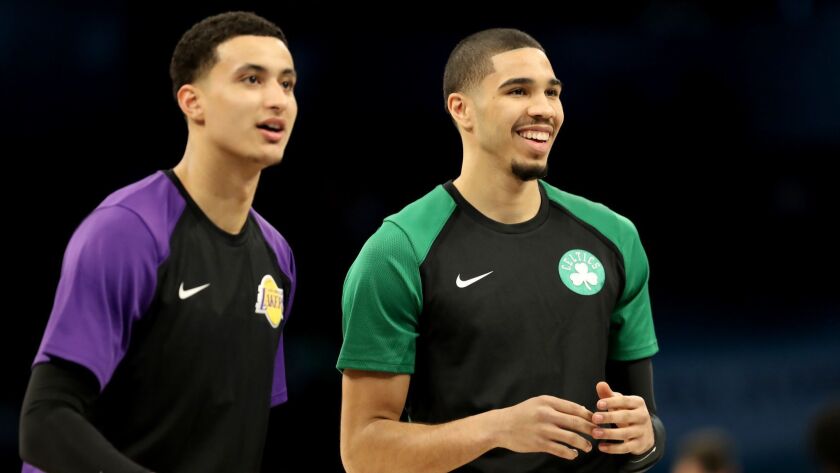 The Lakers hit the All-Star break on a low note, losing to the Philadelphia 76ers by 23 points and the bottom-dwelling Atlanta Hawks by four. They were in fourth place in December before LeBron James' groin injury that caused him to miss 18 games; now they are 10th and three games out of the final playoff spot.
Injuries have weighed heavily on the Lakers all season but particularly in the last two months, when they have missed James, Rajon Rondo and Lonzo Ball for significant stretches.
Then, for two weeks in the month leading up to the break, Kuzma and his teammates were hounded by trade rumors and constant questions about how those rumors made them feel.
Sign up for our Lakers newsletter »
Twice on Friday morning in Charlotte, Kuzma was asked about trade rumors, and both times he shut down the questioning quickly.
"I'm done talking about the deadline," Kuzma said. "I've said a million and two quotes about that since the deadline."
In his mind, the Lakers have shown glimpses of their potential. There was a span during the season when they went 18-9.
"I believe we're that team for sure," Kuzma said. "The easiest way is to get healthy, everybody. Before we got hurt, nicks and bruises, we were the fourth-best team in the West. … They always say [that] to be a great NBA team, to win the Finals, you gotta have luck and you gotta have health on your side. I think if we get healthy, get Zo [Ball] back and get that chemistry, we'll be all right."
For now, Kuzma is getting a break from all that. He's spending this weekend focusing on other goals — something the All-Star break was built for.
Being in Los Angeles comes with perks that Kuzma plans to capitalize on. He's even thinking about getting into the media game and having a podcast with other players.
"A lot of players, they don't like speaking to the media because how they feel about it," Kuzma said. "But it might be a little easier when you're talking to another player about certain different things, so it might be a little easier, and fun for entertainment."
As a follow-up, Kuzma was asked how he feels about the media. He said he doesn't mind, except for the occasional dumb question. The next question he was asked was about the trade deadline. He seized the opportunity.
"Trade rumors. Dumb question," Kuzma said, smiling. "Nah, trade rumors over, I've already said what I want to say. Kind of tired of answering. I'll probably answer it in April, too, but I don't care."
Follow Tania Ganguli on Twitter @taniaganguli
---
All things Lakers, all the time.
Get all the Lakers news you need in Tania Ganguli's weekly newsletter.
You may occasionally receive promotional content from the Los Angeles Times.