Kobe Bryant supportive of Alex Rodriguez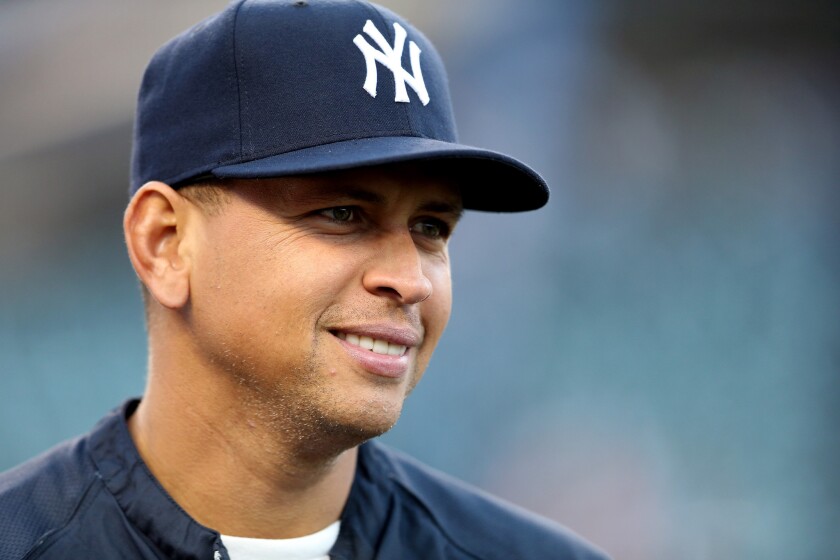 The competitive nature in Kobe Bryant forever lingers.
But there's no reason for the Lakers star to fret about the team's 114-80 loss Wednesday to the Utah Jazz at Honda Center, let alone its 0-4 preseason record. Instead, Bryant has his mind on other things. Once a few media members trickled away from his locker room stall, Bryant quickly shifted focus to another result that bothered him.
"The Yanks lost again, huh?," Bryant asked a reporter.
They sure did. The Yankees' 2-1 loss Tuesday to the Detroit Tigers put them in a 0-3 deficit in the American League Championship Series. Bryant has particular interest in the result, beyond being a Yankees friend. He's also a close friend of third basemen Alex Rodriguez, who was benched for Game 3 Tuesday because he batted .143 in the ALCS and .130 in the playoffs with zero RBIs.
That's why Bryant talked to Rodriguez a couple of days ago.
"I just say to him, 'You're Alex Rodriguez,'" Bryant said. "'You're A-Rod. You're one of the best to ever do it.' I think sometimes he kind of forgets that and wants to try to do the right thing all the time. Which is the right team attitude to have. But other times you really have to put your head down and say, 'Hell with it' and just do your thing.
"Hopefully the next game they'll kind of give him a chance, maybe put him back at third and let him respond to the pressure, which I think he'll do."
This isn't the first time Rodriguez was benched.
He sat out of the Yankees' decisive Game 5 win over the Baltimore Orioles in the AL Division Series. Yankees manager Joe Girardi also sat Rodriguez in favor of Raul Ibanez, whose two home runs clinched the team's Game 3 victory over Baltimore.
That game coincided with the Lakers' preseason loss Oct. 9 to Portland in Ontario. When a reporter relayed the news then about Rodriguez sitting out in favor of Ibanez, Bryant wondered how it would affect team chemistry even though New York won. During a fourth-quarter timeout of the Lakers' preseason loss Tuesday to Utah, Bryant peppered Lakers broadcaster John Ireland at the scorer's table about the Yankees' Game 3 loss to Detroit, including Rodriguez.
"You can only control what you can control," Bryant said of the advice he gave A-Rod. "You go out there and do the best job you can. If they take you out of the lineup, it's really on you to be a good teammate and support the other guys, which he's good about doing."
Bryant originally became friends with Rodriguez a couple years ago at a commercial shoot. The Lakers star also provided insight to Rodriguez on Bryant's innovative procedure in Germany on his right knee and left ankle in the 2011 offseason. Bryant convinced Rodriguez to see Dr. Peter Wehling at the Center for Orthopaedics and Molecular Medicine in Dusseldorf, where New York's third baseman received orthokine treatments on his right knee and left shoulder as well as five injections on consecutive days.
"You're talking about the best to ever play, period," Bryant said. "The only difference is sometimes he forgets he's the best. I don't ... We know what it akes to get to that level, the consistency, the sacrifice, the work ethic, the constant scrutiny."
Hence, why Bryant's lending his support both to a fellow sportsman and friend.
RELATED:
Lakers' 114-80 loss to Utah Jazz; 5 things to consider
Pau Gasol won't play in Lakers-Jazz preseason game
Lakers most concerned about health entering 2012-13 season
E-mail the Lakers blog at mgmedin@gmail.com. Follow the Lakers blog on Twitter.
---
All things Lakers, all the time.
Get all the Lakers news you need in Dan Woike's weekly newsletter.
You may occasionally receive promotional content from the Los Angeles Times.