Lakers point guard rotation clear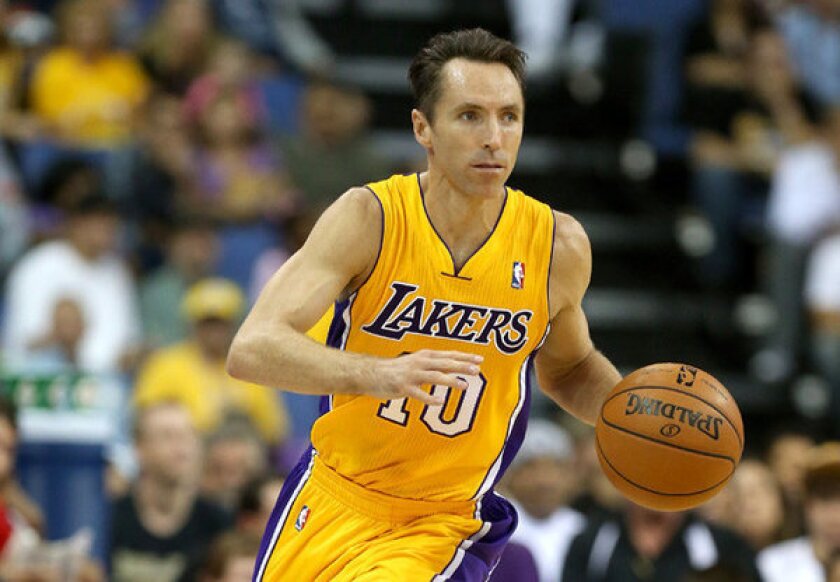 The Lakers head into the season with four point guards. A typical NBA rotation has room for two with a third on the roster in case of injury.
Naturally the Lakers will start Steve Nash, who represents the team's biggest upgrade offensively at the position since Nick Van Exel.
Last year with the Phoenix Suns, Nash played 31.6 minutes per game. At 38-years old, the Lakers aren't likely to push Nash into a bigger role, so pencil in about 16 minutes nightly for the bench.
Coach Mike Brown recently indicated that incumbent Steve Blake will be the primary point off the bench. For now, it's Blake's position to lose.
Blake hit 40% of his shots from the field through seven preseason games and 45.5% from three-point range. That's an improvement on last year's numbers when Blake hit 37.7% and 33.35%, respectively.
Chris Duhon came over in the Dwight Howard trade but hasn't had much opportunity to play. Brown gave Duhon just 9.6 minutes through five preseason games and the Duke product shot just 33.3% from the field and 25% from three.
It's not uncommon for a franchise to stash a young player to develop in practice. In the case of the Lakers, Darius Morris isn't expected to get much game time this year. His growth will come in workouts with coaches and teammates behind the scenes. Morris re-signed this summer on a one-year deal and will be a restricted free agent in July (if the Lakers extend another qualifying offer).
Morris shot 30% from the field through five preseason appearance, averaging a single assist in 8.4 minutes per game.
Two point guards were waived around the league on Monday (Delonte West and Shaun Livingston) but the Lakers have too many guaranteed contracts at the position to go looking for more.
ALSO:
A look at the Lakers' depth chart
The good, the bad and the ugly for the Lakers in exhibition games
You can email Eric Pincus at eric.pincus@gmail.com and follow him on Twitter @EricPincus.
---
All things Lakers, all the time.
Get all the Lakers news you need in Dan Woike's weekly newsletter.
You may occasionally receive promotional content from the Los Angeles Times.