Steve Nash, Magic Johnson help Lakers court Dwight Howard on Twitter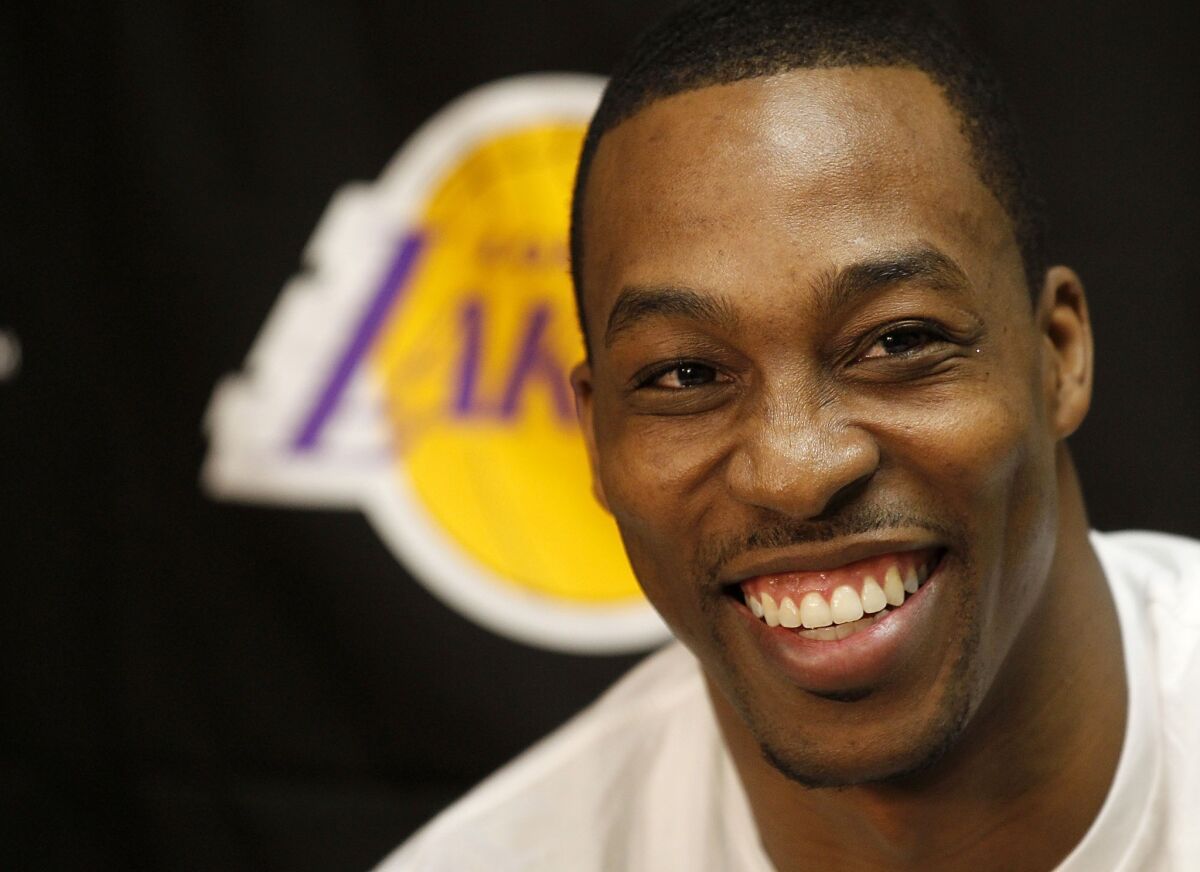 Steve Nash was about to board a plane from New York to Los Angeles.
But first he hammered out a quick salvo to Dwight Howard on Twitter.
Flying from NYC to LA. @DwightHoward we're coming for you. You're going to love the statue we build for you outside Staples in 20yrs! — Steve Nash (@SteveNash) July 1, 2013
Nash will be part of the Lakers delegation that meets with Howard on Tuesday in Los Angeles. Lakers General Manager Mitch Kupchak will also be there, along with Kobe Bryant and Coach Mike D'Antoni.
Magic Johnson will not be there because of his annual vacation to Europe but he sent a message to Howard on Twitter as well Monday.
Johnson echoed the slogan the Lakers unveiled last week on billboards throughout Los Angeles.
.@DwightHoward Stay. #StayD12 — Earvin Magic Johnson (@MagicJohnson) July 1, 2013
After a flurry of activity when free agency began Sunday night, Monday shaped up to be a relatively quiet day for Howard. He was scheduled to meet with long shots Golden State and Atlanta, neither of which appeared to represent a realistic location for him.
On Tuesday, however, Howard will meet with Dallas and then the Lakers, concluding his five-team circuit within two days in Los Angeles.
Kupchak met briefly with Howard after free agency started at 9:01 p.m. Sunday, carving out a brief and casual face-to-face with the NBA's most prized free agent. Then Howard had a late dinner with executives, players and other Houston Rockets luminaries (Clyde Drexler, Hakeem Olajuwon).
ALSO:
Kobe Bryant, Steve Nash to assist in pursuit of Dwight Howard
Kobe Bryant wants Dwight Howard to return but won't push him
Lakers GM gets first shot at Dwight Howard as free agency begins
All things Lakers, all the time.
Get all the Lakers news you need in Dan Woike's weekly newsletter.
You may occasionally receive promotional content from the Los Angeles Times.