Byron Scott and Luke Walton join TWC SportsNet broadcast team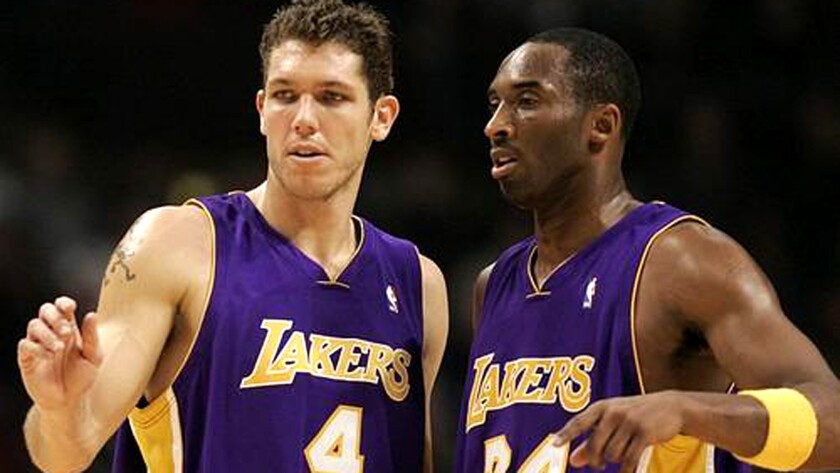 Time Warner Cable SportsNet has expanded its on-air Lakers broadcast team to include Byron Scott and Luke Walton.
Scott won three NBA titles with the Lakers in the mid-1980s. Walton has two rings from the Lakers' 2009 and 2010 championships.
"The addition of Byron Scott and Luke Walton to our on-air team allows Time Warner Cable SportsNet to give fans incredible perspective on the Los Angeles Lakers. Byron is an experienced and respected NBA veteran and Luke is fresh off of an accomplished NBA career," said Larry Meyers, vice president, content and executive producer, Time Warner Cable Sports Regional Networks. "We have worked hard to assemble an extremely experienced and relevant team of Lakers analysts as we head into our second season of Lakers basketball on Time Warner Cable SportsNet."
Scott and Walton will join James Worthy and Robert Horry, giving the team a combined 15 NBA championships on set.
"I'm excited to be joining the Time Warner Cable SportsNet team," said Scott. "It's going to be a great experience, and I look forward to having a lot of fun with my old teammate James Worthy and the rest of the Time Warner Cable SportsNet team. It's going to be an interesting season for the Lakers, and I think they will surprise a lot of people."
Both will appear on "#LakeShow," "Access SportsNet" and the network's regular pre- and postgame shows.
"I am excited to be joining the Time Warner Cable SportsNet team," said Walton. "Having won two championships with the Lakers, I know how important the team is to this community. I look forward to again being a part of Lakers basketball and can't wait to work alongside Hall of Famer James Worthy, Byron Scott and the rest of the Time Warner Cable SportsNet team."
Scott will make his debut Sunday, covering the Lakers' second preseason game. Walton will first appear Tuesday before the team's third. Both games are against the Denver Nuggets.
The Lakers kick off the exhibition season Saturday night in Ontario against the Golden State Warriors.
ALSO:
Recovering from injury, Kobe Bryant hits floor for 'set shooting'
Kobe Bryant has third-most popular NBA jersey worldwide
Stan Van Gundy advised Dwight Howard to leave Lakers for Rockets
Email Eric Pincus at eric.pincus@gmail.com and follow him on Twitter @EricPincus.
---
All things Lakers, all the time.
Get all the Lakers news you need in Dan Woike's weekly newsletter.
You may occasionally receive promotional content from the Los Angeles Times.