Jeanie Buss says Kobe Bryant deserves farewell tour and his extension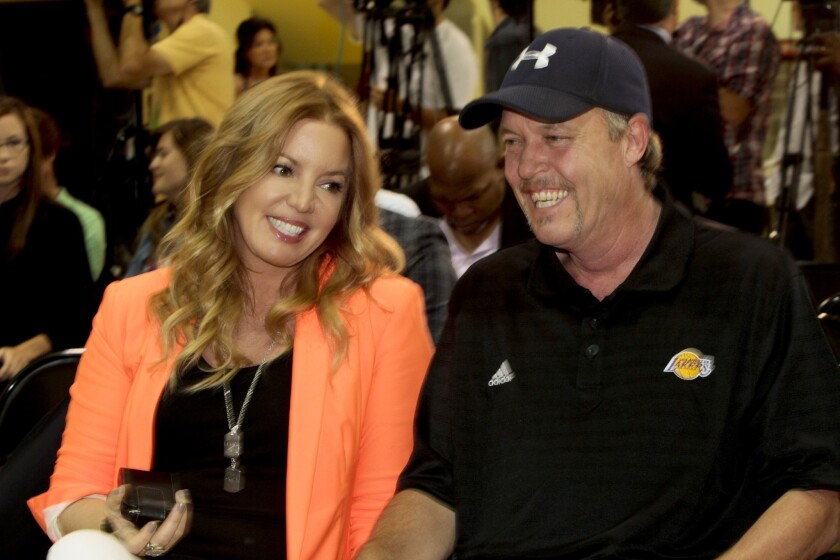 Kobe Bryant deserves both his contract and a farewell tour as a Laker, according to owner/executive Jeanie Buss.
"We never got an opportunity to do the farewell tour for Magic Johnson," Buss said on "Access SportsNet" via Time Warner Cable SportsNet.
Early in the season, Bryant agreed to a two-year, $48.5-million contract extension.
"Kobe, by signing that deal, will have played 20 years for one organization," said Buss. "I guarantee that won't happen again. ... We don't draft players at 17 anymore. To have the kind of longevity that he's had, makes it extremely special and I think that Lakers fans understand that."
The Lakers could have significant spending power over the next few seasons.
Bryant was recently critical of the Lakers' front office, saying very clearly that he expects the organization to field a contender next year.
"He's such a competitor and I can only imagine what he's going through right now because he has no outlet for that," said Buss. "I understand his frustration and I will talk with him, and I will commiserate with him because I know how he feels."
"I don't like this season. I don't like being eliminated from playoff contention already. It's only March," Buss said of the Lakers' 22-44 season
She blamed injuries for the team's performance. "It's been extremely frustrating," she said. "I don't think I can remember a season like this in all the years that I've worked with the Lakers."
Buss' role in the Lakers' organization is on the business side; she doesn't have a major say on the basketball side. Her brother and team co-owner Jim Buss is in charge of basketball operations. General Manager Mitch Kupchak works directly for Jim Buss.
"I don't know specifics on the plan, but they're confident and have assured me that next year will be better, measurable by more wins," she said. "We'll continue to build from there."
Does she regret how much the Lakers gave Bryant over what is expected to be the final two years of his contract?
"Absolutely not," she said. "I do believe he will contribute at the same level Kobe's always contributed to the success of the Lakers"
"To have Kobe retire as a Laker, that to me is really important. I'm thrilled."
Bryant responded on Twitter Tuesday, presumably upon watching the segment on Time Warner Cable.
@JeanieBuss #bleedpurple #bleedgold #lakers4life— Kobe Bryant (@kobebryant) March 19, 2014
Meanwhile, Bryant is currently recovering from a knee injury, out for the season after playing just six games.
Thank you for all the support. 7months to get back And answer this challenge #healthy #training #nutrition #bodyarmor— Kobe Bryant (@kobebryant) March 12, 2014
Buss said she isn't worried about Bryant's contract getting in the way of the Lakers' plans.
"Too much attention is being paid to salary cap and all that kind of stuff, which is important," said Buss. "Why can't we just talk about the players ... and how a basketball team comes together and not focus on slotting and cap space?"
"I don't wear a hat and a T-shirt with 'cap space' on it," said Buss. "I have complete confidence in Jimmy and Mitch to put together the kind of team that Lakers fans are used to."
Still, Buss said she is the final voice of the team.
"Ultimately the buck stops with me," she said. "I'm president and governor of the team and I have empowered the basketball operations, the front office, to put together a basketball team, working within the confines of the collective bargaining agreement."
She also has advice for the fans.
"I want Lakers fans to watch the NCAA tournament," said Buss. "Who fits that Laker profile?"
"Even though we're eliminated from having an opportunity to be in the playoffs this year, there are things to look forward to," said Buss, noting that the Lakers will participate in the draft lottery on May 20. "As the tournament unfolds, hopefully we'll see something, just as my dad saw something special about Magic Johnson" in 1979.
ALSO:
Lakers gain closure with Phil Jackson's departure to New York
Jordan Farmar out at least two weeks with moderate groin strain
A Lakers fan put Phil Jackson in touch with New York Knicks
Twitter: @EricPincus
---
All things Lakers, all the time.
Get all the Lakers news you need in Dan Woike's weekly newsletter.
You may occasionally receive promotional content from the Los Angeles Times.