Lakers guards D'Angelo Russell and Jordan Clarkson face big test against Portland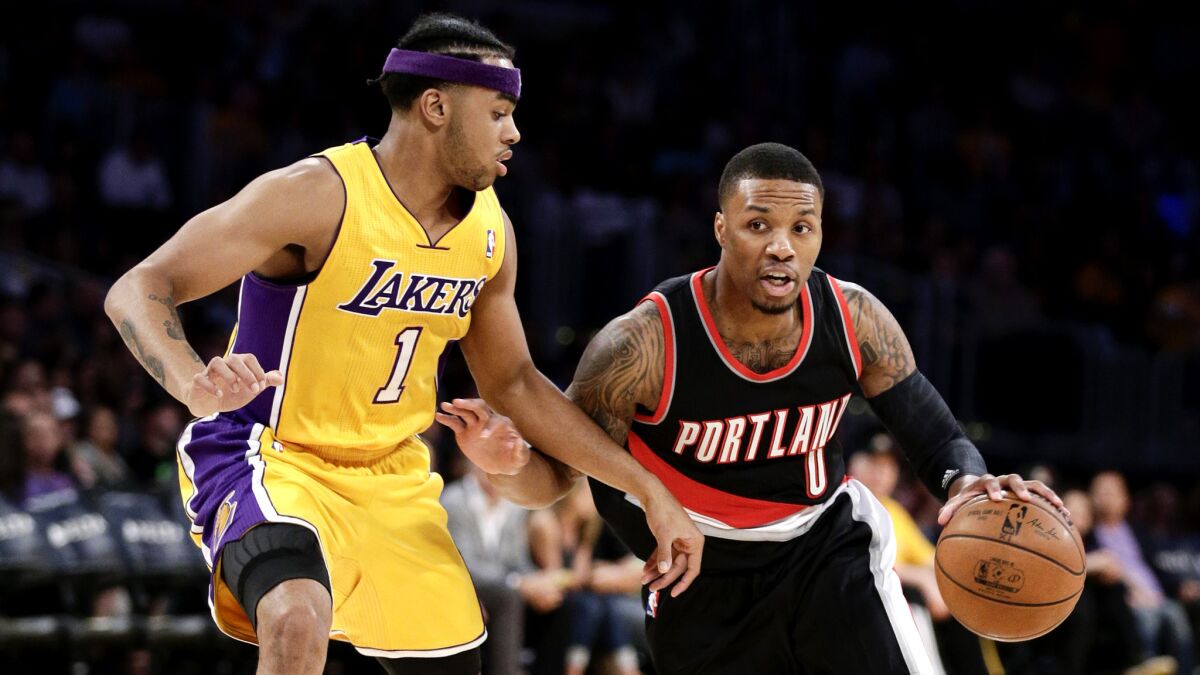 The lessons for the Lakers' young backcourt of rookie point guard D'Angelo Russell and second-year guard Jordan Clarkson will continue on Sunday.
Russell, 19, and Clarkson, 23, will face two of the best guards in the NBA when they go up against Portland's Damian Lillard and C.J. McCollum at Staples Center.
Lillard is averaging 25.2 points a game and McCollum is averaging 20.1.
"They put up some numbers," Lakers Coach Byron Scott said. "Both of those guys are very offensively gifted. They can score. Our two guys are going to have their hands filled. But I hope they look at it as a great challenge.
"Damian is obviously one of those guys that's an All-Star-caliber point guard and McCullough was one of those guys in college that you knew was a big-time scorer. It's taken him kind of three years to ... to blossom.
"But he's one of those guys right now that has a lot of experience and he's playing extremely well. So as a backcourt, they're tough. And our guys have got to be ready."
Get the latest in sports with our free newsletter >>
Russell, fresh off a career-high 17 points Friday night, is averaging 10.2 points a game. Clarkson is averaging 15.5.
So it'll be interesting to see how Russell and Clarkson play against Lillard and McCollum.
"It's a matchup that they'll be looking forward to, I'm sure," Kobe Bryant said about Russell and Clarkson. "I know I would be."
Follow Broderick Turner on Twitter: @BA_Turner
MORE LAKERS NEWS
Golden State reminds Byron Scott of the Lakers ... from the 1980s
Five takeaways from the Lakers' 102-91 loss to the Toronto Raptors
Caron Butler shares his life story, highlights brotherly bond with Kobe Bryant
---
All things Lakers, all the time.
Get all the Lakers news you need in Dan Woike's weekly newsletter.
You may occasionally receive promotional content from the Los Angeles Times.