Steve Nash eligible for 15% bonus if traded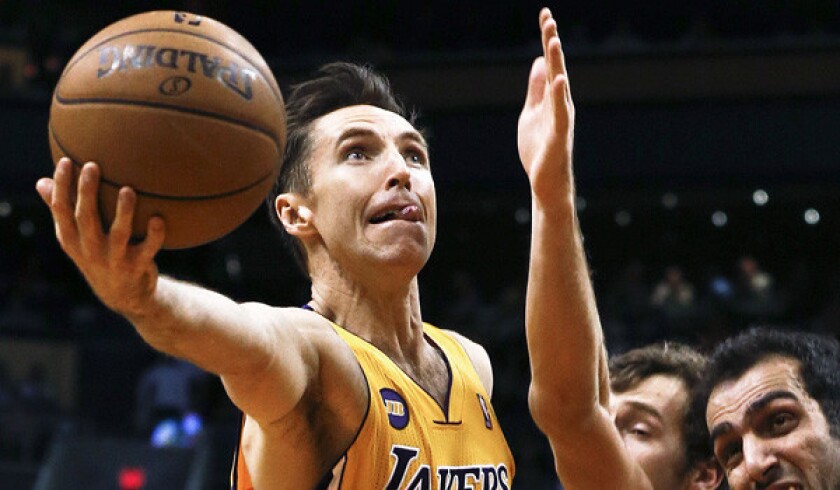 Should the Lakers look to trade Steve Nash before his final season of a three-year, $27-million contract, the veteran point guard would receive a 15% trade bonus.
Nash is set to earn $9.7 million for the 2014-15 season — a trade would land him an additional $1.5 million ($11.2 million in total salary).
It would be the Lakers' responsibility to pay the 40-year old guard's bonus, not Nash's new team.
Acquired by the Lakers in 2012 from the Phoenix Suns, Nash has missed 99 of 164 regular-season games (60.4%) over two seasons with knee, back and hamstring issues.
Holding the seventh pick in Thursday's NBA draft, the Lakers has discussed trade options with a number of franchises, including the Golden State Warriors (with guard Klay Thompson the target).
The Lakers may very well keep their pick but a deal that clears Nash from the team's books while bringing back player(s) to help the team quickly rebuild, might inspire L.A. to send out its 2014 selection.
Along with Kobe Bryant's $23.5 million salary, the Lakers have just Robert Sacre ($915,243) and Nash under guaranteed contract — provided Nick Young opts out of his deal ($1.2 million) as expected.
If Nash were dealt along with the pick and the Lakers renounced the rights to each and every free agent, the team could have roughly $34 million in cap space (less any players acquired in trade).
As an unrestricted free agent, Pau Gasol takes up $20.3 million of the Lakers' space — until he inks with another team, re-signs with the Lakers for less or is renounced altogether.
Because the Lakers owe their 2015 first-round pick to the Suns (for Nash), the team cannot trade their 2014 pick until after the draft. Teams cannot deal future first-round picks in consecutive years.
After the Lakers make their selection, it's no longer a "future" first and the rights to the player can be dealt.
The Lakers can officially trade away their pick before Thursday's draft but only if they also acquire another team's pick beforehand — otherwise a deal could be reached verbally but wouldn't be legal until after the first round is complete.
Email Eric Pincus at eric.pincus@gmail.com and follow him on Twitter @EricPincus.
---
All things Lakers, all the time.
Get all the Lakers news you need in Dan Woike's weekly newsletter.
You may occasionally receive promotional content from the Los Angeles Times.