Lakers to work out Dwight Howard, Joakim Noah and Marreese Speights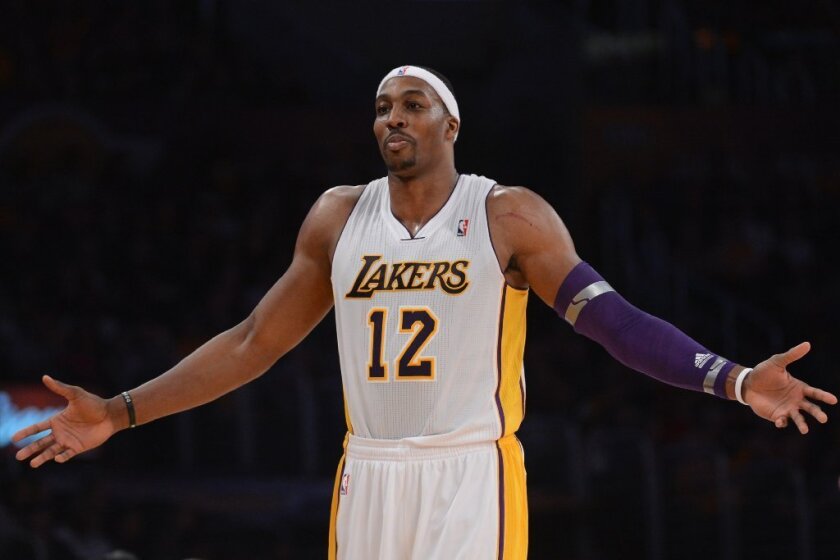 The Lakers will host workouts with veteran big men Dwight Howard, Joakim Noah and Marreese Speights this week as they explore options to fill the void left by the knee injury to DeMarcus Cousins.
Among the three potential additions, Noah, 34, saw the most NBA action last season.
He had a productive season with the Memphis Grizzlies after being waived by the New York Knicks, who stretched the remainder of the four-year, $72-million contract they gave him in 2016. He played in 42 games for the Grizzlies and averaged 7.1 points, 5.7 rebounds and 2.1 assists per game while shooting 52% from the field.
Noah is a two-time All-Star and was the league's defensive player of the year in 2014.
Howard has eight All-Star appearances and was the league's defensive player of the year three times. Lately, though, he has struggled with injuries.
The 33-year-old wasn't healthy last season and played in only nine games while with the Washington Wizards. He had surgery Nov. 29 to repair a disc in his lower back and sat out the rest of the season. Howard spent one injury-plagued season with the Lakers after they acquired him in a trade from the Orlando Magic for the 2012-13 season. He left in free agency, rejecting the Lakers' overtures to stay.
Dwight Howard really isn't the villain that Los Angeles Lakers fans continue to make him out to be. He actually saved them from themselves.
Although Howard is currently under contract with Memphis, the Grizzlies are not expected to keep him on their roster and gave him permission to pursue other options.
Speights, 32, last played in the NBA during the 2017-18 season with the Orlando Magic. That season he played in 52 games, starting three. He averaged 7.7 points and 2.6 rebounds per game. Two seasons ago he played a career-high 82 games with the Clippers.
Speights became a star with the Guangzhou Long-Lions of the Chinese Basketball Assn. He played college basketball at the University of Florida and as a freshman won an NCAA title when the Gators were led by Noah, Al Horford and Corey Brewer.
Cousins tore the anterior cruciate ligament in his left knee during an organized pickup game in Las Vegas last week, and he probably will miss most of the season. That leaves the Lakers with only one center on their roster — JaVale McGee. Star big man Anthony Davis can play center but candidly said he prefers to play power forward. Part of the Lakers' plan in signing Cousins was to keep from having to use Davis as a center.
---
All things Lakers, all the time.
Get all the Lakers news you need in Dan Woike's weekly newsletter.
You may occasionally receive promotional content from the Los Angeles Times.