Lakers close out 2019 by clamping down on Luka Doncic to beat Mavericks
The Lakers opened December with a double-digit loss to Dallas, and because of that the Lakers knew not to take the Mavericks lightly.
That's why they were able to close December with a double-digit win over them.
With both teams playing on the second night of a back-to-back, the Lakers' defense dominated the Mavericks on the way to a 108-95 win Sunday at Staples Center. After a four-game losing streak, the Lakers have put together back-to-back wins.
"We just had to find ourselves again," forward Anthony Davis said. "It started with the defensive end. We were able to get back to what we do defensively, and when we do that, we're able to beat any team and feel good about ourselves. We were able to do that the last two games against two really great offensive teams. When we're doing what we're supposed to on the defensive end, and we're playing with a lot of pace, sharing the basketball, getting in passing lanes for deflections and steals, we're a tough team to beat."
Davis led all scorers with 23 points, and the Lakers (26-7) received critical contributions off the bench from Kentavious Caldwell-Pope, who scored 19, making four of five three-pointers, and Dwight Howard, who scored all 15 of his points in the second quarter. Mavericks star Luka Doncic, who was averaging 29 points against the Lakers this season, scored 19 on five-for-14 shooting with seven assists and two steals, but six turnovers.
LeBron James is closer to being over the hill, but his play over the last two games, in particular, shows how much he brings to the Lakers and the NBA.
On the eve of his 35th birthday, LeBron James finished with 13 points, 13 assists and six rebounds. He became the ninth player to reach 9,000 assists, and his assist-to-turnover ratio in the Lakers' two games this weekend was 29 to three.
"It's a hell of a two-game stretch: 29 assists, [three] turnovers," Coach Frank Vogel said. "His pace the last two nights has been outstanding. Just in the open court, but also in the halfcourt. Not looking to settle."
"We're just so much of a force when we're moving that fast," guard Danny Green said.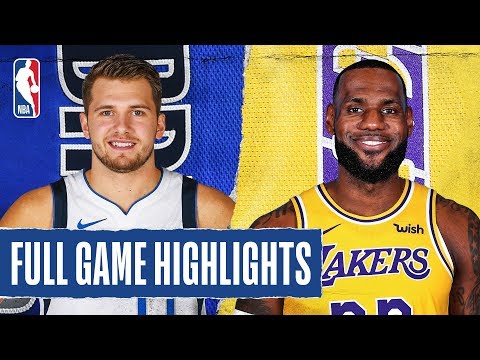 Highlights from the Lakers' win over the Dallas Mavericks on Sunday.
As the Lakers expected, Dallas (21-11) kept it close despite shooting 36%.
In the first quarter, the best the Lakers could do was a seven-point lead, and Dallas even took the lead with a 5-0 run late in the period.
Howard dominated the second quarter with six dunks. He also made three of four free throws, blocked a shot and got a steal.
The Lakers held the Mavericks to 30.4% shooting in the first half, and Doncic to two for seven from the field with zero three-pointers. Dallas went nearly three minutes in the second quarter without scoring.
As a result, the Lakers led by 11 at halftime. But they'd also led at halftime of their Dec. 1 loss here to the Mavericks.
"We knew at halftime even though we had a lead, they're still very dangerous," Green said. "And we were in a dangerous position. We wanted to continue to come out in that third quarter, not let them get us in the third quarter, and keep our foot on the gas and play even better."
LeBron James won three NBA titles, was a perennial All-Star and won a gold medal at the 2012 London Olympics between 2010 and 2020.
They could see too that Dallas was tired from its game the night before, when the Mavericks scored 141 points at Golden State. That fatigue, many Lakers said, impacted the Mavericks' shooting Sunday.
The Lakers were able to take advantage of that in the third quarter as they shot 60% and led by as many as 17.
Still, the Mavericks would not let the Lakers blow them out. Not until a minute and a half remained did the Lakers feel comfortable enough to sit James.
"We know not only the season Luka's having, but they're being successful because of their bench as well," James said. "Their bench gives them so much of a push when Luka comes out and KP [Kristaps Porzingis] comes out and those starters come out, their bench always kind of rises to the occasion. So we keyed in on those guys, we executed our defensive plan and it was ingredients for us in the win."
All things Lakers, all the time.
Get all the Lakers news you need in Dan Woike's weekly newsletter.
You may occasionally receive promotional content from the Los Angeles Times.