Lakers beat Timberwolves to move above .500 for first time this season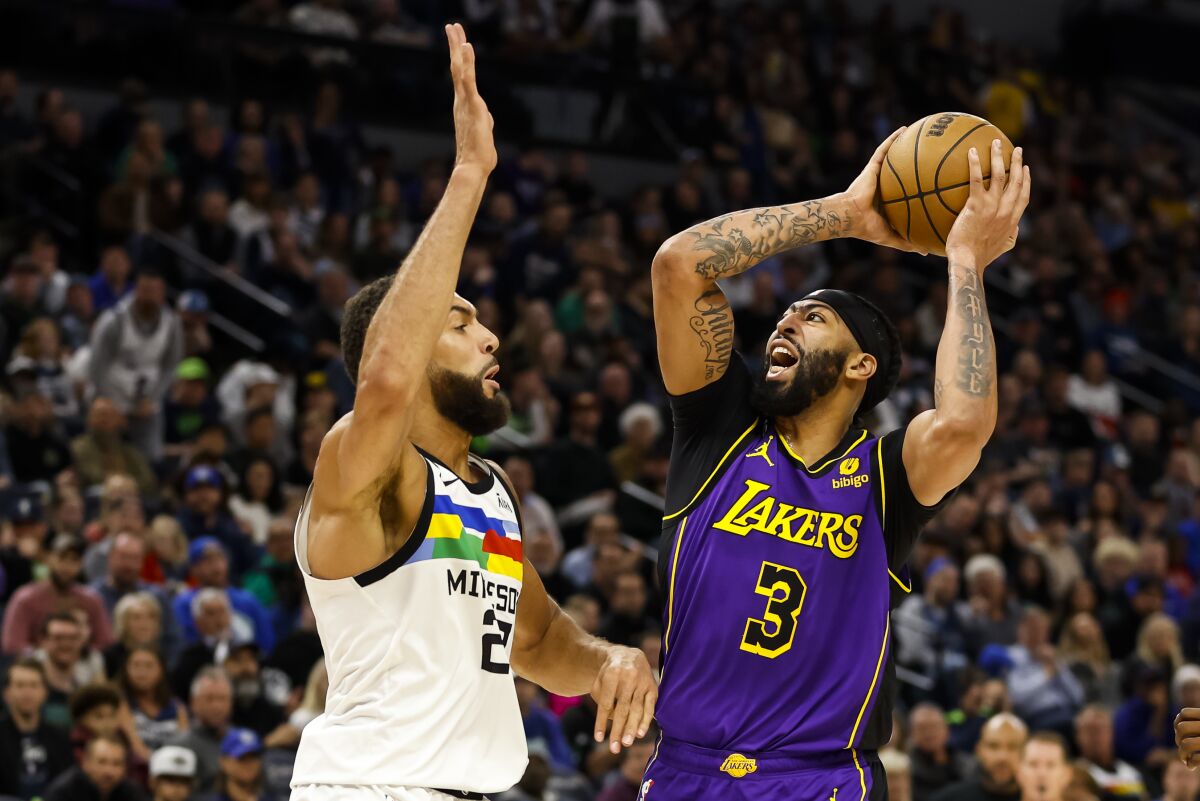 MINNEAPOLIS —
Anthony Davis swore he wasn't thinking about it. Everyone else who remembered couldn't avoid it.
Friday night, Davis wretched in pain inside the paint in front of his team's bench, everything feeling as if it was about to fall apart again in Minnesota. He grabbed at an ankle, rolling in pain as play continued around him.
It was so close to all being over.
A season ago on the other end of the floor, Davis crumbled after a freak knee injury, a moment that helped undercut the Lakers' ambitions and send them to the outside of the postseason.
As players and coaches gathered around, only one thought mattered.
"Oh no. Not again."
Austin Reaves trolled Chicago's Patrick Beverley from earlier in the week during the Lakers' win over the Chicago Bulls on Wednesday.
But, this isn't last season and this isn't that team.
Davis stayed in the game; the Timberwolves did not.
Later Friday while a blizzard pounded the Minneapolis night, Lakers players laughed and celebrated a 123-111 win to put them in seventh place in the Western Conference standings and one game over .500 for the first time this year.
"We've made some huge climbs but we're not finished," Davis said after the win while his teammates howled. "We want to get greedy."
Davis, who said he rolled an ankle when he stepped on Wenyen Gabriel's foot, said he was feeling "good" postgame and expects to play Sunday in Houston against the Rockets.
Though he was clearly bothered in the game by the injury as he limped around the court while he tried to fight through the pain, he dominated on both ends.
"He kicked our ass in every way possible," Minnesota coach Chris Finch said.
Davis finished with 38 points and 17 rebounds. After the game while he and LeBron James conducted interviews at their lockers, D'Angelo Russell, Mo Bamba and Austin Reaves all bleated like goats — a nod to the Greatest of All Time acronym.
"Everyone knows that in order for us to be at the highest level and playing at the highest level, it all starts with AD," coach Darvin Ham said. " …We have a team that can make some things happen. But you have to have that one pivotal force that's leading the charge, and in our case, with this particular team here in the moment, it's AD. When he comes out and he's aggressive and we're feeding him and he's not settling and he's putting pressure on the paint, putting pressure on the rim, we find ourselves having a lot of success."
Anthony Davis scored 38 points, LeBron James had 25 and the Lakers opened their final trip of the regular season with a 121-110 win over the Chicago Bulls.
That was all threatened Friday when Davis went to the court in the third quarter, the Lakers down 10 at the time he crumbled to the floor.
But after he stood up and fell back to the court, Davis got up again. He limped off the floor on his own, pushed up and down on his foot and told a teammate that he was all right.
As the Timberwolves cooled, the Lakers offense started to operate more effectively, the team getting to the basket, hitting open threes and getting to the line.
During one stretch, Davis scored on three straight trips down the floor. He scored 17 in the fourth on seven-of-10 shooting, with James cheering him on from the scorer's table as he cooked the Minnesota defense.
"Just keep going. Just keep going," James said of his message. "He's too dominant, just keep going and make sure they don't gain momentum."
The Timberwolves never did.
Defensively, Jarred Vanderbilt and Reaves kept Anthony Edwards quiet, and Rui Hachimura logged key minutes defending Karl-Anthony Towns.
All five starters finished in double figures, with Dennis Schroder scoring 11 and Malik Beasley adding nine off the Lakers bench.
"I think we're in a good place," James said.
It's the second straight Lakers win, their fifth in their last six.
Friday as the clock ticked down and Minnesota desperately tried to get a stop, Davis rolled down the middle and punctuated things with a two-handed dunk. After he got subbed out, he walked off the court with high-fives and handshakes from his teammates as he went straight to the locker room to get a head start on treatment.
Dennis Schroder, the smallest player on the Lakers roster, has a higher individual net rating than everyone on the team but LeBron James and Anthony Davis.
"I think he understood the assignment and knew how important this game was and I think we all knew that," James said. "We jumped on AD's back and he brought us home."
And even with a limp, he was able to get the Lakers there, the team winning a huge game in the biggest moment of the season to date.
"That's just a testament to who he is. He could have easily sat out the game and been subbed out, but he wanted to stay in because he knew how big this game was for us and just shout-out to him for just sticking with it and fighting through injury and adversity and having that big stretch," Vanderbilt said. "That changed the whole game for us, changed the momentum, changed everything. When he's dominant like that and he's in that zone like that, it just makes us so dangerous and so much more unstoppable."
All things Lakers, all the time.
Get all the Lakers news you need in Dan Woike's weekly newsletter.
You may occasionally receive promotional content from the Los Angeles Times.