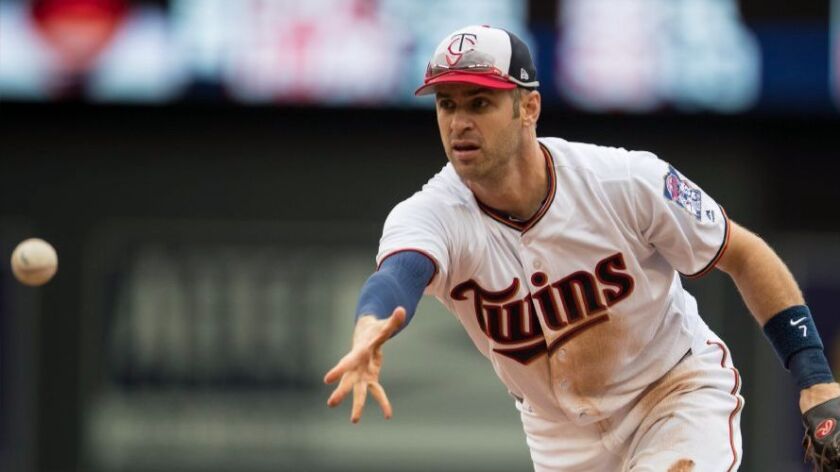 Reporting from NEW YORK —
Minnesota Twins star Joe Mauer remembers well all those October losses to the New York Yankees.
In the Twins clubhouse, though, it might as well be ancient history.
Back in the playoffs for the first time in seven years, Mauer and the Twins will face the Yankees in the American League wild-card game Tuesday night hoping to turn around what has been a one-sided postseason rivalry.
The Yankees eliminated the Twins in a division series four times from 2003 to 2010.
"Somebody asked me earlier, 'Does it feel like seven years?'" Mauer said. "I said, 'Yes, and all of that.'"
Mauer is the only holdover from that era. Minnesota has a young group of players that already made some history. Powered by Miguel Sano and Byron Buxton, the Twins became the first team to go from 100 losses one year to the playoffs the next.
"I'm really excited for this group to experience this," Mauer said. "There's a lot of guys in our clubhouse that this is their first go-round. I was just real happy. It's been a special year to see these guys kind of grow."
Like the Twins, the Yankees have been fueled by a host of youngsters. Outfielder Aaron Judge headlines the group, which includes Tuesday starter Luis Severino and catcher Gary Sanchez. Only Brett Gardner, Greg Bird, Didi Gregorius and Chase Headley played for the Yankees in their last wild-card appearance, a 3-0 loss to the Houston Astros in 2015.
"The faces have changed so much," said Joe Girardi, who managed New York past Minnesota in 2009 and 2010 division series.
The 6-foot-7 Judge set an MLB rookie record with 52 homers and even has a cheering section at Yankee Stadium — The Judge's Chambers in right field.
Limiting Judge may be the most pivotal task for Twins starter Ervin Santana.
"Have to be careful with him," Santana said. "Don't try to leave any cookies right there."
Guessing game
The 23-year-old Severino starts the wild-card game after finishing with a 14-6 record and a 2.98 earned-run average in the regular season.
He averaged 97.6 mph on his fastball — tops among qualified starters by nearly 2 mph — and paired it with a powerful slider and improved changeup.
Twins manager Paul Molitor, a member of the 3,000-hit club, said he suggested that the Minnesota hitters do more guessing at the plate than usual to combat the right-hander's arsenal.
"I don't think that you go up there trying to hit all three of his pitches because that's usually not a good mix," Molitor said. "A guy that was comparable for me in his prime was Pedro [Martinez]. I couldn't hit all three pitches. I just had to try to own something."
Minnesota faced Severino two weeks ago, chasing him after three runs in three innings.
Severino labored through a 46-pitch third inning, including a 13-pitch at-bat by Mauer that ended in a run-scoring single. It was the longest at-bat of Mauer's career.
Deciding on Sano
Molitor hadn't decided on Sano's status for the game, although he was optimistic that the slugger would play.
Sano has been recovering from a stress reaction in his left shin.
Sano sat out 38 games before returning Friday but was lifted for a pinch-hitter Sunday after feeling discomfort in the leg.
Molitor believes Sano will at least be available off the bench.
---