George Springer continues to be a force for Astros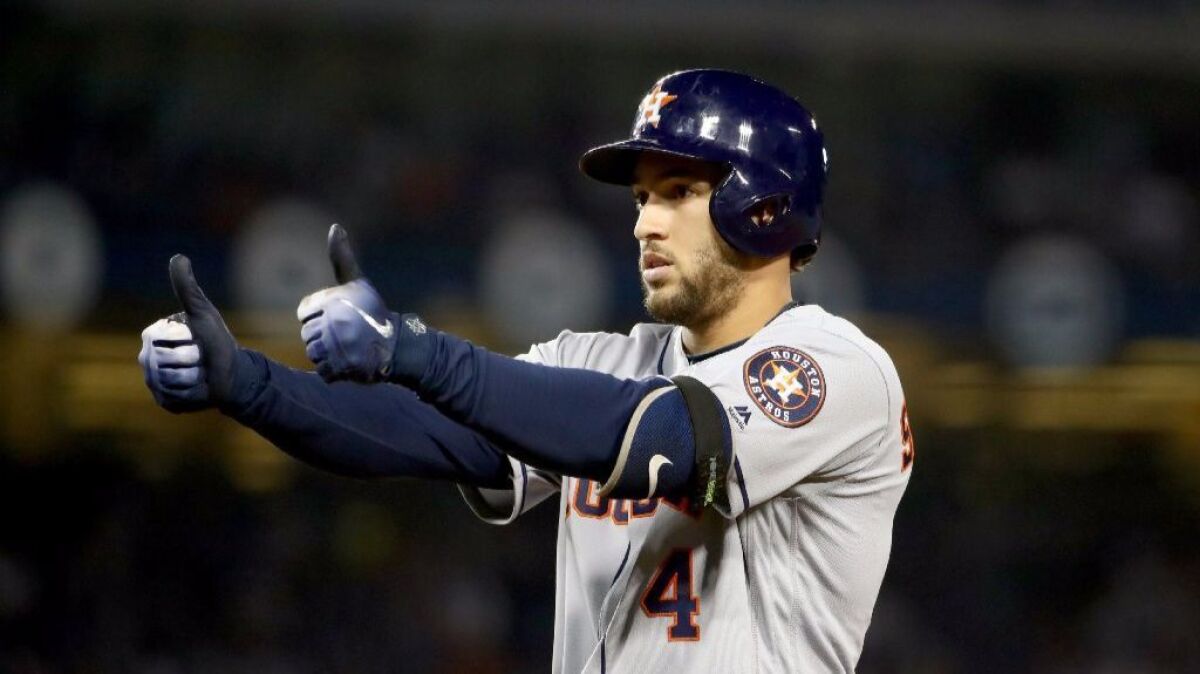 You could say that George Springer has rallied nicely after starting his World Series experience by striking out four times in Game 1.
Springer homered on Tuesday for Houston's only run as Dodgers starter Rich Hill and four relief pitchers combined on a six hitter in a 3-1 victory that forced a deciding Game 7 on Wednesday.
After striking out in his first at-bat, Springer hit an opposite-field home run off Hill in the third inning. He later was walked intentionally and singled.
Springer is batting .375 in the Series, and his nine hits include four home runs. The only players to hit more homers in a Series are Reggie Jackson of the New York Yankees in 1977 and Chase Utley, when he played for the Philadelphia Phillies in 2009. They each hit five.
Springer has six extra-base hits, tying him with 11 others in second place behind Willie Stargell of the Pittsburgh Pirates, who had seven in 1979.
Gurriel hits through boos
Yuli Gurriel, in the wake of his insensitive remark and racist gesture about Yu Darvish on Saturday, was lustily booed by the Dodger Stadium crowd, when he was introduced before the game, before each at-bat and even between pitches.
He managed a single in four at-bats, giving him 21 during the playoffs, which is second all-time for a rookie behind Derek Jeter's 22 for the New York Yankees in 2002.
Strike up the Ks
Justin Verlander struck out nine in his six innings Tuesday, giving him 150 during the playoffs in his career. The ranks fourth all-time behind John Smoltz (199), Andy Pettitte (183) and Roger Clemens (173).
Life lessons
One of the toughest postseason decisions Houston manager A.J. Hinch had to make had nothing to do with pitching changes or setting a lineup: whether to take daughters Hailey and Kaitlin out of school to accompany their dad on the Astros' playoff run.
"They've been to school six days this month, which is hard for me," Hinch said before Tuesday's game. "A Stanford grad; it's hard for me to pull my kids out of school."
In a way, he said, the girls are getting an education, or at least life experiences they won't forget.
"There's so much of this story behind the scenes," Hinch said. "All of us in baseball cherish our families and what they sacrifice for us to live out this dream and do this crazy stuff."
For example, Halloween was a little different this year. It was celebrated at the team's hotel.
"The trick-or-treating in the hotel will suffice because I think this is special circumstances," Hinch said. "So is missing school."
Basketball bonding
This was catcher Brian McCann's first season with the Astros. So in an effort to get to know his new teammates, when the team was rained out of an April game in Oakland, he bought a luxury suite for a Golden State Warriors playoff game and hosted a boys' night out.
He did the same thing Monday night in Los Angeles, renting a suite at Staples Center for the Clippers' game with Golden State.
"I've never seen anything like it," Hinch said. "And I've been on a lot of teams, and winning teams will always brag about their chemistry and the culture and the camaraderie. To live it is pretty special.
"We had a mixture of guys: We had some core guys that had come back from our '15 and '16 team. We had some veterans, like [Carlos] Beltran and McCann and [Josh] Reddick. We had some guys that were making our team for the first time, guys like [Alex] Bregman, and Gurriel. So it contributes at some level. "
The Los Angeles Dodgers in the 2017 World Series
kevin.baxter@latimes.com; Follow Kevin Baxter on Twitter @kbaxter11
mike.hiserman@latimes.com; Follow Mike Hiserman on Twitter @MikeHiserman
Get our high school sports newsletter
Prep Rally is devoted to the SoCal high school sports experience, bringing you scores, stories and a behind-the-scenes look at what makes prep sports so popular.
You may occasionally receive promotional content from the Los Angeles Times.