Justin Verlander goes the distance and Astros walk off with 2-1 victory over Yankees
Reporting from Houston —
In the middle of the Houston Astros' second consecutive victory over the New York Yankees, Minute Maid Park became a playground, and major leaguers morphed into pre-teen pickup basketball players.
The Yankees had a man on second base in Saturday's fifth inning, trailing the Astros by one run. Justin Verlander whipped a slider across the zone, and Todd Frazier sent a liner soaring toward the visiting bullpen beyond left-center.
Soon, the second game of the American League Championship Series felt like after school in a suburb somewhere.
Frazier's drive lodged itself between chain-link fencing and a uselessly high piece of padding, and the tying run scored as he sprinted around the bases. Dumbfounded, Astros center fielder George Springer first tried to shake the baseball loose, like a 12-year-old faced with a particularly sturdy stanchion.
Finally informed of the ball's location by Yankees reliever David Robertson, Springer tore off his glove and chucked it at the ball. Nothing worked until Robertson bounded from a bullpen chair to take it down. By then, Frazier had been sent back to second with a ground-rule double.
The score stayed tied, 1-1, until the bottom of the ninth, when Jose Altuve scampered home from first on Carlos Correa's double to right-center. Correa slid into second base, popped up, and watched the play at the plate, as catcher Gary Sanchez dropped the ball to grant the Astros the winning run.
On a normal relay play, Altuve would've been out by yards. But the Yankees flubbed every part of it, rewarding Houston's risk. As a sold-out crowd of 43,193 fans clamored into a din, Correa yanked off his helmet and flung it as far as he could. He brought both hands to his chest and nearly ripped off his jersey. The Astros' 2-1 victory provided them a powerful 2-0 lead in this series that moves Monday to New York City.
Functionally, the Astros won because of Verlander, who turned in a sublime start to match the moment. In firing a complete-game five-hitter, striking out 13, he ventured far beyond where starters range in modern postseasons. Before this effort, no starter had obtained even one out in the eighth this month.
"That's a performance for the ages," Springer said. "He came out and struck out 15, 14 — whatever it was, who cares."
It was the kind of performance that rendered statistics and pitch counts irrelevant. Verlander possessed the stuff from the start. In the first inning, he set up both Brett Gardner and Aaron Judge with steady heat, then spun vicious sliders to secure strikeouts.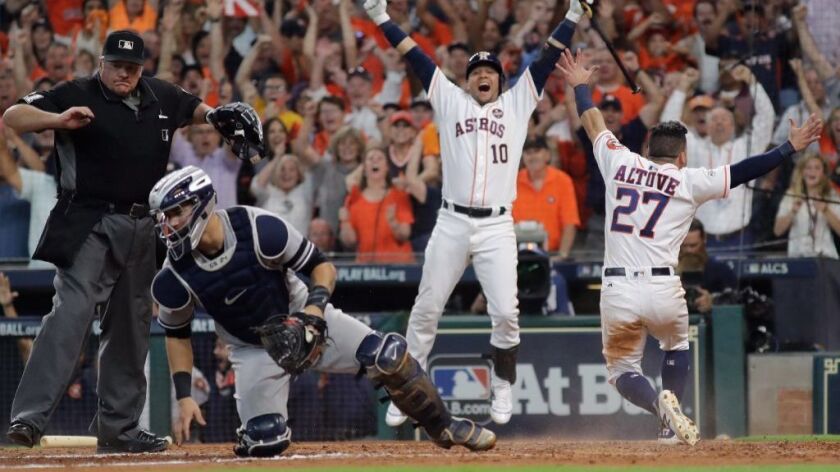 New York generated few chances. With one out in the third, Josh Reddick hopped at the right-field wall to snag a Chase Headley drive. Gardner next whacked a ball down the right-field line, but a well-executed relay throw beat him to third. Though Gardner was called safe, the Astros walked off the field as soon as the review began, certain he was out.
In the fourth, Correa powered a Luis Severino fastball to right field, the ball carrying as Judge gave it chase. As both neared the wall, a young fan in the first row reached out to make the catch. The ball bounced off his glove and into the stands for a home run. A review confirmed the call, officials determining the baseball was bound for the seats anyway. The Astros weren't so sure.
"I love that kid," said their manager, A.J. Hinch. "I want to leave that kid tickets."
The Yankees' only run scored on the game's only weirder play. Hours later, Springer's teammates laughed endlessly at his expense, interrupting his answer to a reporter to supply advice.
"Hands up next time," said injured outfielder Jake Marisnick. "Don't throw your glove at it. We'll address it later."
In the moment, Springer kept thinking the umpires had to see him attempt to field the ball, or they'd call it a home run.
"That was my attempt," he pleaded to Marisnick.
Verlander, the Astros' August 31 acquisition, has thrown at least 200 innings in 10 of the last 11 seasons. His right arm is as resilient as exists in the sport today, and his confidence is not far behind.
Verlander said Friday that he often wonders how he would've handled long-ago baseball, when the best pitchers handled far more innings per season. He indicated his enduring mechanics made him think he could do it.
Saturday's effort strengthened Verlander's case. Hinch didn't even question him after the eighth, knowing he'd fight to remain on the mound. As he surpassed 120 pitches, he showed no signs of decline. His last pitch was a sharp slider that yielded a weak grounder, and he shouted various excited phrases as he marched off the field.
"It's definitely one of the most satisfying starts I've had in my career," he said.
Follow Pedro Moura on Twitter @pedromoura
---
Get our high school sports newsletter
Prep Rally is devoted to the SoCal high school sports experience, bringing you scores, stories and a behind-the-scenes look at what makes prep sports so popular.
You may occasionally receive promotional content from the Los Angeles Times.