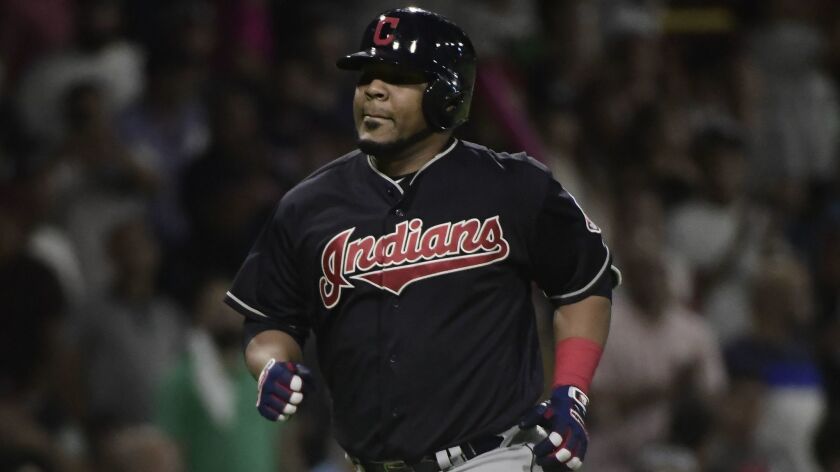 Carlos Santana is going back to Cleveland, where he was an Indians fan favorite. Edwin Encarnacion is headed to Seattle — no telling how long he'll stick there.
The star hitters were swapped for each other Thursday, part of a three-team trade that also involved Tampa Bay as the winter meetings wrapped up in Las Vegas.
The Rays got infielder Yandy Diaz and minor league right-hander Cole Sulser from Cleveland. The Indians also acquired first baseman Jake Bauers from Tampa Bay, while the Mariners wound up with a draft pick. Tampa Bay will send $5 million to Seattle and the Mariners will pay $6 million to Cleveland.
"We'll see how it goes with Edwin, whether he stays with us or he moves on to another destination," Seattle assistant general manager Justin Hollander said.
Mariners GM Jerry Dipoto finished the trade while in a hospital. He felt ill a day earlier and was checked "out of an abundance of caution," the team said.
The 32-year-old Santana, known for his power and ability to draw walks, spent the first eight seasons of his career in Cleveland before signing a $60-million, three-year deal with Philadelphia last winter. He is still owed $35 million.
Encarnacion had 107 RBIs while hitting 32 homers and .246. He leads the majors in homers and RBIs since 2012.
Familia returns to Mets
Reliever Jeurys Familia agreed to a $30-million deal over three years with the New York Mets on Thursday. Familia likely must pass a physical for the contract to be finalized.
The 29-year-old righty will join a Mets bullpen that recently added major league saves leader Edwin Diaz in a trade with Seattle that also netted longtime All-Star second baseman Robinson Cano.
Familia had spent his entire career with New York before being traded to Oakland last July. This move likely means Familia will slide back into a setup role, where he flourished as a rookie in 2014.
Familia was a combined 8-6 with 18 saves in 24 chances and a 3.13 ERA for the Mets and A's last season. He has 123 career saves for the Mets, who signed him at age 17.
Lynn to Rangers
Free agent right-hander Lance Lynn and the Texas Rangers have reached a deal on a $30-million, three-year contract. The deal is pending a physical…. Left-hander Alex Claudio was acquired by the Milwaukee Brewers from the Rangers for a draft pick. Claudio was 4-2 with a 4.48 ERA and one save in 65 relief appearances and one start this year.
---