Big leaguers turn to innovative pregame routines to improve in-game results
Albert Pujols is a creature of habit when it comes to preparing for a game.
The Angels slugger performs 11 different hitting-off-a-tee drills and an extensive soft-toss ritual before he steps into the batting cage.
"I've been doing the same routine every day since I got to the big leagues in 2001," he said.
Pujols' style of preparation -- picking an approach and sticking to it -- was the norm in baseball for many years.
Not anymore.
As free agency has moved players from team to team, ideas for drills have circulated and pregame routines have grown well beyond mundane sessions of fielding grounders, shagging fly balls and taking batting practice under a portable cage on the field.
"A lot of conversations were shared," said Arizona chief baseball officer Tony La Russa, who managed 33 years with the Chicago White Sox, Oakland Athletics and St. Louis Cardinals. "You'd pick up a tidbit from a player who came over to your club. 'Hey, what did you do from where you came?' All kinds of things."
Consider the change Hensley Meulens made when he became hitting coach for the San Francisco Giants in 2010.
At the time, the Giants ranked near the bottom of the National League in every major offensive category. As Meulens waded through video and statistics for clues as to why, one thing jumped out: "We were actually behind on the fastball," he said.
Melding suggestions from players with his experience as a player and coach, Meulens devised a different kind of batting-cage drill.
He set a pitching machine at 85 mph. With each pitch, hitters stepped closer to the machine until they were about 30 feet away -- half the distance between the mound and plate. Don't take a full swing, Meulens instructed. Just try to make solid contact.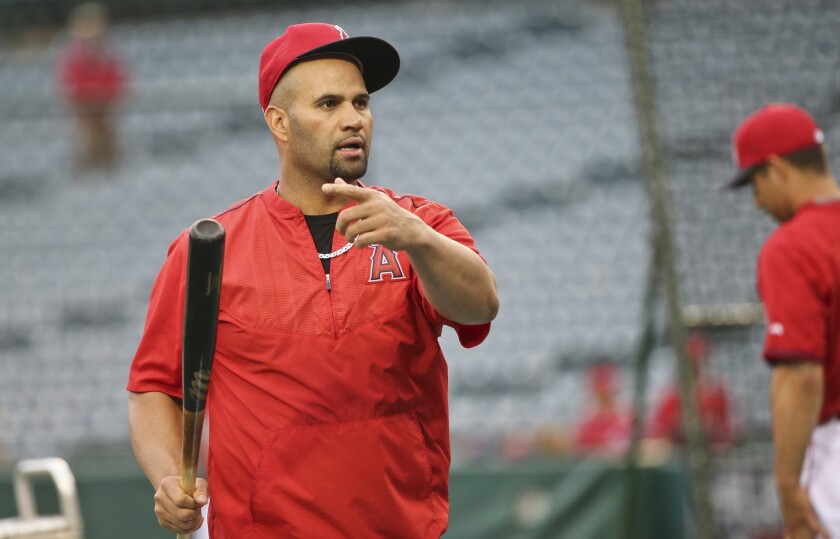 If the hitter got so close that they couldn't make contact, they retreated, swinging at a pitch with each backward step.
"It forces my eyes to slow the game down," Giants right fielder Hunter Pence said. "Even though the ball is getting on you quick, your hands are able to get to it, so you can trust your hands. It's really a mind thing."
San Francisco moved from ranking 16th in the NL in on-base-plus-slugging percentage (.699) in 2009 to eighth (.729) in 2010, when it won its first of three World Series titles in five years. The Giants ranked seventh (.724) in OPS in 2012 and sixth (.699) in 2014, when they also won titles. Last season, they ranked first in the NL in average (.267) and fourth in OPS (.732).
Several players, including Pence, Angel Pagan, Gregor Blanco and Brandon Crawford, use Meulens' drill regularly. Blanco said it helped him crush a 98-mph fastball from Kansas City right-hander Yordano Ventura for a leadoff homer in Game 2 of the 2014 World Series.
The Giants led the major leagues in 2014 with a .275 average on pitches of 95 mph or more that were put in play, and had a .296 average against 94-mph-and-above pitches in 2015, according to Inside Edge, a baseball scouting and information service.
"We use it in the minor leagues, too," Meulens said, "so some of these guys are familiar with it when they come up."
Meulens' drill is similar to one used by Chicago Cubs Manager Joe Maddon when he was minor league hitting coordinator with the Angels in the 1980s. Maddon also shortened the distance between hitters and the pitching machine, and had players swing a heavier bat.
"That would help you get your timing down," said Angels first base coach Gary DiSarcina, the former Angels shortstop who was a prospect at the time. "You'd get an understanding of velocity and how hard these guys are going to throw. Joe was kind of ahead of his time with drills."
To break the monotony of spring training, Arizona Manager Chip Hale tried a "double-cage" drill that La Russa saw in Japan. Two pitchers throw batting practice — at the same time, behind one screen — to hitters in each batters box, one batting right-handed, the other from the left.
Balls are shooting all over the place, but guys got more reps. It's a little strange, but when you do the same thing every day, you go a little crazy.
— Tony La Russa
"It's orchestrated, and it works," La Russa said. "Balls are shooting all over the place, but guys got more reps. It's a little strange, but when you do the same thing every day, you go a little crazy."
Improved video technology, advances in sports medicine and increased use of statistics have added more time and work to pregame routines.
Most players arrive at the park five or six hours before night games, spending two to three hours before batting practice getting treatment, lifting weights and stretching, poring over video and scouting reports, meeting with coaches and hitting in a cage.
Batting cages and video rooms in newer stadiums are usually steps away from the dugout, but with that convenience comes a potential problem: players wearing themselves out before games.
"There are times you have to back off," said veteran Seattle catcher Chris Iannetta, 33. "I'm not 23 anymore. Where I could take 1,000 swings and be OK the next day, now, I have to be a little more smart."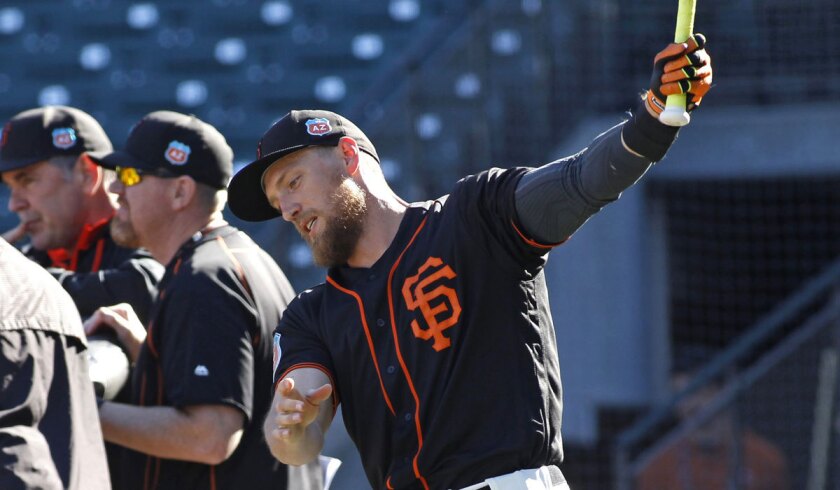 Many teams don't hit on the field on brutally hot summer days in an effort conserve energy. Meulens said the Giants didn't take early batting practice — teams sometimes hit from 2 to 3 p.m. — once in 2015.
Pence learned that less could mean more after he was traded from Philadelphia to San Francisco at the end of July 2012. Pence had hit .217 with one homer and 12 runs batted in that month and was eager for a fresh start.
"He showed up to the field at noon looking for me, and I wasn't there," Meulens said. "I got there at 1:30 and he was pacing with the bat, saying, 'Let's go hit!' I said, 'No, we don't hit at noon here. Sit down. Let's talk, get to know each other first. Tell me what's going on with your swing,' because whatever he was doing wasn't working.
"He was overdoing it, and by game time he was tired. I told him we're going to save his energy for the game, and he bought into it."
Four years later, Pence laughs about the exchange.
"I was still young, there was no wearing me out, but I've definitely learned you don't have to hit as much as I was," Pence said. "There is a point of diminishing returns. It's important to back down a little bit.
"The coaches forced me into it, but then you realize, 'Oh, it's kind of nice to be fresh.'"
Twitter: @MikeDiGiovanna
MORE SPORTS NEWS
After The Slide, Chase Utley returns to New York prepared to face the vitriol of Mets fans
Angels starter Hector Santiago unable to shine
---
Get our high school sports newsletter
Prep Rally is devoted to the SoCal high school sports experience, bringing you scores, stories and a behind-the-scenes look at what makes prep sports so popular.
You may occasionally receive promotional content from the Los Angeles Times.