Bryan Cranston will narrate MLB Network documentary on 1988 World Series champion Dodgers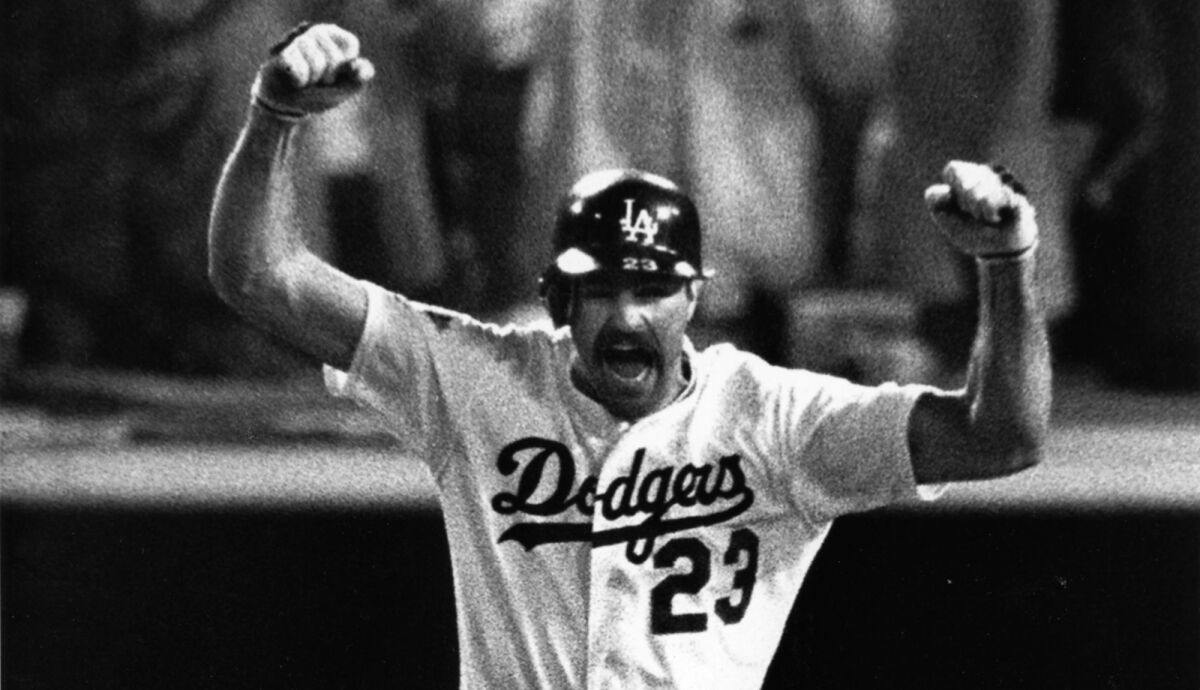 There was no haggling or arm-twisting in negotiations to procure actor Bryan Cranston, a Los Angeles native and lifelong Dodgers fan, as narrator for an MLB Network documentary on the 1988 World Series champion Dodgers.
"When my agents came to me and said Major League Baseball would like you to … I said, 'Yes!' " said Cranston, 62, who won four Emmy Awards for the AMC crime drama "Breaking Bad."
"They said, 'But you haven't heard the deal yet.' I didn't have to. Whether it's on stage, on Broadway, starring in a movie or television series or being a voice in narration of something that is meaningful to you, I want to be a part of good story-telling. And this documentary is a good story."
So good that Cranston said he got goose bumps in a Los Angeles studio as he chronicled a season that culminated with one of the most dramatic homers in World Series history, Kirk Gibson's Game 1, pinch-hit, walk-off shot off Dennis Eckersley that propelled the Dodgers to their last title.
The documentary premiers July 15, the Sunday night before the All-Star Game.
"It transports you back to those memories, so you don't just recall them, you relive them," Cranston said. "Vin Scully calling Gibson's home run — 'In the year of the improbable, the impossible has happened!' — Gibby's arm pump, Tommy Lasorda thrusting his arms into the air. It was just an incredible season.
"I was in that booth, going through the dialogue, and I was like, 'Oh my God, I remember that so well,' and the pins and needles and the tension that it all created was wonderful."
MLB Network officials pursued Cranston because they knew he was a huge Dodgers fan. They probably didn't realize the intensity and depth of his passion.
Cranston was 5 years old when his father took him to his first Dodgers game in the Coliseum in 1961. He was so enamored with the way Wally Moon flicked balls over the high net in left field — homers known as "Moon Shots" — that he named his production company Moon Shot Entertainment.
Scully didn't just provide the soundtrack of his summers growing up in Canoga Park. The broadcaster's soothing voice was like a security blanket for Cranston, whose father, Joe, a struggling actor and amateur boxer, walked out on the family when Cranston was 11.
"I had a very challenging childhood — there was some alcoholism, abandonment, a bitter divorce, family separation," Cranston said. "It was very tough in many ways, and that's why I had, almost as a talisman, the Dodgers.
"At least for those three hours, when the game was on, I could allow myself to feel distracted enough in a comfortable way, in a way that felt like a hug. It felt like for the duration of the game, all was well. And Vin Scully had a lot to do with that."
Cranston moved to New York City for five years in the 1980s but moved back to Los Angeles in 1988 after landing his first regular TV role in "Raising Miranda."
The sitcom bombed. The Dodgers were a hit, though there was little indication of that going into 1988. Most picked them to finish fourth in the National League West.
"It wasn't like there were any big superstars," Cranston said. "There was no huge player that made you go, 'Oh, here's the guy who's gonna carry us.' "
That changed when the fiery Gibson emerged as the NL most valuable player and Orel Hershiser closed the season with 59 consecutive scoreless innings, breaking Don Drysdale's major league record and catapulting the Dodgers into the playoffs.
The documentary, broken into six acts, captures all of the excitement, turmoil, twists and turns of the dream season.
Gibson immediately changed the country-club culture of the team when he walked out of spring training, so furious was he about a practical joke by reliever Jesse Orosco, who smeared eye black on the inside of Gibson's cap.
"Gibby is either gonna kill you or die for you," Hershiser says, "so you better get on board." The notoriously volatile Gibson admits in the film that he went to counseling for anger management that year.
Gibson, Hershiser, Lasorda, Bob Costas, Times columnist Bill Plaschke and Mickey Hatcher, one of the so-called "Stuntmen," bench players who filled in for injured starters, are among those who guide viewers through the season.
There's an appearance by Angels manager Mike Scioscia, the former Dodgers catcher who hit a stunning, two-run, score-tying, ninth-inning homer off New York Mets ace Doc Gooden in Game 4 of the NL championship series in Shea Stadium.
"When that ball went out of the park, the crowd got so quiet I could actually hear my spikes digging the dirt in the ground," Scioscia said. "It was surreal."
Gibson won that game with a 12th-inning homer, evening the series, 2-2. The Dodgers beat the heavily favored Mets in seven games.
Few gave the Dodgers a chance against the 104-win, Bash Brothers-led Oakland Athletics in the World Series. And no one — not even Gibson — thought Gibson, who injured his left hamstring and right knee in the NLCS, would play in Game 1.
"One of the clubhouse guys said, 'Hey Gibby, your wife's here, she wants to talk to you,' "Gibson says in the film. "She's like, 'Hey, are you gonna play tonight? If not, I'd just rather go home and watch it on TV, if that's OK.' I said, 'Yeah, go home, there's no way I'm playing.' "
The Dodgers trailed by a run with two outs in the ninth inning when pinch-hitter Mike Davis walked. "And look who's coming up," Scully says on the telecast, as Gibson hobbles to the plate.
"He looked like an old rodeo clown that has been beaten up and battered over the last 25 years," Cranston said. "You had hope, but the sense of reality, the odds of him hitting a game-winning home run … c'mon, that's not going to happen."
Everyone knows what happens next. The film beautifully weaves the characters and footage from that memorable night, building to a crescendo that climaxes with "one of the most theatrical moments in baseball history," Costas says.
"It kind of encapsulates the underdog, Bad News Bears, Cinderella story of the 1988 Dodgers," Hershiser says.
The documentary ends with footage and interviews from this past opening day, when Gibson threw out the ceremonial pitch to Hershiser, who fights back tears as he discusses what time — it's been 30 years since that magical season — has done to the central figures of the story.
The narration of Cranston captures it best.
"The best movies in Hollywood usually age pretty well, but in real life, the fantasy inevitably gives way to something far less scripted," he says. "The manager is now 90 years old, not quite as irrepressible as he once was. And the hero with the bat? A few years ago, he was diagnosed with Parkinson's disease.
"But if the real world doesn't always give you the Hollywood ending, maybe that's just time's way of reminding you how perfect the best moments of your life really were."
Get our high school sports newsletter
Prep Rally is devoted to the SoCal high school sports experience, bringing you scores, stories and a behind-the-scenes look at what makes prep sports so popular.
You may occasionally receive promotional content from the Los Angeles Times.