Wildfire, mudslide, missile warning: Joc Pederson's memorable wedding week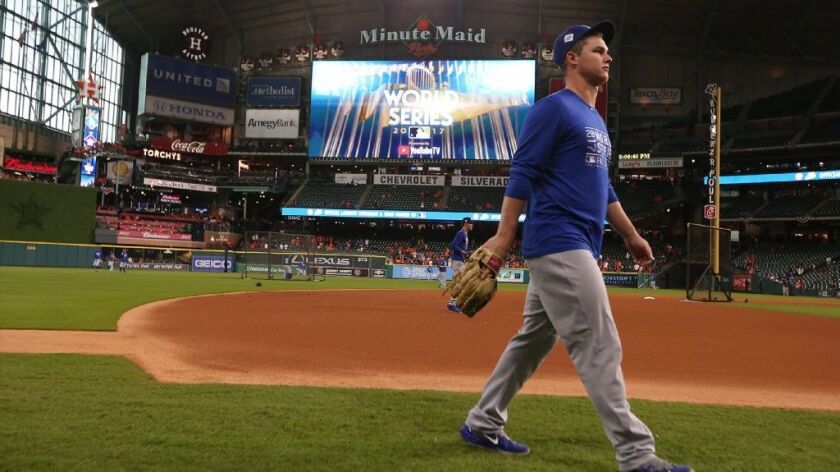 The Dodgers threw open their stadium to firefighters on Monday, welcoming some 350 first responders from Los Angeles and Ventura counties for a round of batting practice, lunch and a chance to meet Dodgers players.
No player was more delighted to meet the men and women who fought wildfire in Southern California than outfielder Joc Pederson, whose wedding might not have gone on without them.
The wedding was set for Jan. 6 in Santa Barbara.
"It was like a week after the fires," he said. "The mudslide was [about] two days after. Bookend natural disasters. I'd say we were pretty lucky."
He said he and his wife Kelsey had booked a resort hotel in Montecito, but the hotel remained closed in the wake of the fires. He said he then booked a luxury hotel in Santa Barbara, but that hotel later decided to remain closed as well.
The wedding itself went off without a hitch — including a special appearance from John Legend, who sang for the newlyweds during the ceremony and at the reception.
"Our wedding was pretty cool," Pederson said.
The couple relaxed in Goleta for a few days, then hit the road before sunrise one morning to catch a flight to Hawaii for the honeymoon.
"That is when the mudslides hit," Pederson said. "We couldn't get to LAX, so we missed our flight."
The Pedersons eventually flew from Santa Barbara to Los Angeles, and then on to Hawaii — where they were greeted one morning with this urgent phone message: "BALLISTIC MISSILE THREAT INBOUND TO HAWAII. SEEK IMMEDIATE SHELTER. THIS IS NOT A DRILL."
It was, of course, a false alarm — and quite the capper to an intensely memorable week.
"It was pretty crazy," he said. "It all worked out."
The week made Pederson all the more appreciative of the firefighters. They saved his wedding venue, he said, and so much more.
"These firefighters risked their lives," he said. "There was a national disaster. They were going 24-7 at it for quite a while, trying to contain the fires. They did a great job. They saved a lot of people, land, houses, animals. I tip my cap to them.
"We can just come out here and give some time and put a smile on their face. It means a lot to them. It's the least we could do."
Follow Bill Shaikin on Twitter @BillShaikin
---
Get the latest on L.A.'s teams in the daily Sports Report newsletter.
You may occasionally receive promotional content from the Los Angeles Times.