Max Muncy wouldn't mind having his plans for the All-Star break disrupted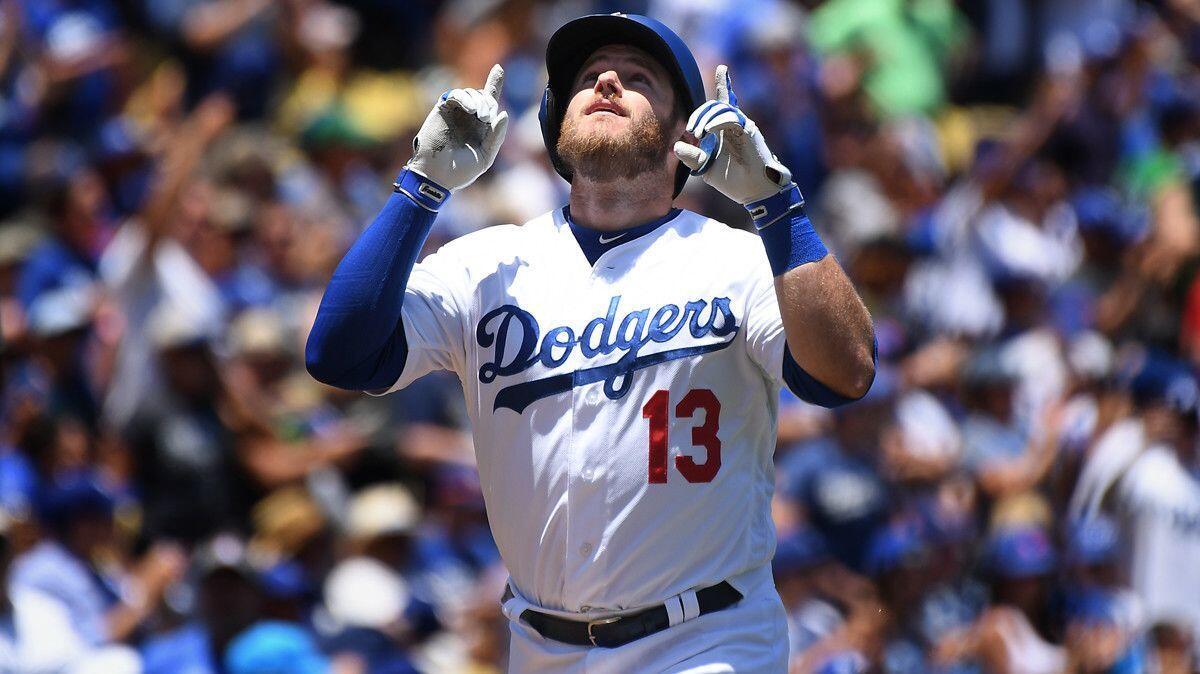 Max Muncy has plans for the All-Star break. His family owns a lake house in upstate New York. His mother grew up in the area, he has vacationed there since he was a kid, and he is looking forward to catching up with his relatives during the only extended break of the season.
"A couple days up there," he said, "would be nice."
So would a couple of days in Washington, the site of the All-Star game. Muncy might have started the season in the minor leagues, but he leads the National League in OPS (on-base plus slugging percentage), among the 112 players with at least 200 plate appearances.
The only major leaguers with a better OPS are on pace to be voted in by fans as starters: Mike Trout of the Angels, and Mookie Betts and J.D. Martinez of the Boston Red Sox.
Muncy did not appear on the fan ballot. He did appear on the player ballot, so there is a slim chance he could be selected by players or the league as a reserve.
"When I hear that talk, I just kind of laugh at it," Muncy said. "I don't think of myself at being at that level yet, even though I've had a really good year."
Outfielder Matt Kemp and pitchers Kenley Jansen and Ross Stripling appear to be the Dodgers' primary All-Star candidates.
Trout, 26, is in line for his seventh consecutive All-Star appearance. Muncy, 27, in his seventh pro season, wanted to make clear he would not turn down what would be his first All-Star appearance.
"Being in the All-Star game is obviously a great honor," he said. "I'd be glad to go. If I don't, I get to spend time in the lake house. It's a win-win."
Latest Buehler plan
The ill-fated decision to let Walker Buehler pitch in relief Thursday could mean the Dodgers' front office deprived a team battling for the division championship of one of its most effective starters for at least two starts.
Manager Dave Roberts had indicated Buehler would return to the Dodgers' rotation after his relief appearance Thursday. That appearance, in lieu of a minor league rehabilitation assignment, was intended to last three innings, but the Chicago Cubs chased Buehler after one.
Now, Roberts said, the Dodgers need the rookie to make at least two minor league starts to rebuild arm strength. They optioned him to Class-A Rancho Cucamonga on Friday for "however many starts that takes — to get him built up, No. 1, and pitching the way he was prior to the injury, No. 2," Roberts said.
Buehler has a 2.63 earned-run average in nine starts. He last started June 8, after which the team put him on the disabled list because of what it called a rib microfracture.
Short hops
Third baseman Justin Turner and shortstop Chris Taylor had a rest day Saturday, Roberts said. Enrique Hernandez is scheduled for a rest day Sunday. … The Dodgers replaced Buehler on the roster by recalling reliever J.T. Chargois, who posted a 1.80 ERA in 11 appearances at triple-A Oklahoma City. He faced 61 batters and struck out nine. In 20 appearances for the Dodgers before his demotion, he posted a 4.76 ERA, but he struck out 23 of 77 batters he faced.
Follow Bill Shaikin on Twitter @BillShaikin
Get our high school sports newsletter
Prep Rally is devoted to the SoCal high school sports experience, bringing you scores, stories and a behind-the-scenes look at what makes prep sports so popular.
You may occasionally receive promotional content from the Los Angeles Times.