Column: Left off the Dodgers' World Series roster last year, Curtis Granderson has moved on
The last time we saw Curtis Granderson … well, we didn't see him. On the eve of the World Series in 2017, the Dodgers dropped him from their roster. He was 36. He never had ridden in a championship parade. The Dodgers were four victories from nirvana, and they had tapped 25 players for the journey.
He was not one of them. The Dodgers had acquired him to fill a particular supporting role in their cast. But after he batted 15 times in the first two rounds of the playoffs, with eight strikeouts and one hit, the Dodgers cut him.
Dave Roberts, the Dodgers' manager, had spoken with Granderson and said he was "obviously disappointed."
That is all last year's news. But when we spoke with Granderson this week, in the clubhouse of the Milwaukee Brewers, we learned a little about why the three-time All-Star is one of the most popular and respected players in the major leagues.
Granderson has found a niche on the Brewers as a pinch-hitter with a .483 on-base percentage this season. The Brewers included him on their roster in the first round of the playoffs.
When the Dodgers and Brewers open the National League Championship Series on Friday, Granderson could be on the Milwaukee roster, which would give him the chance to help leave the Dodgers out of the World Series, one year after they left him out of the World Series.
On teams from high school to the major leagues, "positive mental attitude" is a cliché. Granderson is a living, breathing example, as we found out when we asked him to recall his reaction to the Dodgers omitting him from their World Series roster.
"I honestly don't remember," Granderson said. "It's a year ago. Why would I focus on something that happened a year ago?"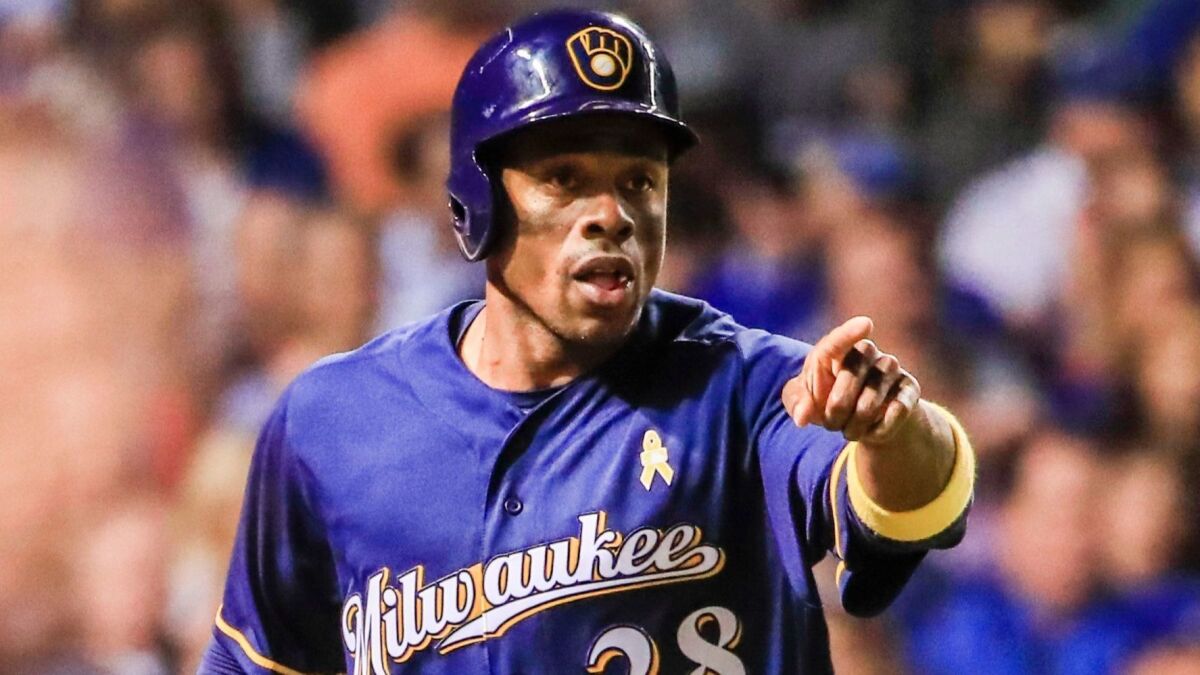 You don't want to talk about it, or you seriously don't remember?
"Don't remember," he said.
And then Granderson talked about the World Series, and how he remained with the team, and in uniform, and stayed prepared just in case. A selective memory can be an important part of a positive mental attitude.
He did not have a job this year until a couple of weeks before spring training. He might not have one next year.
"I'm not going to the minor leagues," he said. "If it's done, it's been a great run."
He runs two foundations. He is completing a master's degree in educational leadership.
He wants baseball to thrive. He has absolutely no interest in becoming a coach, a manager, or a general manager. His ideas are grander.
Take Mike Trout, for instance. He is baseball's best player. He plays in the second-largest media market in North America, and yet he is relatively invisible among national stars in sports or otherwise.
At the All-Star Game, Commissioner Rob Manfred essentially threw up his hands and said the league could only do so much to sell Trout so long as Trout did not wish to participate in selling himself.
Granderson considers that fairly ridiculous. Trout plays in Milwaukee once every six years, because of the rotating interleague schedule.
"That makes it very difficult for me to learn who this player is and like who this player is," Granderson said. "There's conversations about Mike Trout and how he needs to do more. But what about giving him an opportunity to play where fans can see him?"
The NBA promotes its players so well that the ones from Oklahoma City can be stars, even though the city does not rank among the top 25 in population among United States cities.
"They put them out there so the world can see them," Granderson said. "But, if you ask a lot of fans to point out Oklahoma City on a map, they probably couldn't do it."
Trout would rather not spend the winter flying from one commercial shoot to the next. He shouldn't have to, Granderson said.
Every team participates in a photo day at the start of spring training. Give Trout a couple of lines that day — "Hi, I'm Mike Trout, check out these awesome plays and this next game" — put it in a montage of highlights and music that could be modified all season, and air it during "The Bachelor" or "The Big Bang Theory."
"You flip on the TV, outside of MLB Network, and you don't see much baseball promotion," Granderson said. "During the Super Bowl, I saw LeBron James in a commercial. Two years ago, it would have been perfect to throw on a World Baseball Classic commercial. After the Super Bowl, what's the next big sporting event? It's the World Baseball Classic. Not one commercial.
"We had the commercial ready. It was an awesome commercial. I saw it — on MLB Network. Who's watching it? The baseball fan. So, if you're trying to promote and grow the sport, you need to go to non-baseball fans."
The league has an awesome showcase for the next generation of stars. If you're trying to promote and grow the sport, Granderson said, show off the prospects.
Play the All-Star Futures Game on the Sunday night before the All-Star Game, on national television, and after all the major league games that day are done. The Futures Game is also in witness protection now, in a Sunday afternoon time slot that forces fans to choose between watching their team and watching the prospects.
Granderson also is concerned about the development of the next generation of fans, particularly among African Americans that see few black players on the field.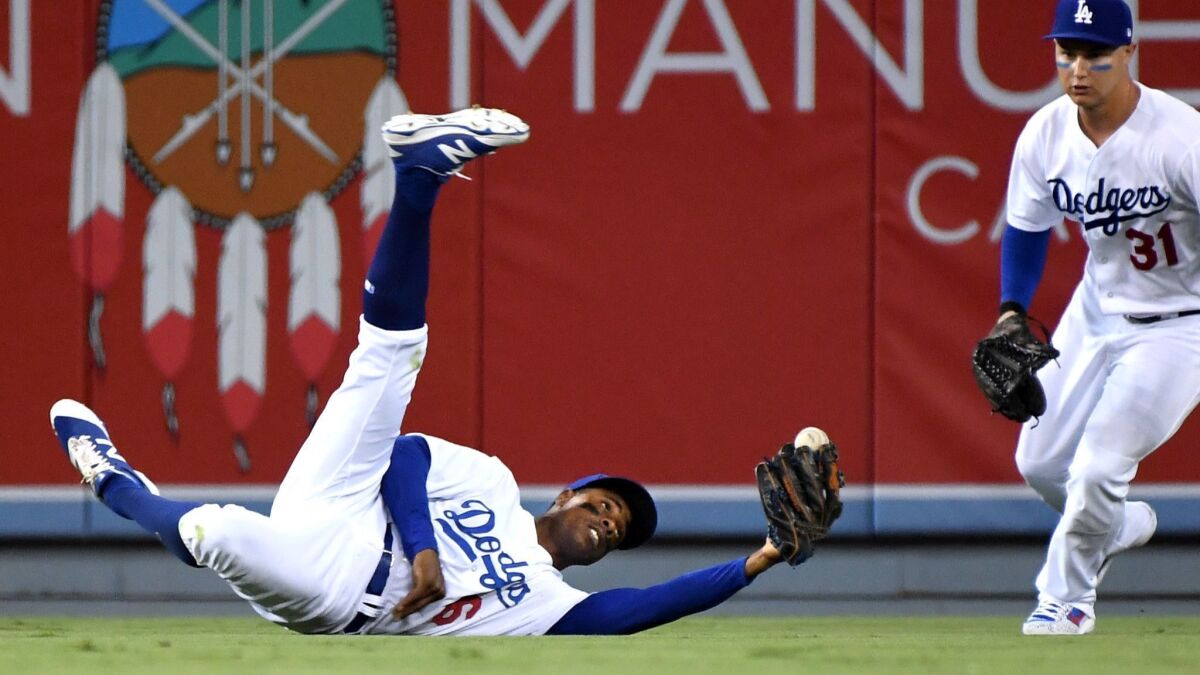 "I've been in this game for 15 years," he said. "And, every April 15th, I hear the same numbers come out, about the decline and what Jackie Robinson would say. But, 15 years later, the numbers have continued to go down."
According to the Institute for Diversity and Ethics in Sport, the percentage of African American players has fallen to 7.7%, the lowest such figure since the institute launched its annual study in 1991.
Manfred rightfully points to the fruits of baseball's youth initiatives: the participation rate among African Americans is higher in baseball than football, and 20% of players selected in the first round of the draft over the past six years have been African American.
The most impactful program on that score: the launch of the Urban Youth Academy, which provides athletic and academic instruction to baseball and softball players, with the aim of preparing them for college and professional play.
The first academy opened in Compton in 2006. The league since has added academies in Cincinnati; Dallas; Houston; Kansas City, Mo.; New Orleans; Philadelphia; and Washington, with plans to expand to Chicago, New York and San Francisco.
"There's not 30 academies here, where the actual teams are, in cities that could use it and benefit from it," Granderson said.
In contrast, he said, all 30 teams run an academy of some sort in the Dominican Republic, an abundant and relatively cheap source of talent. The broader mission for the league's U.S. academies, he said, should include the development of fans, not just players.
"Instead of focusing on, hey, let's get more African Americans to the big leagues, let's get more African Americans playing baseball, period, and let's get them to college," he said. "The chance of getting to the big leagues is hard for anybody, no matter what color you are. People forget that.
"If you start looking at getting boys and girls of all colors just to start playing the game, then those kids ultimately will become fans of the game, and then hopefully they graduate from high school and get opportunities to go to college, whether they play the game or not."
Granderson could go on, and in fact he did go on, and by the end of our conversation it was apparent his passion for baseball runs so deep that there is a rich life beyond whether he made a World Series roster last year, or whether he might make one this year.
Manfred ought to hire him, as a vice president of baseball development.
Granderson could help bridge the gap between the commissioner's office and the players' union, which sometimes feels as if the only idea Manfred wants to hear from the players is the endorsement of a pitch clock. He could help sell baseball's marketing ideas to players, and more importantly he could help shape them, from the perspective of a player rather than an advertising agency.
So play ball for now, and then give that man a corner office.
Follow Bill Shaikin on Twitter @BillShaikin
---
Get our high school sports newsletter
Prep Rally is devoted to the SoCal high school sports experience, bringing you scores, stories and a behind-the-scenes look at what makes prep sports so popular.
You may occasionally receive promotional content from the Los Angeles Times.