Dodgers accept Hyun-Jin Ryu's 'fascinating' routine between starts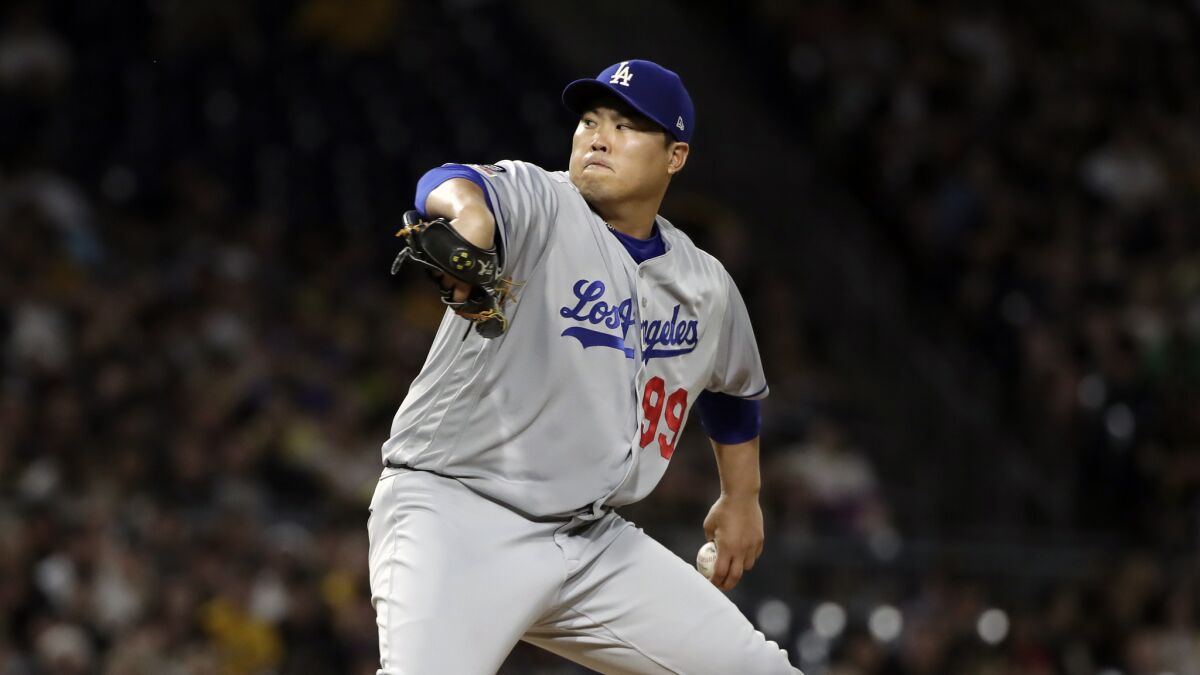 In the middle of April, as Hyun-Jin Ryu nursed a sore groin, the Dodgers made a request. If Ryu wanted to return from the injured list, he had to throw a bullpen session. The assignment deviated Ryu from his usual routine, but he complied. If he had his way, he would climb atop a mound only on the days he starts.
At age 32, after seven seasons in the Korean Baseball Organization, six more in Major League Baseball and one career-altering shoulder surgery, Ryu has learned to conserve his bullets. His teammates envy his ability to manipulate a baseball. They marvel at his calm on the mound. And a few struggle to comprehend how he maintains his precision without throwing between outings.
"It's fascinating," pitcher Ross Stripling said. "I can't believe it."
Ryu did not begin this practice in 2019; he said this routine has guided him since he debuted as a teenager with the Hanwa Eagles. But no pitcher in baseball has been more effective than Ryu this season. Or more precise. He enters his start against the New York Mets on Thursday with a 1.65 ERA, the lowest in the sport among starters. He has walked all of four batters in 65 1/3 innings while striking out 62. In five outings this month, Ryu has permitted three runs.
In an era of heightened velocity, Ryu thrives by attacking hitters with fastballs, sinkers and cutters that hover around 90 mph. In the past year, he has embraced the study of opposing hitters, learning to match his strengths with their weaknesses. He holsters five pitches in his arsenal, and possesses the ability to "manipulate the baseball with different pitch types in different quadrants," explained president of baseball operations Andrew Friedman.
"His feel for his pitches is incredible," starter Rich Hill said.
As an example, Stripling pointed to Ryu's mastery of the cut fastball. Ryu learned the cutter in 2017 as he searched for a weapon to subdue right-handed batters. Along with the changeup, it has become one of his most crucial options.
"Some people spend their whole professional career trying to learn a cutter," Stripling said. "And Hyun-Jin learned it overnight. Some people just have a gift to be able to grip a baseball and make it do what it's supposed to."
Ryu learned the skill as a boy. He developed muscle memory that guides him into his 30s. He repeats his delivery "extremely well," pitching coach Rick Honeycutt said. Ryu shrugged at this assessment.
"When I started learning baseball, they put a lot of emphasis on commanding pitches," Ryu said through his interpreter, Bryan Lee. "Because of that reason, I put a lot of emphasis on making the motions for every pitch."
During an interview, he cradled a baseball in his left hand. He caressed the ball with his fingertips. If Ryu feels unsatisfied with a particular pitch after a start, he will tinker with the grip during games of catch. But he prefers to avoid the typical sessions that pitchers use for maintenance in between outings.
"I don't really see it as a problem if I don't throw a bullpen," Ryu said. "I spend more time recovering."
This preference renders Ryu an outlier in the Dodgers' starting rotation. He spends the first day after an outing strengthening his left shoulder and engaging in low-impact cardio to protect the groin muscle he tore last season. The next day involves running and the third day focuses on his upper body. He spends the day before a start studying his opponent.
Ryu has managed to blend his predilections into the flow of a big league season. His transition to major league baseball had its rocky moments. At his first workout as a Dodger, after signing a six-year, $36-million deal before the 2013 season, he lagged behind the other pitchers during a conditioning drill. The sight did not go unnoticed.
"I mean, it's a six-year deal, right? You take the long road," said strength and conditioning coach Brandon McDaniel. "We didn't sign him to do 20-minute runs. We signed him to pitch. So at that point, it's not about trying to make the 20-minute run better, but it's more about, 'OK, what can we do to build this over the course of his career, not just 2013?'"
The organization adjusted to Ryu's preferences. In his first session of live batting practice, Ryu struggled to command his curveball. Honeycutt hoped to polish the pitch between outings. He asked his new pitcher about his typical schedule.
"Do you do your 'pen the second day or the third day?" Honeycutt said.
"I don't do a 'pen," Ryu replied.
The unorthodox routine did not hamper his effectiveness. Ryu posted a 3.17 ERA in 56 starts during his first two seasons, before he tore his labrum in 2015 and underwent season-ending surgery that May. Ryu pitched in one game in 2016. His fastball hovered in the mid-80s and he disappeared back into the purgatory of rehabilitation.
"I had watched him a lot from afar, and had a lot of respect for what he had accomplished, and was excited to watch him compete every fifth day," Friedman said. "And a couple of years in, I wasn't sure I was ever going to get a chance to see it."
Sign up for our daily sports newsletter »
Away from the diamond, Ryu strengthened his lower half and his core muscles at the suggestion of McDaniel. The passage of time allowed his arm to heal. Extended a spot in the starting rotation in 2017, Ryu made 24 starts. He was held off the postseason roster because his shoulder program prevented him from heating up quickly as a reliever.
Ryu played a larger role in 2018. The torn groin cost him most of the summer. Yet he pitched well enough, with a 1.97 ERA over 15 starts, that he started Game 1 of the National League Division Series instead of Clayton Kershaw. Ryu benefited from an expanded interest in exposing the flaws of his opponents.
"I challenged him to be a little more proactive in preparation," Honeycutt said. "I said, 'You've got great feel at reading swings. But you'll be even better if you actually know where this guy's biggest weaknesses are.'"
Honeycutt chuckled as he remembered his first days with Ryu. By now, he has grown used to his pitcher's quirks. He expects Ryu to pitch well Thursday. And he did not expect Ryu to throw a bullpen in the days after the game. Ryu hasn't since the team-requested session in April.
"That's him," Honeycutt said. "That's what he's comfortable doing."
Twitter: @McCulloughTimes
---
Get our high school sports newsletter
Prep Rally is devoted to the SoCal high school sports experience, bringing you scores, stories and a behind-the-scenes look at what makes prep sports so popular.
You may occasionally receive promotional content from the Los Angeles Times.