Indians won't sneak up on anyone this year after World Series heartbreak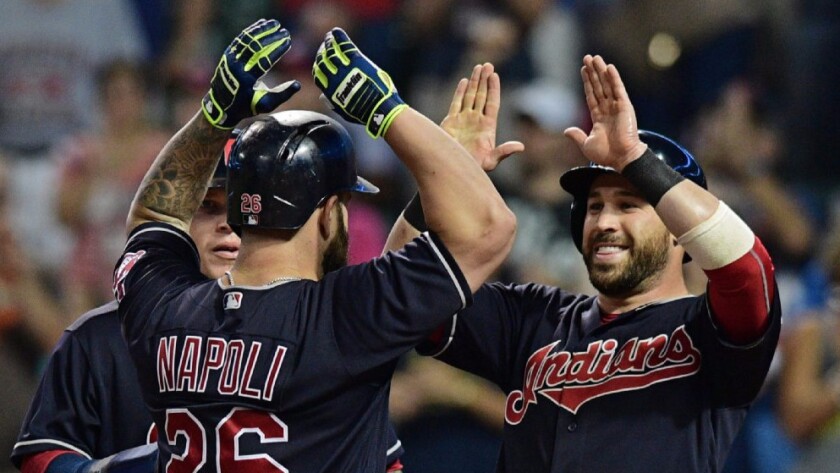 Reporting from Goodyear, Ariz. —
Jason Kipnis would do it all over again in a heartbeat, the pressure-packed ride through the playoffs, the wild emotional swings of a thrilling, 10-inning, 4 1/2-hour, rain-delayed World Series Game 7, the Cleveland Indians coming oh-so tantalizingly close to their first championship since 1948.
The only thing he'd change is the ending.
"Most guys who play this game are adrenaline junkies to some extent, and I think we got a little glimpse of that forbidden fruit on the top branch from the World Series," the Indians second baseman said this spring. "There's really not much else to play for. This is exactly what we want and where we want to be again.
"Getting so close, I think, increases our hunger. Most off-seasons you need to get away from baseball, mentally and physically. This year, not too many guys needed a break. I think a lot of guys were looking out the window all off-season waiting to get going again."
The defending American League champion Indians are brimming with confidence, and with good reason. They have one of baseball's best rotations in 2014 Cy Young Award winner Corey Kluber, Carlos Carrasco, Danny Salazar, Trevor Bauer and Josh Tomlin.
They fortified an already stout bullpen, one that features closer Cody Allen, dominant left-hander Andrew Miller and effective right-handers Dan Otero, Zach McAllister and Bryan Shaw, with a second superb lefty in Boone Logan.
They bolstered a balanced lineup filled with on-base ability, power and speed with the surprising three-year, $60-million signing of slugger Edwin Encarnacion, who has averaged 39 home runs and 110 runs batted in over the past five years.
They are optimistic that outfielder Michael Brantley, who hit .319 with an .876 on-base-plus-slugging percentage, 35 homers, 90 doubles and 181 RBIs from 2014-2015 but missed most of 2016 because of a shoulder injury, will return early in the season.
And after winning the AL Central in 2016, beating Boston and Toronto in the playoffs and taking a three-games-to-one World Series advantage before succumbing to the Chicago Cubs, the Indians are more seasoned, more battle-tested, and, they feel, well-positioned for another October run.
"It helped us understand that you can't take anything — any pitch, any game — for granted," said Francisco Lindor, the highly touted 23-year-old shortstop who hit .301 with 15 homers, 78 RBIs and 99 runs last season. "Every pitch counts when it comes to the playoffs.
"You understand that the game can speed up on you. Now I know how I'm gonna react to it, what I can do to slow myself down, slow the game down, to be as calm as possible so I can help my team that day."
The Indians were a surprise team last season — most expected Kansas City or Detroit to win the division, and few gave Cleveland a chance when Carrasco and Salazar went down with September injuries — but they won't sneak up on anyone this year.
Like the Cubs in 2016, they're heavy favorites to reach the World Series, and with such expectations comes pressure. The Indians haven't adopted any catchy slogans or made any T-shirts like Cubs Manager Joe Maddon did last spring, but they fully plan to "embrace the target" of high expectations.
"I think we're pretty good with dealing with pressure, with rising to the occasion and stepping up," said Kipnis, who is expected to miss the first few weeks of this season because of a shoulder injury. Kipnis said. "When you're a good team, you welcome expectations. It's a lot better than expecting to lose 100 games.
"But the best part about this team is its character. We're all very aware that the game is decided between the lines, not by the expectations of the media or by predictions."
It helps to have one of the most respected managers in the game in Terry Francona, who has a reputation of managing expectations. Francona took over a 2004 Red Sox team that finished one game short of the 2003 World Series and was "built to win, like, right now," he said.
Not only did the Red Sox end their 86-year World Series drought, overcoming a three-games-to-none American League Championship Series deficit to the New York Yankees, they won another championship under Francona in 2007.
"His experience alone grants him the luxury of having the answers to certain questions that we don't have," Kipnis said. "When we go through tough times, whatever it is, he's not coming from just an opinion. He's coming from experience, and that's why you take his word for what it is."
Francona earned high praise for his aggressive use of the bullpen, manipulation of an injury-ravaged rotation and strategic offensive decisions in the playoffs last season, and he has won over players with his steady leadership through the grind of a six-month season.
"When we're getting a little careless or going off the rails a bit, he kind of brings us back in," Kipnis said. "But he definitely doesn't want you playing with a mirror over your shoulder and always wondering what the manager is thinking. He'll tell you. He's open, honest and approachable, and that's what you want."
Managing expectations was among the topics of a team meeting before the first full-squad workout of spring.
"If external expectations, distractions, noise, however you term it, gets in the way of us, then shame on us," Francona said. "What really counts is the expectations in our clubhouse. And once you set those, how do you get there?
"It's a process, it's paying attention to detail and working hard. Show up every day and try to get better for yourself and for the team. … You have to try to value winning more than every team out there, which is a really hard thing to do."
Despite the bitter ending, last season helped crystallize in the Indians' minds that "what you want in baseball, what you want in your career and what it takes to reach the pinnacle," Kipnis said.
Falling one clutch hit or one big out short of the ultimate goal could fuel the Indians this season, much like the Kansas City Royals' 2014 World Series heartbreak against the San Francisco Giants inspired their 2015 World Series run.
"They lost Game 7 of the World Series at home the previous year and turned around and won the World Series the next year," Kipnis said. "That's a pretty simple formula we'd like to follow."
Follow Mike DiGiovanna on Twitter @MikeDiGiovanna
---
Get our high school sports newsletter
Prep Rally is devoted to the SoCal high school sports experience, bringing you scores, stories and a behind-the-scenes look at what makes prep sports so popular.
You may occasionally receive promotional content from the Los Angeles Times.