Bryce Harper, Manny Machado headline 2018 free agency
When he signed a $93-million, three-year contract extension with the Dodgers on Friday, Clayton Kershaw opted not to test a free-agent market headlined by a pair of younger generational talents in Bryce Harper and Manny Machado.
Not that Kershaw isn't a generational talent himself. But he chose the safer deal, one that did not test the theory that he was in decline and therefore not worth as much on a yearly basis as younger free-agent pitchers.
That was good news for everyone else when the free-agent sweepstakes began Saturday.
This is not the 2018 free-agent class MLB agents and team executives envisioned. It could still produce a pair of 26-year-old stars who sign long-term contracts worth more than $300 million and send teams scrambling for the best of the rest.
Only seven players were extended $17.9-million qualifying offers from their teams: Patrick Corbin, Yasmani Grandal, Harper, Dallas Keuchel, Craig Kimbrel, A.J. Pollock and Hyun-Jin Ryu. They have until Nov. 12 to accept or reject the offers.
Any team that signs a player who has rejected a qualifying offer is subject to the loss of one or more draft picks in 2019.
That does not mean the winter of 2018-19 will resemble last year's tepid signing period, which didn't begin to heat up until January and caused many free agents to accept less lucrative one-year contracts.
The Dodgers and New York Yankees reset their luxury tax bills, which puts each in prime position to contend for the services of high-dollar players without too much concern for payroll. The Philadelphia Phillies and Atlanta Braves, who both surpassed expectations in 2018, can also drive the market. Neither team spent more than the major league average of $139 million; and the Braves have about $65 million coming off the books, according to Fangraphs.
These are the top free agents of the 164 available this winter, listed with their age on opening day 2019.
1. Bryce Harper, 26, OF
Still the darling of the bunch, Harper had a down year with the Washington Nationals. His production suffered as his strikeouts rose to 169. He batted only .249 with an .889 on-base-plus-slugging percentage. But he drove in 100 runs for the first time in his career, had 34 home runs and 34 doubles and played in a career-high 159 games. He totaled the most home runs since his MVP year in 2015 and was worth 3.5 wins above replacement, according to the Fangraphs version of the statistic.
2. Manny Machado, 26, SS
On-field antics won't hurt Machado's payday much. His 2018 campaign made sure of that. He matched his career high of 37 home runs, had 35 doubles, stole 14 bases and, like Harper, drove in 100 or more runs for the first time (107). Machado continued to prove his durability, playing in 162 games and appearing in more than 155 for the fourth year in a row. In stints with the Baltimore Orioles and the Dodgers, he hit .297 with a .905 OPS and racked up 6.2 fWAR.
3. Patrick Corbin, 29, SP
With Kershaw off the list, Corbin is the premier left-handed starter available this winter. He logged 200 innings over 33 starts and struck out 246 batters for the Arizona Diamondbacks. His 2.16 walks-per-nine-innings rate is the lowest posted by pitchers available on the free-agent market. Corbin added a curveball to his repertoire and gave up fewer home runs per fly ball than he did a year ago (15.3% in 2017 compared to 11.1% in 2018). Corbin's 3.15 earned-run average ranked 14th in the major leagues and second among free-agent pitchers (the right-handed Charlie Morton had a 3.13 ERA with the Houston Astros).
4. Dallas Keuchel, 31, SP
The 2015 AL Cy Young Award winner gave up a major league-high 211 hits and carried a 4.22 ERA through his first 102 1/3 innings with the Houston Astros. Keuchel regrouped in July, posting a 3.25 ERA in his last 17 starts and cutting down on home runs allowed. He finished with a 3.74 ERA in 204 2/3 innings, an American League-best 34 starts and 153 strikeouts. Among free-agent pitchers, the left-handed Keuchel's 3.6 fWAR is second only to Corbin's 6.3.
5. Craig Kimbrel, 30, RP
Kimbrel regressed in 2018, walking more than twice as many (31) than he did the previous season (14) and striking out fewer batters (96 in 62 1/3 innings). He struggled with the command of his high-90s fastball and had a 2.74 ERA that didn't crack the top 30 for relievers. Despite blowing five of his 47 save opportunities for the Boston Red Sox, Kimbrel collected more than 40 saves for a fifth consecutive season and was worth 1.5 WAR. A mechanical fix prompted by an observation from Dodgers legend Eric Gagne helped Kimbrel lock in during the World Series and scuttle the issues with pitch tipping he encountered earlier in the playoffs.
6. Nathan Eovaldi, 29, SP
Eovaldi's 3.81 ERA in 111 innings and 2.2 WAR in his first season back from August 2016 elbow ligament surgery may not have inspired much on the open market. But none of those numbers accounts for how dominant Eovaldi, who can throw a 100-mph fastball, was as both a starter and reliever for the Red Sox in the playoffs, when he had a 1.61 ERA (four earned runs in 22 1/3 innings) and struck out 16. He surrendered only one home run — a walk-off blast by Max Muncy in the 18th inning of Game 3, after Eovaldi had already logged six innings in relief — and improved his stock.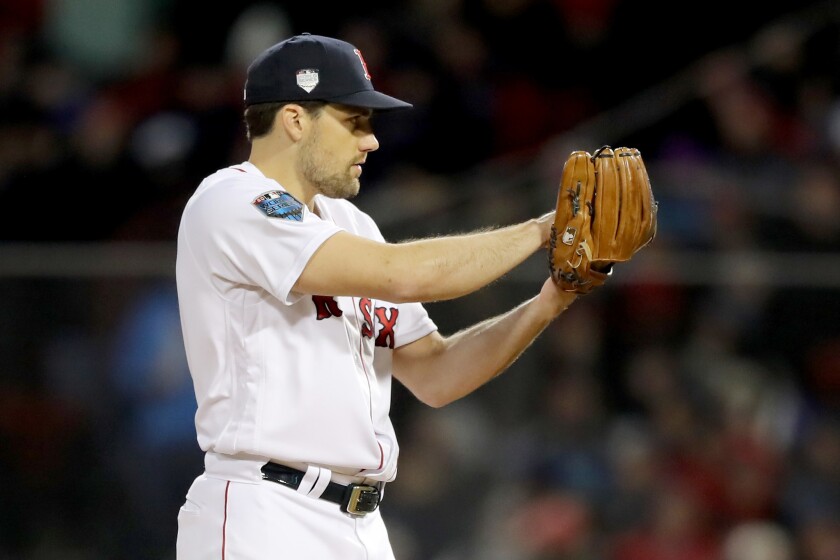 7. J.A. Happ, 36, SP
A July trade from the Toronto Blue Jays to the New York Yankees was a welcome change for the left-handed Happ. He had a 2.69 ERA in his last 11 starts and ended the season with a 3.65 ERA in 177 2/3 innings. He collected 193 strikeouts, issued 51 walks and gave up 27 home runs over 31 starts. His success did not translate to October, as he was charged with five runs in two innings during Game 1 of the AL Division Series. Still, Happ was worth 3.2 WAR and could fit into a contending rotation seeking veteran leadership.
8. Michael Brantley, 31, OF
When healthy, Brantley can hit near .300 with power. He showed that in 2018, when he batted a team-best .309 with 17 home runs, an .832 OPS and 76 RBIs for the Cleveland Indians. He struck out only 60 times in 631 plate appearances, drew 48 walks and had 36 doubles while accumulating 3.5 WAR. It was his best year since 2015, which was the last time he appeared in more than 100 games.
9. Josh Donaldson. 33, 3B
A shoulder injury limited Donaldson to 52 games this season. But after a contested trade from the Blue Jays to the Indians and his eventual activation from the disabled list, he batted .280 with seven RBIs, three homers and three doubles in 16 games in September. He's not far removed from his 2015 MVP campaign, when he led the major leagues with 123 RBIs and 352 total bases. He had an OPS over .900 from 2015 to 2017. He drove in 90 or more runs when appearing in more than 150 games from 2013 to 2016. Even when limited to 113 games in 2017, he had 33 home runs and 21 doubles.
---
Get our high school sports newsletter
Prep Rally is devoted to the SoCal high school sports experience, bringing you scores, stories and a behind-the-scenes look at what makes prep sports so popular.
You may occasionally receive promotional content from the Los Angeles Times.