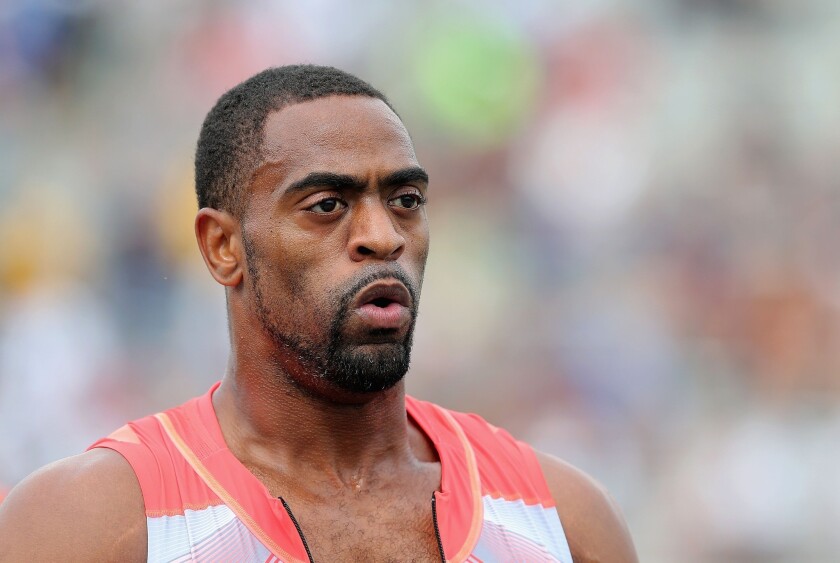 Just weeks before the world championships in Moscow, the sport of track and field has suffered a major blow with three marquee sprinters testing positive for banned substances.
American 100-meter record holder Tyson Gay and Jamaica's Asafa Powell and Sherone Simpson all acknowledged Sunday they had failed drug tests.
Gay, who owns the fastest 100-meter time in the world this season, plans to withdraw from the championships. That would deprive the meet of its most-anticipated event, a showdown with six-time Olympic champion Usain Bolt.
"I don't have a sabotage story. I don't have any lies," Gay told the Associated Press. "I don't have anything to say to make this seem like it was a mistake."
The veteran athlete did not identify the banned substance that was found in his system. Officials also declined to comment on specifics but expressed dismay.
"It is not the news anyone wanted to hear, at any time, about any athlete," Max Siegel, chief executive for USA Track & Field, said in a statement. "As we approach the world championships, we will remain focused on the competition at hand and winning the right way."
Sunday's announcements came just a month after another Jamaican star, Olympic champion Veronica Campbell-Brown, tested positive for a banned diuretic.
In a statement sent to The Times, Powell confirmed officials found traces of Oxilofrine in his system but denied intentionally ingesting the stimulant.
The Olympic 400-meter relay champion from 2008 said he will cooperate with authorities and that his advisors have launched an investigation into how he came in contact with the substance.
"I am not now — nor have I ever been — a cheat," he said.
Simpson, a three-time Olympic medalist, also reportedly tested positive for Oxilofrine.
As for Gay, he vowed to "take whatever punishment I get like a man," but at the same time suggested he had ingested the banned substance without his knowledge.
"I basically put my trust in someone and I was let down," he said.
The U.S. Anti-Doping Agency notified him last week that a sample from out-of-competition testing in mid-May had tested positive. He planned to fly to Colorado Springs, Colo., to be present for testing of the "B" sample.
That could take place as early as this week.
"In response to Mr. Gay's statements, USADA appreciates his approach to handling this situation and his choice to voluntarily remove himself from competition while the full facts surrounding his test are evaluated," a USADA statement read.
American anti-doping officials also said "all athletes are innocent unless or until proved otherwise through the established process, and any attempt to sensationalize or speculate is a disservice to due process, fair play and to those who love clean sport."
The World Anti-Doping Agency declined to comment.
Gay won the 100 and 200 meters at the recent national championships, suggesting he had overcome a history of recurring injuries. He finished fourth in the 100 at the 2012 London Olympics after recovering from 2011 hip surgery and failed to medal in the 2008 Beijing Games while dealing with a hamstring injury.
Throughout his career, he has promoted himself as an honest athlete and was featured in USADA's "My Victory" anti-doping campaign.
"I compete clean because I really believe in fairness," he said on the campaign's website. "And besides that, my Mom would kill me!"
twitter.com/LATimesWharton
---