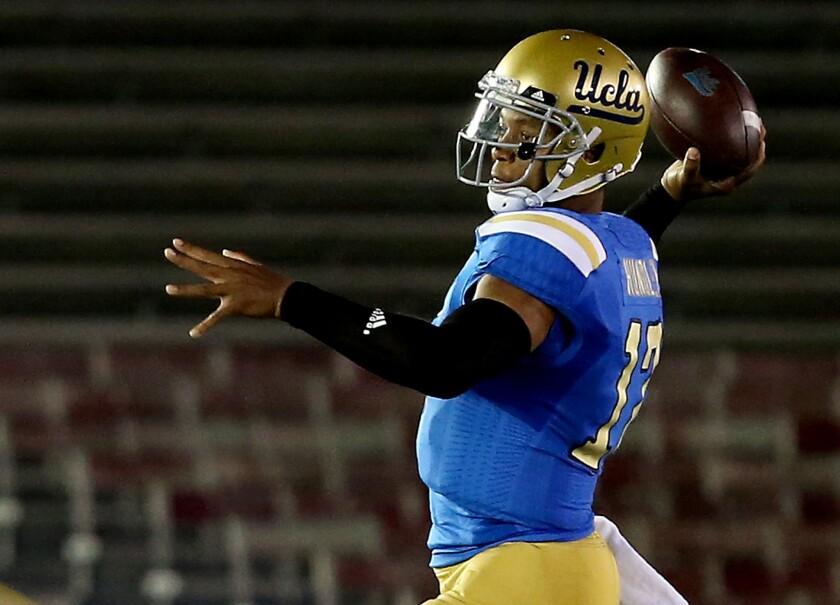 The numbers looked right.
UCLA quarterback Brett Hundley threw for 280 yards and three touchdowns a 59-13 victory over New Mexico State on Saturday. But the postgame assessment had some minor dissatisfaction.
Two of Hundley's passes were intercepted and he missed on a few other throws.
"A lot of times after a game, you're emotional and thinking everything went wrong," Coach Jim Mora said. "Then you go back and look at the tape and see a lot of good things."
The No. 13 Bruins rolled up 692 total yards. Jordon James had 164 yards rushing, his third consecutive 100-yard game. The Bruins had 298 yards rushing. They scored more than 50 points for the second time in three games.
Hundley was the catalyst for that.
There were glitches that cannot be repeated as the Bruins head into Pac-12 play. Tougher opponents — much tougher opponents — are ahead. UCLA's scout-team defense probably puts up a bigger fight than New Mexico State.
The three UCLA turnovers came in the red zone.
A bad handoff between Hundley and James turned the ball over inside the five-yard line on UCLA's first possession. Hundley had a pass intercepted inside the five on the next possession. The Aggies intercepted another pass with the Bruins at the 15-yard line.
Said Hundley, "The first one, the guy just got me." The second interception, he said, "was bad decision making."
After the game, Mora said that Hundley "looked hesitant and he's got to move through that. He had good numbers, but numbers are not always the true story."
A day later, after seeing the tape, Mora said Hundley is held to a higher standard because of his abilities.
"I don't think that's necessarily from the outside," Mora said. "I think that's with us too. It's not necessarily a bad thing. It means our expectations are rising."
Mora was thoroughly pleased with the offensive performance.
"You have to be careful sometimes to appreciate those wins," Mora said. "They are not always beautiful. It's an illusion to think that they should be."
Hundley, Mora said, "had 70 or so plays and maybe two or three were not perfect."
Hundley rolled with the concerns after the game.
"I expect perfection with all the work we put in," Hundley said. "But I have to understand that nothing is perfect and nothing ever will be perfect."
Offensive coordinator Noel Mazzone said it was about consistency.
"There were times when he'd say, 'OK, let's get this thing going,' and we'd score," Mazzone said. "A couple series later, he'd have a little lapse. Every quarterback in the country goes through these things."
Defense solid
Cornerback Ishmael Adams is resigned to the fact that the Bruins' secondary will never satisfy everyone.
"The Pac-12 is a passing league, so I don't think the questions are ever going to stop," Adams said. "All we can do is showcase our abilities when the opportunity comes."
Opportunity come Saturday. Adams got his first interception and returned it 53 yards, setting up a touchdown.
It was part of a consistent effort by the defense, which gave up 333 yards against New Mexico State.
Safety Randall Goforth had six unassisted tackles, including three and a forced fumble on the Aggies' first drive. Defensive end Cassius Marsh had two tackles for a loss, a sack and blocked a field-goal attempt. Linebackers Anthony Barr and Myles Jack took turns treating quarterbacks like piñatas.
Still, Marsh said the Bruins could have played better.
"We're looking at the bigger picture," Marsh said. "We want to win a national championship. We want to win a Pac-12 championship."
Twitter: @cfosterlatimes
---