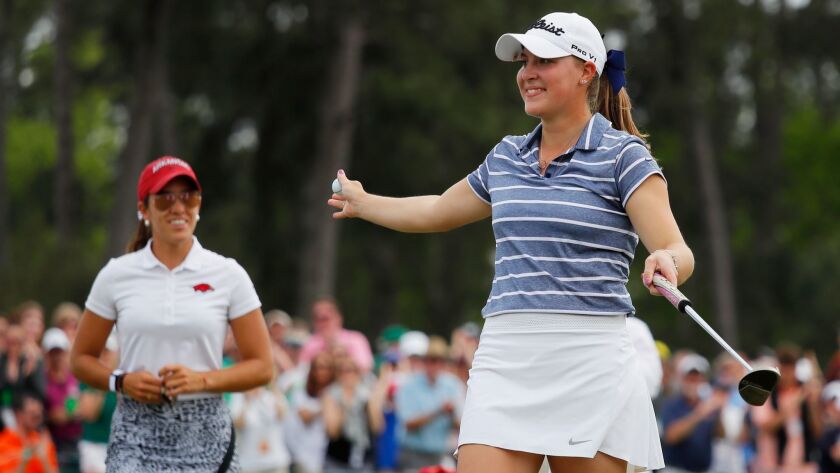 Reporting from augusta, ga. —
On the first tee at Augusta National Golf Club on Saturday morning, good friends and college rivals Jennifer Kupcho and Maria Fassi looked at each other and knew they were of the exact same mind-set.
They were about to hit their opening drives on the biggest stage of their lives, in front of the largest crowd to ever see an amateur women's golf round in America, and each wanted to do more than just win.
"I told her," Fassi would recall hours later, 'Let's put on a show.' "
Mission accomplished.
As the Augusta National Women's Amateur marches into what figures to be a bright and lengthy future, the inaugural playing and its compelling conclusion long will be remembered for the players' grit and their displays of unity.
Kupcho, suffering from a migraine in the middle of the round that made blurry guesswork of her putting for several holes, charged from behind by shooting five under par over the last six holes, including a brilliant approach and eagle conversion at the par-five 13th.
When the 21-year-old Kupcho drained a birdie putt on the 18th hole to the roar of several thousand at greenside, the world's No. 1-ranked amateur completed a card of five-under 67 to finish at 10 under overall and defeat Fassi by four shots.
A native of Pachuca, Mexico, who was ranked ninth in the world, Fassi birdied the 14th to seize a one-shot lead, but she faltered amid Kupcho's barrage with bogeys at 16 and 18.
A 21-year-old senior at Arkansas, Fassi finished four shots clear of Yuka Saso of the Philippines, who scored 69, and Japan's Yuka Yasuda (72). Zoe Campos, a 16-year-old from Valencia, overcame three consecutive bogeys to shoot 72 and tie with Kaitlyn Papp (74) for fifth.
USC junior Allisen Corpuz (72) tied for 17th at three over, and Stanford junior Andrea Lee, of Hermosa Beach, shot 79 and tied for 26th in the final-round field of 30.
Fittingly, Kupcho had the honor of striking the opening drive of the tournament Wednesday for the first of two rounds at nearby Champions Retreat, and she saw the tournament's last putt fall.
When Kupcho's ball found the cup at 18, Fassi rushed over to hug her. One long, emotional embrace wasn't enough. They hugged for a second time before being congratulated on the 18th green by, among others, LPGA Hall of Famers Nancy Lopez, Annika Sorenstam and Lorena Ochoa, and two-time Masters champion Bubba Watson, who donned his green jacket.
"It's just amazing," said Kupcho, a senior at Wake Forest. "It's an amazing feeling, to have my brother here, my parents here, everyone out there supporting me. It was quite a day.
"Coming out of it with Maria in the final group, I think both of us wanted to send the message that golf is about having friends. We were out there cheering each other on, and that's kind of how golf's supposed to be … to make it look fun. It is fun."
Kupcho and Fassi have a special bond. In the LPGA Tour's Q-Series last fall, they both earned professional privileges for the 2019 season. Both deferred so they could play out their college careers. For them to end up in the last group at Augusta was a message to all players, Kupcho said.
"I think that's really going to show something big in the women's game, so that it will be more accepted of the people who defer," she said.
As the defending NCAA individual champion, Kupcho was the favorite heading into the tournament, and she lived up to it by shooting five under through the first two rounds. But she felt the tournament possibly slipping away when she developed a migraine beginning on the eighth green.
When the pair headed to the ninth tee, Fassi led by one after a birdie at No. 8.
Kupcho said she had migraines all through high school, but they'd mostly subsided since her freshman year in college. Like many migraine sufferers, Kupcho's vision becomes blurred and spotty, and she said she couldn't find the line on her ball or see the breaks in the green at Nos. 9 and 10. She three-putted for bogey at the latter — her only such gaffe of the week — to drop two behind.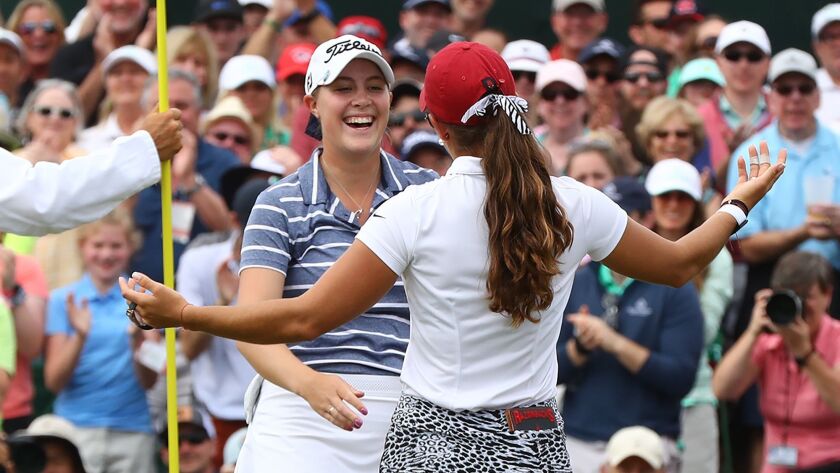 On the ninth green, Kupcho said she told her caddie, "I can't see anything; just tell me where to hit it."
"I think I've played through enough things … playing injured, playing with problems like that," Kupcho said. "I was able to kind of take deep breaths and focus on where I could play the best I could."
She said her vision cleared at 11, and she went on a tear. The shot of the day came at the dogleg 13th, where Kupcho striped a beautiful drive and, from 211 yards with the ball well above her feet, she rifled a rescue club that landed softly and settled eight feet from the flag. The effort recalled numerous great feats that men have pulled off on Sundays in the Masters.
"Probably one of the best shots I ever hit," said Kupcho, who made the only eagle of the week and tied Fassi, who missed her birdie chance.
Fassi answered with a birdie at 14 and ferocious fist pump to regain the lead, but Kupcho pulled away with birdies at 15 and 16.
"That's the kind of player she is," Fassi said. "She'll do that when she has to. That's one of the things I admire and respect most about her. She's not afraid of going for it. She's not afraid to be great, and that's what makes her great. I'm extremely happy that she got that win."
As Fassi spoke to the media outside the Augusta clubhouse, she became emotional and stepped inside to compose herself. When she returned, she said, "I'm just really proud. That's why I was getting emotional. It was more that 'atta girl' kind of thing than anything else."
Fassi could have been speaking about the entire week. There were raves by players and fans about virtually every facet of the tournament, and Kupcho said after just one edition, "There's no bigger stage in amateur golf."
Fassi, who set a new fashion statement at Augusta playing every shot in aviator sunglasses, was thrilled with "the show."
"I think that's what women's golf should look like every Sunday on the last group," she said. "It's the players' responsibility. I know that's the way I want to be for the rest of my life. … I think if we get to see that more, we're going to get more views and that's only going to make the game grow, and it's only going to help us."
---