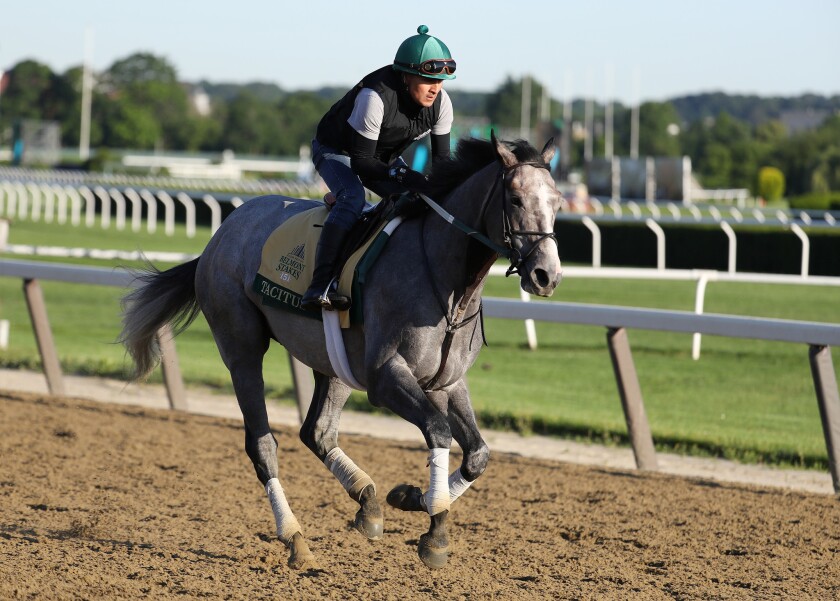 Winning a Triple Crown race is a great accomplishment but not enough to make War Of Will the favorite to win the Belmont Stakes on Saturday.
The Preakness Stakes winner was installed as the 2-1 second choice behind 9-5 morning line favorite Tacitus during the Belmont Stakes draw on Tuesday at Citi Field in New York. The thinking is pretty easy: War Of Will is scheduled to be the only entry in the 10-horse field to run all three legs of the Triple Crown.
Tacitus, considered to be the better of trainer Bill Mott's two Kentucky Derby entrants, has had two more weeks rest after skipping the Preakness. Tacitus will break from the No. 10 gate.
Tacitus was considered superior to Country House, Mott's other Kentucky Derby entrant. But, under the guidance of Santa Anita-based Flavien Prat, Country House finished second and was elevated to the blanket of roses position after it was determined that winner Maximum Security interfered with War Of Will and a couple of other horses while coming off the final turn.
"Had Tacitus won the Kentucky Derby, I would suppose we would have taken a chance in the Preakness, but we didn't feel like we wanted to run him back in two weeks," Mott said.
War Of Will is one of two entrants for trainer Mark Casse. He also has Sir Winston, a 12-1 choice who will be breaking for the seven post.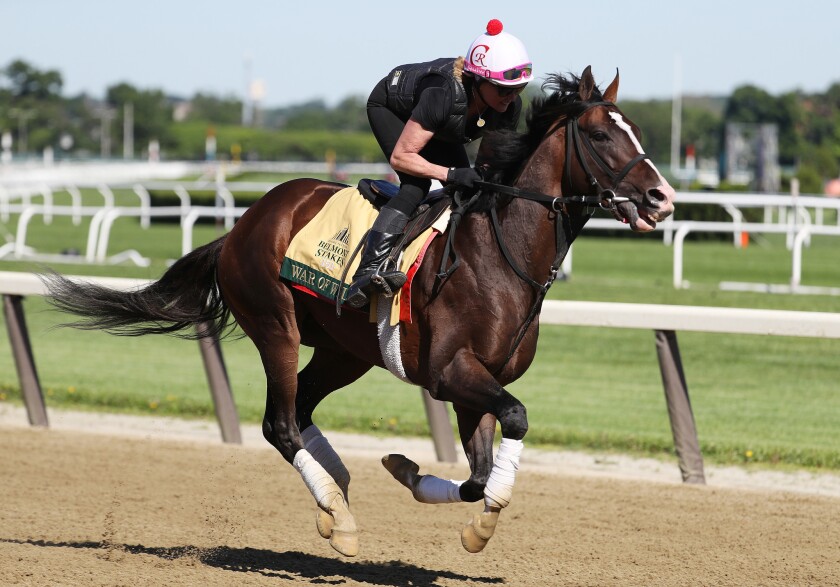 War Of Will drew the one post his last two races, the post considered the most difficult because there is no room to maneuver to your left. On Tuesday he drew the nine.
"Over the years, one of the things that's made the Belmont so tough is when the Derby and Preakness winners are here and get beat, it's usually by a Belmont-based horse," Casse said. "There's an advantage to it. But I've said this from the beginning, that great horses can win when things aren't perfect. Is it ideal? No. Can he win? Absolutely."
Winning the 1 1/2-mile race, the longest of the Triple Crown, comes at a toll if you've run in all three. In this case only War Of Will has to carry that burden.
Trainer Todd Pletcher has two horses in the Belmont — Intrepid Heart, who will run from the eight post at 10-1 odds, and Spinoff, who will break from the six spot at 15-1 odds.
Pletcher's horses have won three Belmonts and finished second three times in 11 years.
"We've been pretty fortunate to have horses that have run well, and we've taken a couple of nasty beats too," Pletcher said.
"It's a race that we really cherish. It's home for us and I think one of the advantages is most of our horses have trained five weeks at Belmont after the Derby. … It helps and it's a race we really enjoy."
The race does not have much of a Southern California presence. However, jockey Mike Smith will be riding Bourbon War for trainer Mark Hennig. The colt is 12-1 and will break from the No. 5 post.
"He was not tired at all after the [Preakness]," Hennig said. "I'm not sure how much running he actually did. I held him for a bath after the race and he bit me in the stomach and tore my shirt. He was actually angry after the Preakness."
Click here (or type in this url: lat.ms/2wVt90g) to sign up for our free horse racing newsletter.
---